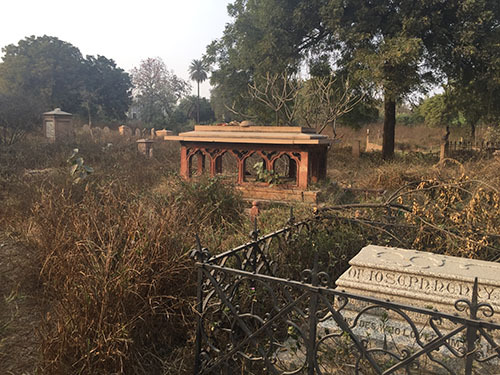 "It's so tragically beautiful," I said to my friends Parul and Sean as we stepped inside the gates of Nicholson Christian Cemetery last month. "I didn't think there were any places in Delhi that were actually quiet."
As cliché as it may sound the most peaceful place in India's capital is Nicholson Christian Cemetery, the final resting place for hundreds of Christians, both of British and Indian origin, who passed away during the British Colonial rule of the country. Located right across the street from the Metro station and around the corner from the historic Kashmiri Gate the cemetery is a somber refuge from the hustle and bustle of the sprawling urban giant that is the capital city of Delhi. Somehow when you step through its gates the cacophony of sounds characteristic of the afternoon rush in Old Delhi fade away to a placid silence.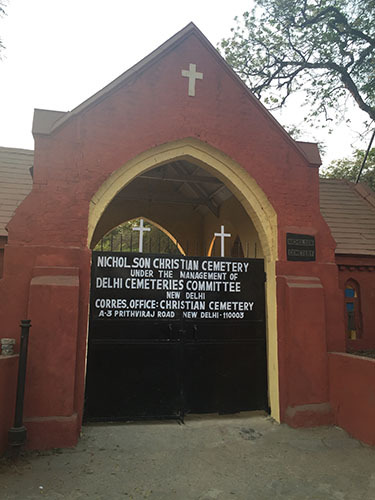 The graveyard has an almost preternatural beauty to it. Marble Victorian and gothic revival-style headstones rise up from overgrown shrubs and brambles while peacocks walk the grounds making their haunting calls.
A family who serve as the caretakers for the quietest four acres in the city live in a three-walled structure near the front gates, just steps from the grave of Brigadier General John Nicholson, who died from injuries sustained while storming Delhi during the 1857 First War of Independence. At the time he was hailed as the "Hero of Delhi" but in recent years, history has portrayed him as far more of a war criminal than a folk hero.
My friends Parul, an acclaimed journalist in India and Sean, a bioethicist from Canada, both well versed in the study of death rituals, were easy marks for me to convince to visit the graveyard because like me they didn't see it as a macabre day trip but rather an opportunity to step back in time and get a glimpse into Delhi's colonial past.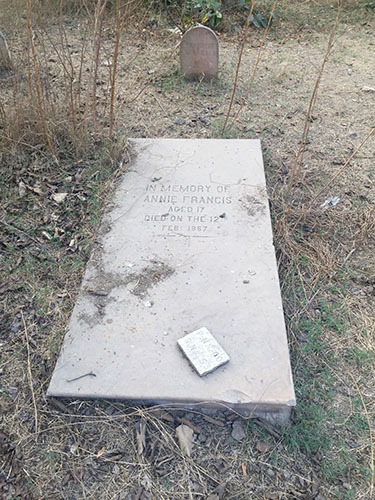 Nicholson Cemetery is a somber reminder of the fragility of life. After initially taking in the graveyard's remarkable aesthetic what strikes you next is the collective youth of those interred there. Headstone after headstone record the short lives of children born to colonial officers who did not live to see their first birthdays. One large gravestone located behind a particularly dense thicket of brambles had the following words chiseled into the white marble slab:
"IN MEMORY OF
ANNIE FRANCIS
AGED 17
DIED ON THE 12TH
FEB 1867"
And not far from that plot sits a remarkably ornate monument to life of a young woman whose name was obscured by caked on dirt and plant life. The part of the inscription on her tomb that could be made out read:
"BELOVED WIFE
AGE 25 YRS
LONG DAYS AND NIGHTS SHE SUFFERED CRUEL PAIN
TO SEEK HER REST BUT IN VAIN
TILL GOD HIMSELF THOUGHT IT BEST
TO END THIS SUFFERING AND GAVE HER REST"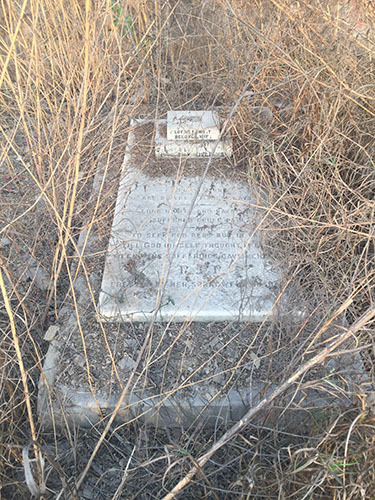 Even the man who the graveyard is name for, the "Hero of Delhi" Brigadier General John Nicholson, died before reaching his 35th birthday. Everywhere you look there are reminders of just how short and difficult the lives of these individuals were.
Historical novelty aside, what makes Nicholson Cemetery particularly interesting is that cemeteries are simply not a common sight in India. For centuries the majority of India's population has elected to cremate their dead and thus this has led to some individuals in Delhi to believe Nicholson Cemetery is haunted. My friend Deepak, a Delhi native who now lives in Los Angeles said that Nicholson Cemetery was a place filled with bhuts, which is the Hindi word for ghosts. His mother told him as a child that the reason they as Hindus cremated their dead was so that the spirit of the deceased would be freed from the physical form and be able to move on for reincarnation. "But at Nicholson Cemetery the British Christians buried their dead, never releasing their souls and so the souls became bhuts, who roam the grounds of the graveyard aimlessly."
On this particular late winter afternoon in Nicholson there were no ghosts or bhuts to be seen. There were rows upon rows of reminders of the lives of the hundreds of Christians who passed away during the Raj, when the British crown ruled over India and Anglos in the form of military officers and missionaries traveled to this exotic and mysterious land that would become their final resting place.
If you ever find yourself in Delhi consider taking a short taxi ride from the Red Fort to see this remnant of the Raj and pay your respects to Delhi's former residents and meditate on the nature of existence.