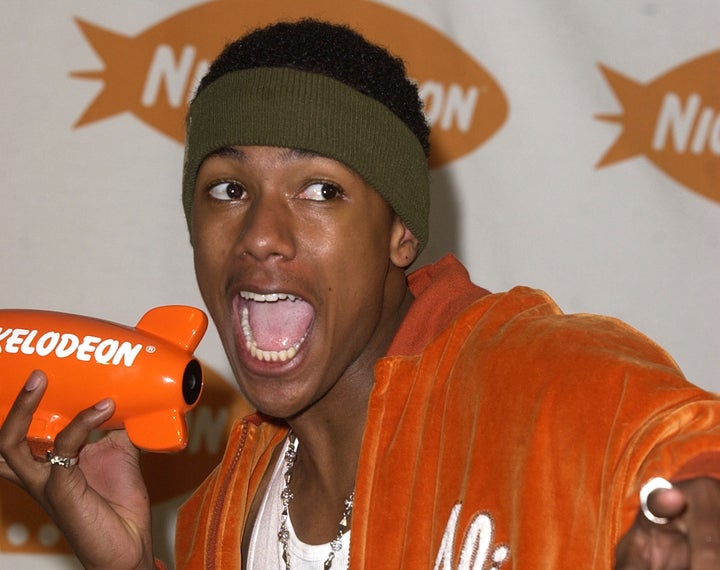 Sit your booty on the floor or in a chair -- because you're gonna want to hear this.
Nick Cannon has been chairman of TeenNick since 2008, and in that time, he's been on a mission to bring the '90s back to Nickelodeon fans.
"I come from that era, so was always like, 'How can I get the stuff that I used to be on to air on the network?' So first we create [The] '90s Are All That. And then from that, we created The Splat," Cannon told The Huffington Post.
The Splat is a nightly block of throwback Nick shows airing from 10 p.m. to 6 a.m. Among its unprecedented contributions to society, The Splat recently brought us an "All That" reunion. And the chairman confirms more "All That" reunions are on the way.
"Yup! We're gonna do some really cool stuff in the future with the 'All That' brand and a lot of the cast members and stuff, so there are some cool things in the works," said Cannon.

In addition to "All That" stuff going on, Cannon has also now joined as the narrator for NexGard's HeroTails series. For every video view until Oct. 31, Merial, the maker of NexGard, will donate $1, up to a total of $175,000, to Canine Companions for Independence, an organization that provides service animals to individuals with disabilities.
Heidi, one of the canine companions, even hung around while HuffPost talked with Cannon about the program. The comedian also opened up on some unanswered Nickelodeon questions and even had some things to say about his $100,000 rap-battle challenge to Eminem that might have the rapper feeling sick to his stomach.
(Though, we're guessing he has vomit on his sweater already -- probably his mom's spaghetti.)
(Something's wrong with that spaghetti.)
It's an event that we're doing June 25 to promote "Wild 'n Out." And it's always been my dream to get Eminem on "Wild 'n Out," and the new season's launching, so it was in an interview like this and they were like, "Who would you wanna rap battle for this event?" And I was like, "Anybody ... Eminem." And I think that's the one that kinda stuck. Who knows if he's even paying attention to it. Even just a response would be a hilarious. 
OK, have you seen "8 Mile"? And you still want to do this?
Hey, man, he's getting long in the tooth. That was when he was in his prime. No, of course [I've seen it]. I would say, "Hey, have you seen 'Wild 'n Out'?" We battle every week, so we're ready for it.
You mentioned other possible opponents, like Jay Z and Tyga. Are you getting any nibbles?
It's funny. Everybody's down for the idea, but when you see about the work that goes into actually preparing for a battle rap competition, everyone's like, "Ooh, I don't know if I really wanna dedicate all that time and effort." So that's why my hat's off and shoutout[s go] to all the real battle rappers in that community. Because the time they put into it, they literally look at it as we're going to battle. And these guys I'm challenging are probably like, "Yo, I could be doing so many things with my time." But we'll see how it happens. I get a lot of nibbles, but nobody latching on just yet. But the clock is ticking. 
What about a battling Petey Pablo, like in "Drumline"?
[Laugh] Someone made a joke, I wanna say it was Pete Davidson from "SNL." Someone was talking about [how] they were sitting there, watching the movie and they were laughing at the fact that the line was, "Man, these guys do this every year." And he was like, "Really? They invite Petey Pablo to come perform in the middle of the halftime show every year?" But it's, like, that was such an experience and really cool for Petey and everyone involved. He was my label mate at the time.
Was that really you drumming? 
I had to train for six hours every day two months before we started shooting learning all those cadences. The magic of it all is a lot of the crispness in my snare was done in post.
Do you get challenged to drum battles now?
All the time. I've never seen a marching band where the snare drummer doesn't come up to me and say, "Let's go." I beat a couple of them, though.
Yeah, like, third-graders.
How'd you get the "All That" reunion together?
You know, it's cool; I was actually so disappointed in that because that was one of the things I was really involved in and excited. I helped put it together, and I couldn't show up on the day that it was happening.
Oh, no! I was gonna say, I saw the videos and didn't see you there.
I was so mad I missed it. I think I was shooting a movie and I was, "Ah! Is this the only time we can do it?" I did a lot of the other Splat stuff by myself. But I was like, "Man, I wish I could've really been there with all of them." We're all still super cool, and Kenan Thompson is literally, like, my family. Our mothers are best friends. We were roommates back in the day. We kind of got love for each other on a real family level.  
What about a "Kenan & Kel" reunion?
I would love that. That's up to those two guys. I would love that. You'll eventually start to see a lot of stuff from all of us. We're getting older and branched off and done our own things, but there's nothing like coming back home and playing on the playground where u started. And I have so much love for all of those guys, and even myself being a producer now and director and writer, I'm always thinking of things -- how we can bring those people to the forefront like they used to be.
So what ever happened to the big ear of corn?
You know what? I saw the big ear of corn.
Probably a month and a half ago. I'm developing another show, and we went there this warehouse in Burbank by the animation studio where they keep all of the props from all of the Nickelodeon shows, and I went in there to grab some stuff for this shoot we were doing. I grabbed this giant ice cream sundae, grabbed this alien in a freezer, like all these really cool things, and then I was like, "It's the big ear of corn!"
It looked like it's been through a lot, but it was there in the corner, so we found it. We discovered it. Yeah, that was a big thing for a minute, then all of a sudden we didn't deal with it anymore.
Why were Kel's parents so cool with him never being home? 
I don't have an answer for that. But if you saw how Kel Kimble's parents were, you know there was something weird going on. He was not a normal kid.
As the chairman, do you know what happened to Arnold's parents on "Hey Arnold"?
That I don't. I think if you want the real answer when it comes to parents on Nickelodeon, we don't care. Like, it's almost cool when you don't show the parents because it empowers the kids. So we're like, "Ah, let's not develop any parents. We'll figure out the parents later on."
What was your favorite act ever on "America's Got Talent"? 
That's a hard one. Olate Dogs was really cool. They were just this amazing dog act. It was a family of dogs, and you could tell people really cared about the animals. The dogs were walking on their front legs, doing flips.
You're involved with HeroTails now, and in another interview you said the canine companions can do laundry. That's not true, is it? 
That's one of the things they do for people that aren't capable of doing it themselves. They do do laundry. And it's because it's the people, when they're not capable of doing it themselves, they can go in and grab the clothes and help assist you, and that's one of the tasks. I can't do laundry.
I can't, either! Can they separate colors?
[Heidi's trainer informs us dogs are colorblind.]
I can't separate colors, either. I just use cold water. 
Does love really not cost a thing?
It doesn't. That's funny. Another way to say it is you can't buy love. That's what you learn in that film. Patrick Dempsey learned it first. Then I learned it.
Why ain't there no party like a Nick Cannon party?
Ain't no party like a Nick Cannon party? That's an easy answer. 'Cause a Nick Cannon party don't stop!
This interview has been edited and condensed.
REAL LIFE. REAL NEWS. REAL VOICES.
Help us tell more of the stories that matter from voices that too often remain unheard.
BEFORE YOU GO
PHOTO GALLERY
Child Stars: Then And Now