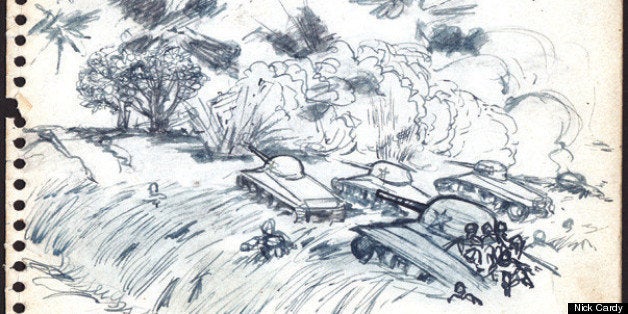 Nick Cardy is best known for his work as a DC Comics artist, putting pen to paper to create iconic images of Aquaman and the Teen Titans. But the 92-year-old New York native had a surprising life before his comic career.
During World War II Cardy was a infantryman, tasked with driving a military tank through Europe for the better part of three years. He documented this time in a series of intricate drawings and watercolors, carefully created overseas and compiled in a new book titled "Nick Cardy: An Artist at War." From sketches of artillery attacks to poignant illustrations of foreign landscapes, his preserved artworks give a rare glimpse into the life of a WWII soldier.
We spoke to Cardy via phone earlier this year, who kindly recounted memories of his military past. Scroll down for the interview.
When did your interest in art begin?
I started drawing when I was very young. I did a mural for my school and they printed the story in the paper. Then I did some things for the Boys Club. I got some awards for painting and sculpture. But I started in comics in about 1950.
Who or what were your early influences?
I tell you, I grew up in the time of the Depression. I didn't really have an education because, well, we didn't really have enough to eat. If I needed an education I would spend a day at the library. As I got older, I'd walk to the Met and spend the day there. I studied that way. Some people thought maybe I was nearsighted because I would put my face half of an inch away from the paintings. I wanted to see what the undercoats were. I also learned by taking classes in anatomy; I would do quick studies of the body to know where the muscles were. Back then models for reference were expensive. And then of course I went to the Boys Club. They gave me a book on all of [Leonardo] da Vinci and Michelangelo and Rembrandt [van Rijn] and I had never seen them before -- they had prints that took up the whole page. And back then everything was in black and white.
What was it like for you then to join the army?
I was just in the infantry, but when I first got stationed in Alabama, I got there and the general of the 66th infantry was looking for someone to design a shoulder patch. I did a black panther design for the infantry and they chose it. After that I started doing the general's portraits. I would have to go to the infantry headquarters to do the portrait, and other guys started seeing my work. So then a bigger general said he wanted me in his outfit in Texas, but they couldn't send me as a private because the vacancy there was for a higher position in the motor pool. So they gave me a higher position. Guys would ask me to do their wives' portraits, too.
When you went overseas during World War II, what was your role?
I went to Europe and I got pleurisy on the way over. In the hospital, I didn't know until later we that we were dodging submarines the whole way over. I went to England and I was laid up for a while. And then the war came. When I got better a man came up and interviewed me and said I see you were in the motor pool. Can you drive a tank? I couldn't even drive a car let alone drive a tank! I felt like he was putting nails in my coffin. So then I was an assistant to the driver -- who had become a tank man after a lot of training. They put a machine gun in my hand and I didn't even know how to clean it.
But you managed to document your entire experience in drawings?
I was in the war for three years and I did a lot of sketches in a 3x5 notebook. I had about 20 of those in my backpack. Whenever I saw something I drew it and I tore the pages out and put them in cellophane to keep them.
How did you manage to complete your drawings?
This is what I had instead of a camera. I had about six or seven books filled with pencil and ink drawings. I would jot down notes quickly and try not to stand around like a target. Whenever there was a chance I took them and drew something. I used to call them -- I hate to say it -- spit drawings. I used a fountain pen with ink that, if you wet it with your finder, spreads. If I did a painting of a girls's head or a tree, and I wanted a little blend. But you can only go so far with five fingers. Some of the drawings were colored too, and if there was a break, I would make them into watercolors.
Were there any stories in particular that prompted you to draw?
Well, my tank driver knew I didn't have experience, so one time we were changing positions to join other people, so we were following the tank right in front of us. So when they stop, you stop. Simple enough. While this was happening, troops were coming up the tank and hitching a ride. They were troop support. So as I drove along, people kept jumping on. I thought, where the hell are we going to put these soldiers? Where are they coming from? Well, it turns out that the road we were going through was in a forest and as we drove I was knocking the troops off and they'd have to hop back on. I drove so close to the side of the woods that I kept knocking the soldiers off track. Here I thought they were just more soldiers.
But there were dark times. One time we were crossing the Rhine River into Germany and we were following alongside some buildings. We came across an empty house, but we heard sniffling. We went inside and found a trap door and about 10-12 people were there, their heads looking up, terrifed, hugging their children. They looked like sardines in can. I'll never forget [that moment].
What was it like to finally return home after three years?
We went home in awful weather. All these guys on the boat were running to the bathroom, sick as hell. Finally we got to the American coast, and when we anchored it was so foggy you could barely see your feet. All of a sudden, over my head, there was an opening in the cloud, and as it opened there was the Statue of Liberty looking down on me. I made a drawing of that situation, and that's in the back of my book.
What was your first breakthrough comic after the war?
Well, I tell you, I worked for DC and I worked as a freelance artist. I did Aquaman -- about 39 issues plus a lot of covers. Then I did the Teen Titans and Bat Lash. DC had me do about 400 covers. I did Superman, Batwoman, Wonder Woman. Back then I would get about $60-65 for my comic work, but you know, someone had an auction in 2000 and they sold one of my originals for $19,000!
Do you have a favorite character or series you've drawn?
I liked Bat Lash... He liked flowers and always put them in his hat. When he was about to fight, he put his flower in a glass, fought, finished, picked up his hat and put the flower back on. I liked that about him.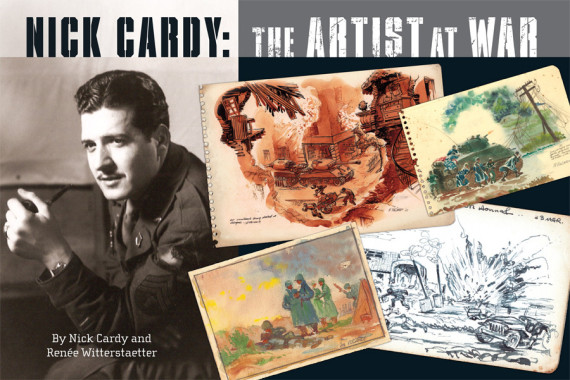 Calling all HuffPost superfans!
Sign up for membership to become a founding member and help shape HuffPost's next chapter