Nick Carter is spending his summer doing something he's never done before: serving as an "architect" on ABC's new reality competition series "Boy Band." Each week, he'll provide feedback to contestants battling it out to become part of what could be America's next big boy band. Carter will weigh in on the auditions and performances, alongside fellow architects Emma Bunton of The Spice Girls and Timbaland, with viewers at home voting for their favorites.
Carter, of course, knows a thing or two about what it takes to form a boy band having been a member of the Backstreet Boys for a whopping 24 years. During an interview with HuffPost on Build Series he recalled his own audition in Orlando, Florida, to join the group when he was just 11 years old.
"There was a song at the time that was big called 'Take This Heart' by Richard Marx and I came in and sang this song. And I didn't have any cool choreography or anything," Carter recalled. "I was just bopping around."
What stands out to him the most is the choice he had to make ― whether to join the Backstreet Boys or sign a deal for "The Mickey Mouse Club." Carter recalls his mom taking him to both auditions on the same day.
"We came back home ... and we waited for the callbacks … I was nervous about that. I got two callbacks. I got one for 'The Mickey Mouse Club' and one from the Backstreet Boys — which wasn't called the Backstreet Boys at the time. 'The Mickey Mouse Club' offered me a contract — it was $50,000 — it was '91 or '92. My mom said, 'Do you want to do this or do you want to do that?' And I made the choice of going with the Backstreet Boys, which there was no money at the time …. which actually turned out to work out later on down the road."
And it's still working out for Carter, along with AJ McLean, Kevin Richardson, Howie Dorough and Brian Littrell of Backstreet Boys. They just extended their Las Vegas residency through 2018 and recently inked a deal with RCA Records.
"It had been a very long time since we've had a record deal. And in the world that we're living in, you do need power behind you," Carter said. "Maybe that was some of the reason why we weren't on the radio or doing some things kind of in the mainstream but now we have that powerhouse behind us."
Backstreet Boys have already started listening to some possible songs and will start recording the album soon ― both in Las Vegas and Los Angeles. They're planning for the music to sound "very current" ― featuring songs that are not only "sexy" but that "you can dance to."
"It's going to be interesting to throw our harmonies, which is not really done anymore. People don't sing in harmony. Everybody wants to be a solo artist," he said.
With his Backstreet Boys audition far behind him, Carter ― now 37 ― is eager to help mentor up-and-coming singers on "Boy Band," while simultaneously keeping his own boy band going strong.
"We're in the best place that I think this group has ever been before," he said. "I look forward to seeing what we're going to sound like as mature men, singing music the women really want to hear."
"Boy Band" airs on Thursdays at 8 p.m. ET.

Hit Backspace for a regular dose of pop culture nostalgia.
And check out the full Nick Carter Build interview below.
Before You Go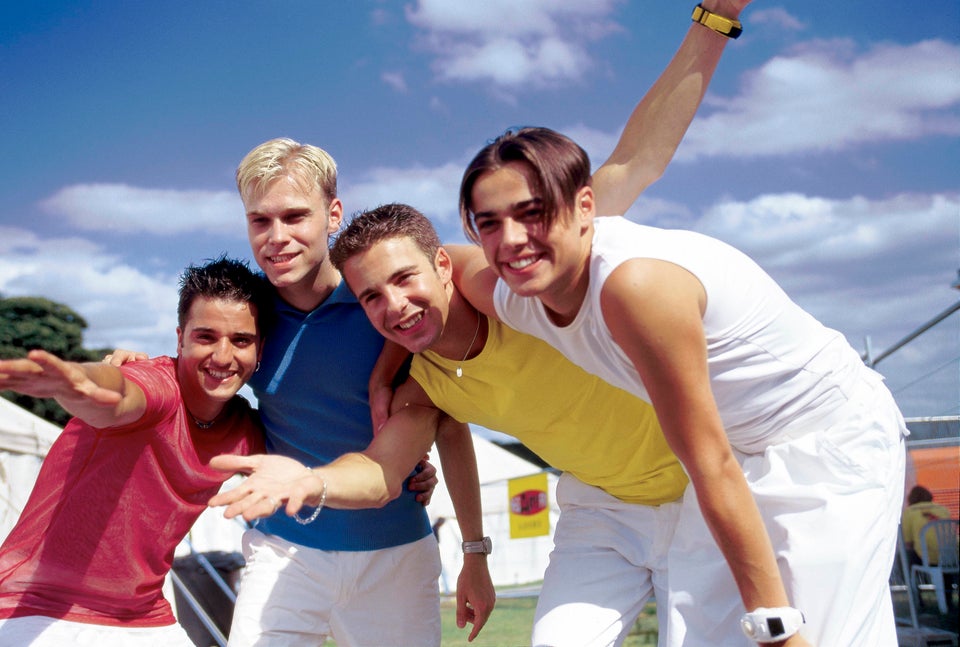 Nineties Boy Bands
Popular in the Community