The idiom "one man's junk is another man's treasure" may not be more visibly embodied than in the creations by Chicago artist Nick Cave.
Since the early 90s, Cave has been collecting items that he can repurpose creatively into wearable sculptures or what he calls "Soundsuits" -- and seemingly nothing is off limits. At his exhibit "Soujourn" at the Denver Art Museum, Cave's whimsical Soundsuits are crafted from fabric, human hair, feathers, toys, vintage funeral wreaths, sock monkeys, doiles and a great many thousands of buttons.
"This is me sort of inviting you to my playroom," Cave said, waving his arm towards a room filled with over a dozen of his Soundsuits, so-named for the sounds created when a wearer moves in the suit. The Soundsuit creations featured in the DAM however are intended to be more sculptural, though the museum is hosting an actual Soundsuit dance with Cave on June 28 with local performers.
His first Soundsuit happened in response to the 1992 Rodney King beating in Los Angeles.
Intending to build a sculpture from twigs, Cave ended up with a creation he could actually wear and something that seemed to transcend fashion.
"When I put it on it made this rustling sound," said Cave. And the Soundsuit was born.
Associate Curator of Contemporary Art at the DAM William Morrow explained that wearing one of Cave's suits in turn creates a breakdown of human identity. The person instantly becomes gender-less, race-less and hidden inside.
"Cave in his usual fashion breaks down barriers, preconceptions of beauty and takes us on a sensory journey of self-reflection and exploration," Morrow said.
Cave grew up with seven siblings in Columbia, Mo. and has credited his single mother with encouraging his creativity. "Growing up, I would get hand-me-downs and always felt the need to change them," said Cave.
In addition to the Soundsuits, the "Sojourn" exhibit displays intricate sculptures with a kind of lost-and-found quality to them. The first piece is inspired by a baptismal font while others are inspired by porcelain dogs Cave found while thrift store shopping in Chicago and around Denver. Hovering above the focal points are intricate hives of other porcelain figurines and glittering beaded strands.
"I wanted to maintain this 'found' sort of mentality," Cave said of his sculptures dubbed "Rescues."
The porcelain owls and nesting robins manage to both pop out of Cave's creations while melting into them.
"I don't know where you find this stuff but it's amazing," Morrow said to Cave.
Related
Before You Go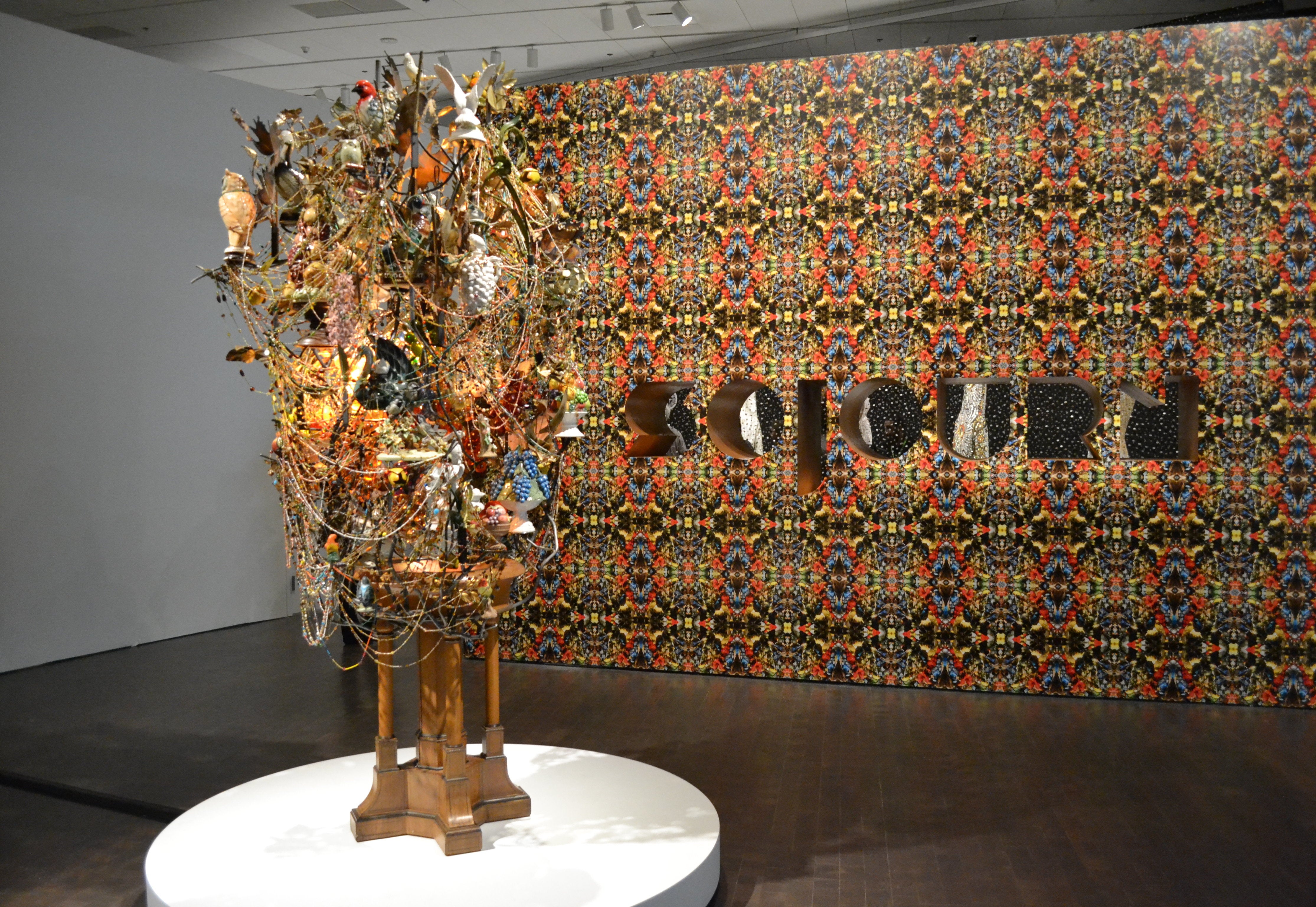 Nick Cave: Sojourn At The DAM
Popular in the Community