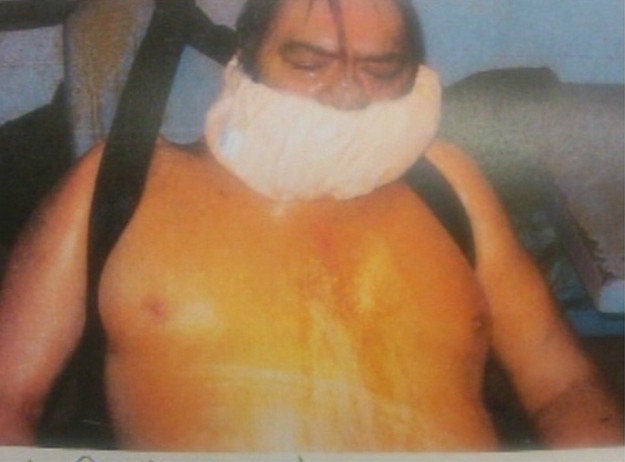 The family of an Ohio man who died after he was taken into custody by the Lee County Sheriff's Office in Florida, strapped to a restraint chair and repeatedly pepper sprayed has settled with the county. The terms of the settlement were not disclosed.
As Huffington Post reported in January 2012, Christie, 62, was stripped, strapped to the chair, fitted with a "spit mask," and doused with pepper spray at least 10 times. Deputy Medical Examiner Dr. Robert Pfalzgraf later ruled that Christie's death in 2009 was a homicide, brought on by the effects of the pepper spray. Christie, who suffered from several mental and physical health problems was arrested twice for trespassing and disorderly conduct, both of which may have been related to his medical condition.
Use-of-force experts told The Huffington Post the deputies' actions were "over the line" at a minimum. But the sheriff's office investigated its deputies, and determined that they did nothing wrong. A subsequent investigation by then-Assistant State Attorney Dean R. Plattner also cleared the deputies.
A spokesperson for the D.A.'s office told Huffington Post that the investigation largely relied on information the sheriff's department gathered while doing its investigation. Since then, Mike Riggs at Reason magazine has reported that Plattner had a history of clearing officers accused of using excessive force. Plattner died of a heart attack in December 2011.
The years since haven't been much better. Last May, witnesses say a Lee County deputy was swerving wildly before crashing his patrol car into a parked truck. Toxicology reports showed high levels of prescription narcotics in his system -- narcotics for which he did not have a prescription. He was never charged. In August, another deputy was accused of using excessive force against a 14-year-old girl and pointing his gun at her younger sisters. Video of the incident seems to contradict what the deputy put in his police report. One Lee County deputy was recently suspended in a sexual harassment incident, and another had an improper relationship with a detainee, which included giving the woman drugs he seized from suspects.
Lee Sheriff Mike Scott personally has been the source of some recent controversy. In March of last year, Scott was accused by the News-Press newspaper in Fort Myers, Fla., of intimidation, including sending nasty emails to reporters who wrote unflattering stories about him and preventing reporters from asking his deputies questions. Scott was also the subject of a federal investigation in 2008 after wearing his uniform while speaking at a McCain/Palin campaign event. He came under fire for repeatedly using President Barack Obama's middle name in that speech -- which critics said was an attempt to inflame anti-Muslim prejudice.
None of this appears to have hurt Scott's image; he won reelection in 2008 and 2012 by overwhelming margins. Last month, the Southwest Florida Police Chief's Association named him "Elected Official of the Year."
After Huffington Post and other outlets reported in January 2012 on the incident, Florida Gov. Rick Scott asked the Florida Department of Law Enforcement (FDLE) to investigate the deputies involved in Christie's death. A week later, the FDLE announced that there wasn't enough evidence of wrongdoing even to begin an investigation. The settlement of the civil suit likely means the end of any effort to hold accountable the law enforcement officers responsible for Nick Christie's death. Whatever the amount, it will be paid by Florida taxpayers, not the officers themselves.
Calling all HuffPost superfans!
Sign up for membership to become a founding member and help shape HuffPost's next chapter