Nick Kroll and John Mulaney, this year's Independent Spirit Awards co-hosts, didn't hold back during Saturday's ceremony in Los Angeles.
The creative minds behind "The Oh, Hello Show" ripped on politicians and Hollywood stars during the film awards.
According to The Hollywood Reporter, Kroll said of White House chief strategist Steven Bannon, "The only reason he got that job is because he's so hot!" Mulaney added, "Those chapped kneecaps!" before Kroll weighed in, "In this country, if you're that sexy, you can get anything you want. Steve Bannon is so hot. He looks like Nick Offerman drowned."
President Donald Trump also wasn't immune to criticism. Kroll called out Trump's decision to remove bathroom protections for transgender students, sarcastically noting that "transgender children in public schools have had it too good for too long." Mulaney chimed in, "Hey, Trump, you and Robert Durst are both rich sociopaths from New York, but somehow Robert Durst is more likable."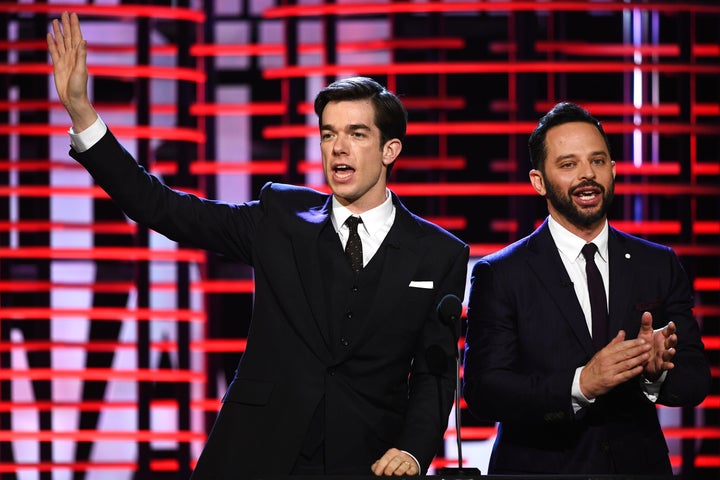 Per THR, the hosts also took aim at Mel Gibson, director of the Oscar-nominated "Hacksaw Ridge."
"We like to think of these awards as the ones without Mel Gibson," Kroll said of awards show, which honors indie films. "People wondered: How long would it take Hollywood to forgive someone for anti-Semitic, racist hate speech?"
"Eight years!" Mulaney said. "So look out for the 2024 Oscars, when the Jean Hersholt Humanitarian Award goes to Mr. Steve Bannon."
The Spirit Awards honored some of the best independent films from the past year. "Moonlight" swept the ceremony with six wins. 
Calling all HuffPost superfans!
Sign up for membership to become a founding member and help shape HuffPost's next chapter
BEFORE YOU GO
PHOTO GALLERY
Celebrities On Immigration Ban