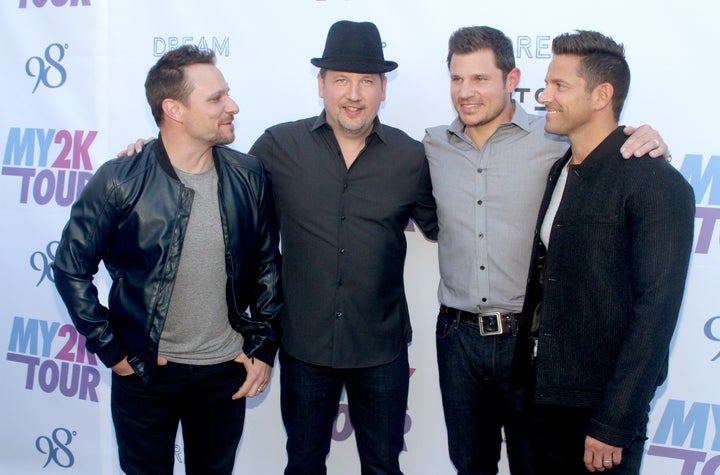 For Nick Lachey, it's hard to believe it's been some two decades since four guys got together to form 98 Degrees. In July 1997 (nearly a whopping 20 years ago), Nick, his brother Drew, and friends Jeff Timmons and Justin Jeffre released their self-titled debut album.
Unknown to the masses, the foursome decided to travel across the country to get the word about their first studio effort and lead single, "Invisible Man." Needless to say, touring was far from glamorous. Life on the road is probably what Lachey, 43, remembers most about that time.
"In the summer of '97 we literally got into a motor home with our picture painted on the side and drove ourselves across the country — from gig to gig," Lachey told The Huffington Post. "We'd literally drive all night and show up in Myrtle Beach and play some 18-and-older club and then we'd get back in the motorhome. And it was a real hustle back in those days to try and make it, to try and differentiate yourselves. Those were some of my fondest memories — kind of up against-the-wall mentality and just going out there and scrapping and trying to get a foothold in the music business." 
The boy band went on to score a radio hit with "Invisible Man," helping them to gain a sizable following. On the heels of that initial success, 98 Degrees put out their sophomore album in 1998, charting with the singles "Because of You" and "The Hardest Thing." A few years after releasing their third album, "Revelation," in 2000, 98 Degrees went on a long hiatus only to return to the scene in 2012. The guys unveiled a new studio effort in 2013 and have been touring pretty steadily ever since, leaving those early motor home days far behind.
Now Lachey says there's possibly some new projects in the works this year. 
"We are looking to do new music and potentially going out on the road again," Lachey said. "I think what last year did for us was remind everybody how much fun we still can have and be onstage together and performing again. So we're definitely looking to doing something this year, nothing that I can confidently announce at this point."
For his part, Lachey has been busy with a few side projects, including hosting Lay's "Do Us A Flavor" contest, where fans can submit their new potato chip flavor ideas for a chance at a $1 million prize.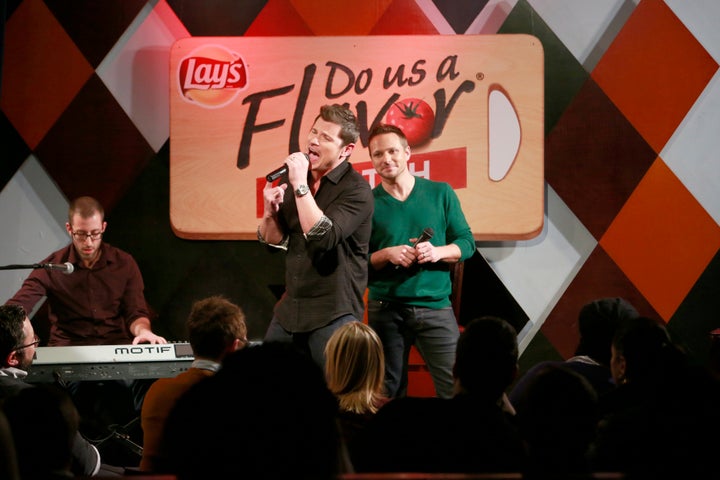 And then there's his growing family. Lachey's wife, Vanessa, gave birth to the couple's third child ― a baby a boy named Phoenix Robert ― in December.
Suffice it to say, Lachey's life is quite different now than when 98 Degrees formed in the '90s.
"It's hard to believe that 20 years have gone by, but I'm also very lucky to be here to say that 20 years later we're still able to do what we love to do and still be able to work in this business," Lachey said. "I'm very thankful to all the fans and people who have supported us all these years."

Hit Backspace for a regular dose of pop culture nostalgia.
Calling all HuffPost superfans!
Sign up for membership to become a founding member and help shape HuffPost's next chapter
BEFORE YOU GO
PHOTO GALLERY
Nineties Boy Bands