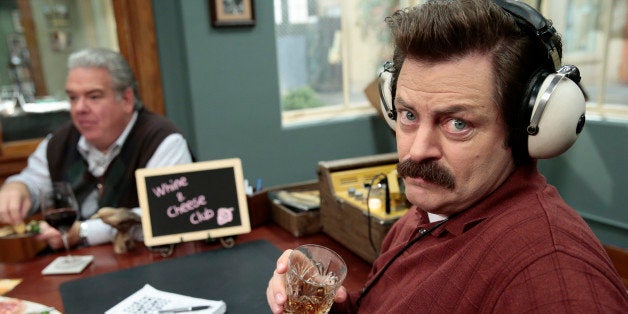 Like it or not, the final season of "Parks And Recreation" means saying goodbye to one of TV's most dynamic cast of characters and their office patriarch, Ron Swanson.
Nick Offerman turned Ron's mustache into an icon of hyper-manliness and made us appreciate the simple things in life, like camping, woodworking and bacon. But when "Parks And Rec" comes to a close after Season 7, he's looking forward to retiring his beloved character and moving on to new things.
Is there a different feeling on set now that it's the final season?
Sure. Our writing continues to be the best stuff and we're still having a great time doing as funny of material as we've ever done. That is a great palliative, while inside we are all beginning to feel grief and sadness and the bereft feeling that will come all too soon when we turn off the lights in December.
It will certainly be the end of an era.
Watching my wife do "Will And Grace" all those years, I was so aware that it's probably easier to win the New Jersey Powerball than it is to land a comedy show on television that has writing you can hold your head up about -- and is being made by a group of people who love one another. It's incredibly rare. [The "Parks & Rec" cast] is very much in that situation and knowing that it has to come to an end will, undoubtedly, bring us all to our knees.
Speaking of your wife, will we see more Tammy drama this season?
I can't remember, to be honest. There has been so much going on ... I can't remember any details about the upcoming episodes [laughs]. When it comes to Tammy, I think, "Oh yeah there was --" and then I'm like "No, that was a wet dream I had." I get really bamboozled trying to keep reality straight with the different role-playing fantasies that we get into around our house.
I can see how that could get confusing. Are you writing or directing any episodes this season?
No, with a foreshortened season of 13 episodes, they didn't have any room for any freshman, like myself, or even a sophomore, I might be by now. Many actually qualified participants scooped up all the slots long before they got down to where I reside at the bottom of the barrel.
When the big flash-forward was revealed at the end of last season, did that come as a surprise to the cast or did you know that it was coming?
We usually hear or know about big moves like that. The interesting thing is whether or not we will stay flashed-forward in the final season, which now for the life of me I can't remember how that goes. It's been a while [laughs]. But yeah, [the flash-forward] was a lot of fun. I think that worked really well as a joke. It will be interesting to see how it plays out.
When "Parks And Recreation" ends, are you looking to do more TV, movies, or do you have a preference?
I don't, I just hope that I'll be able to perform in more good writing in the future. I always have a couple little indie movies lined up, of the Sundance flavor, but right now I'm just looking for a nap. I've got a show that I'm touring, "Full Bush," that's a lot of fun. My wife and I have a show called "Summer of 69" -- no apostrophe -- that we're going to be touring next year. And I'm finishing up my second book. The one thing I know I don't want to do anytime soon is another TV series, because even if it was with the greatest team I could assemble, it would necessarily have to be a disappointment after the ridiculously pleasurable ride of "Parks And Recreation."
Like having a rebound after a real relationship ends.
Yeah, I think if I wait a while and I begin to hanker again for that kind of fix ... Maybe. But until then, I think I'll be satisfying myself with film and stage work.
Tell me about "Full Bush," are you excited to play the Beacon Theater?
Yeah, I'm really excited to play the Beacon. I have befouled many stages on the East Coast, but I have not yet had the challenge of filling a room of this magnitude with my particular odor. I've been training, conditioning my system and I'll do my best to reach the back row.
Is music a big part of this show?
Well, music is a generous description for what I do with the guitar and my voice. I do quote-unquote "sing" songs and play the guitar. I've always enjoyed a stupid comedy song so I fully indulge that itch in "Full Bush." I also recently made my first ukulele out of mahogany, so that's in the show.
That's impressive!
Well, eventually I'll try my hand at making guitars, so I thought I'd start small. It's the kindergarten of luthiery. So I do a few songs on that; I talk about making things with your hands -- that seems to be a recurring theme with me -- and then there's just a whole lot of material on pubic hair.
Like, manscaping?
The abomination of manscaping is mentioned, yes. That is quite the opposite of my bag.
Somehow that doesn't surprise me. Do you ever feel typecast as an icon of "manliness" because of Ron Swanson?
I think it's definitely silly since it's something that I certainly have never pursued, nor is it a way I would ever describe myself. I feel like a big, simpering fop. So, yeah, once Ron Swanson took hold, I just started immediately looking for roles that aren't like Ron Swanson. As an actor, I don't want to play just one channel. I think once the mustache is retired, there will be a whole other spectrum of roles with which to displease the fans of Ron Swanson.
Right, fans don't always understand the desire to end a show or character with dignity.
No, they don't. We'll see what happens, but I would reassure them that if I were to do the opposite and try to just play Ron Swanson-like roles, that would be even more disappointing. Either way, you're not ever going to get Ron Swanson again. That will have been a golden moment, on behalf of the writers of my show. They created this incredible vehicle with which I was able to drive and -- just like seeing a good piece of theater -- when it's over, you can never have it again. That's what makes it magical.
So, we can't expect a Ron Swanson spinoff anytime soon.
Not that I know of. I've always felt that parts like Ron Swanson work a lot better as a spice rather than an entree.
Before You Go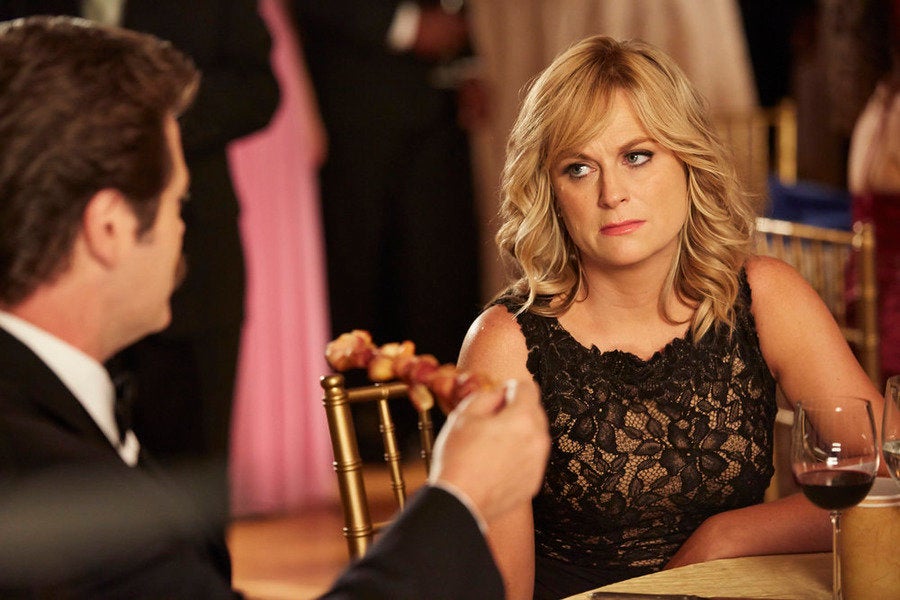 'Parks and Recreation'
Popular in the Community