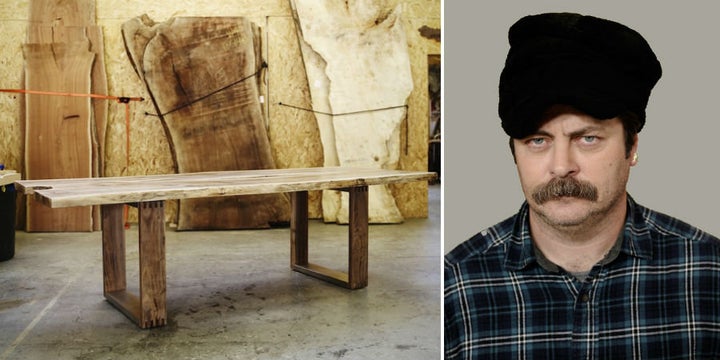 Inspired by one professor's infectious enthusiasm for Emily Dickinson, Obsessed is a HuffPost Culture series exploring the idiosyncratic, all-consuming passions of public figures and unknowns alike. Through a mix of blogs and interviews, these pieces will highlight the elusiveness of whatever it is you just can't live without -- whether it's blue jays, Renaissance fairs, fan fiction, or in the case of David Lynch, coffee. If you have an obsession to share, drop us a line at culture@huffingtonpost.com.
A baseball bat of Ash. A footbridge of Redwood. A trebuchet of English Oak. A dining table of Mahogany. A Cherry toothpick. The list of useful implements that can be crafted from wood is infinite and amazing, and I am spellbound by the ancient practice of woodworking, fueled by the ingenuity of men and women to cleverly alter this natural material into items of use and beauty.

In my day job, performing for folks is a gas, and I am very tickled to make a nice living as a professional jackass, but it is the production of sawdust and shavings that brings me the most profound satisfaction. I love nothing more than to escape to my shop and set up a wenge (African hardwood) canoe thwart in my bench vise and set to shaping it with nothing more than a freshly sharpened spokeshave and a complacent smile. I crank up some Neil Young or Tom Waits, some Bob Dylan or Iron and Wine and lose myself in the making. The great agrarian writer Wendell Berry asserts that hard work is a privilege, and I whole-heartedly doff my cap in agreement.

I grew up in the small country town of Minooka, Illinois, surrounded by the incredibly capable men and women in my family, the Roberts and the Offermans. From my parents, my grandparents, aunts and uncles, I learned the joy of working with my hands to exact a positive change on the world around me. Coming of age amongst these excellent Americans, I learned to build and dig and garden and sew. I left Minooka with a solid set of tool skills, leading to years of remunerative work as a carpenter, culminating in a fascination with fine woodworking.

By now, my shop in L.A. has become a bit of a clubhouse, where my fellow woodworkers (elves) and I gather to compare triumphs, mistakes and splinters, and simply engage in a fellowship of creativity. Everyone has a different specialty in the shop, so there's a classic sense of a team of varied skill levels working together to make a whole greater than the sum of its parts, much like the Superfriends of my youth, only dustier, with less flying. As I sit in the break room typing this blog, Lee is making mustache combs, Josh is dry-fitting the joints on a custom mahogany typewriter stand, Matt is sanding cribbage boards, Justin is constructing a whole wine bar interior of reclaimed maple, and I am itching to get back to my canoe thwarts. It's a happy hive of activity, where everything we do leads to the ultimate climactic payoff for any woodworker: the application of the oil finish. Linseed oil, tung oil, or walnut oil, with a little beeswax mixed in. Oiling wood which has been shaped and sanded and smoothed is indescribably pleasurable. Witnessing the grain and depth of color and figure come alive through the saturation of the oil finish feels akin to playing a rousing symphony or golfing a hole-in-one. I imagine. I don't golf.

I've always been obsessed with the way wooden constructs are engineered, from a Greene and Greene Craftsman bungalow to old wooden sailing ships. As my matriculation continues to blossom, the furniture work of George Nakashima, Sam Maloof, James Krenov, and others holds a particular magic for me, for these men have seemed to commune directly with the soul of the tree, letting the spirit inside the wood speak to the shape of what their work would ultimately become. After teaching myself the fundamentals of heirloom furniture, mostly under the superb guidance of Fine Woodworking Magazine, I have found a discipline to which I can apply myself for the rest of my days, until my hands give out. I'm crazy about the things I have learned to make from wood thus far, starting with furniture pieces (slab-top tables are a shop specialty) and small watercraft, like a mini yacht tender and a couple of canoes, complete with custom paddles. Now my sights are set on some stringed instruments. I'm preparing to build a line of ukuleles and then graduate to full-size acoustic guitars. I have impending designs for an ocean kayak and an enormous Shaker chest of drawers. My only complaint is that there are not nearly enough hours in the day.

Now, if you'll excuse me, my canoe thwarts are calling.
Click through the slideshow for a selection of Offerman's creations: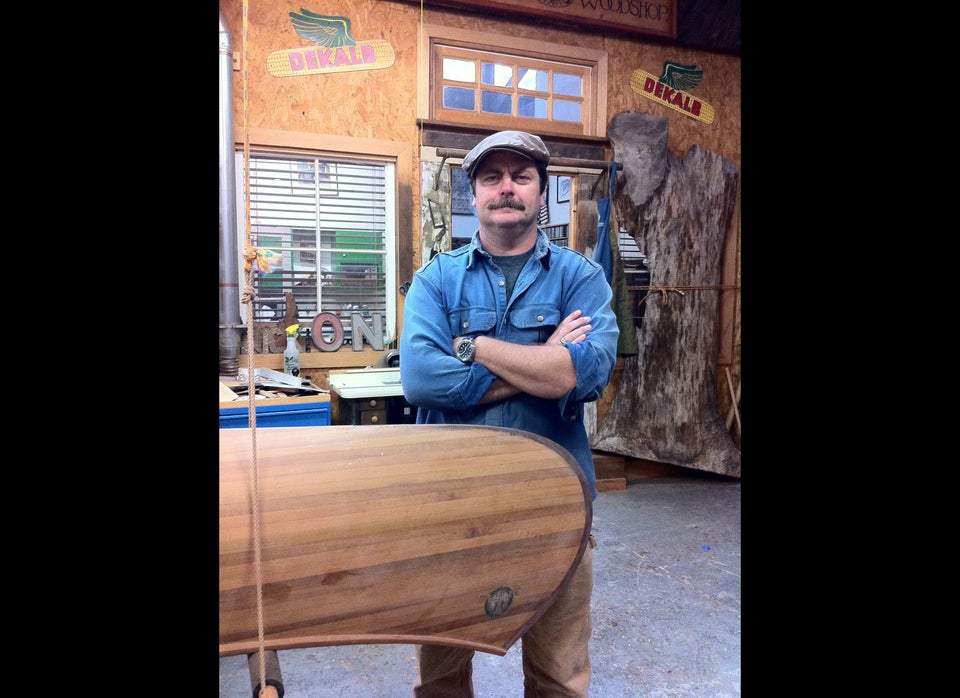 Nick Offerman's Woodwork
Support HuffPost
The Stakes Have Never Been Higher
Related
Popular in the Community