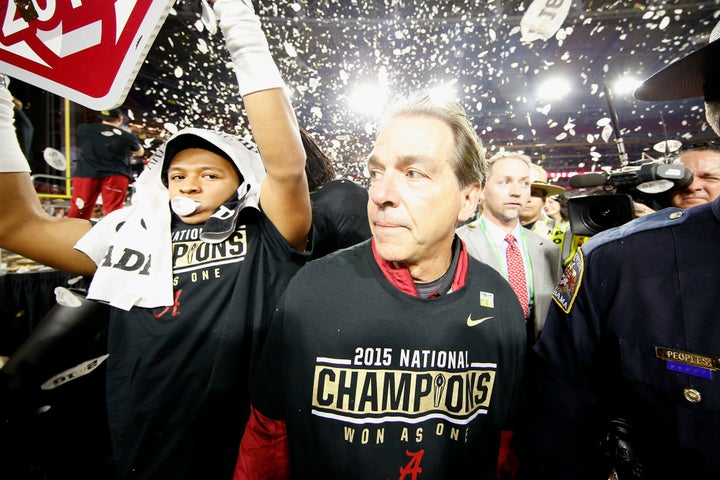 Nick Saban's legacy won't be defined by a houndstooth hat, like that of legendary Alabama football coach Bear Bryant. Nor will it be remembered for a straight-brimmed Ohio State hat along with a patented suit and tie, like that of the great Woody Hayes. Saban's legacy, quite simply, will be as the greatest coach in the history of the sport, an immortal icon no matter what comes next. The perfect winner.
Winning, of course, comes at a price -- in any sport -- and the Crimson Tide coach remains a polarizing figure in many ways. But you can't ignore the results: five national championships (one with LSU), and four in the past seven seasons. Nobody has done it in the modern era -- not Nebraska's Tom Osborne, not Hayes and not even Bryant.
Saban's brilliance was on full display during Monday night's title tilt with Clemson, a thrilling 45-40 win. After tying the game at 24 early in the fourth quarter, he drew up a perfectly timed onside kick. 'Bama recovered and scored two plays later on a 51-yard touchdown strike. And with that, the tenor of the game changed: The snakebitten and shellshocked Tigers never led again.
"We weren't playing very well on defense," Saban said. "I felt like if we didn't do something or take a chance to change the momentum of the game that we wouldn't have a chance to win."
What can easily get lost amid all of Alabama's recent success in the Saban era is that the program was in despair before he arrived. Save for one 10-win season in 2005 (that had its victories later vacated because of NCAA violations), the Tide had not achieved a double-digit win campaign since 2002. They endured two losing seasons in a four-year span. In addition, they were coming off a five-year probation hit. Times were tough, and it was Saban who transformed the program. No coach in the country has recruited better, no coach gets more out of his talent and no coach is better in the clutch.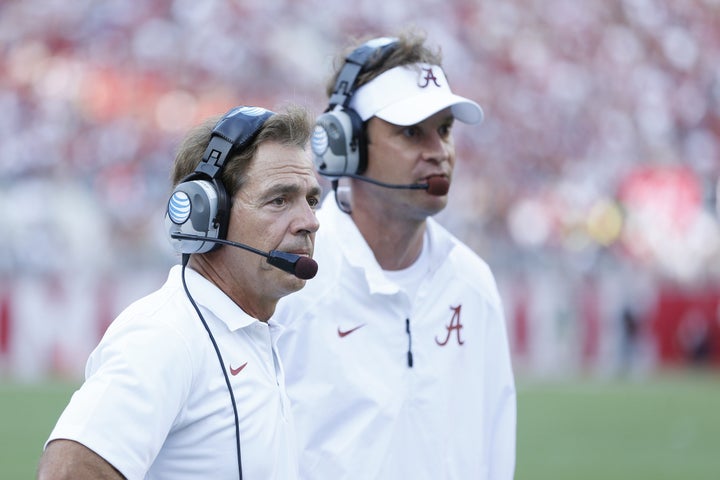 Every class Saban has recruited to Alabama has won the national championship. He has dominated the Iron Bowl against hated in-state rival Auburn and he's controlled the vaunted SEC West. He has amassed double-digit wins in every season except his first with the Tide. And in the rare circumstance that his team does lose -- like against a pesky Ole Miss squad in 2015 -- Saban somehow rallies a slew of 20-year-olds to band together.
Just as importantly, he adapts. Remember, at his core Saban is a defensive genius who loves smashmouth, grinding football. But that alone is no longer a winning formula in the modern game, where you must also be nimble and versatile -- willing to adapt. Teams employ the spread to neutralize a lack of size and talent, or simply to maximize their athletes and take the Alabamas of the world out of their comfort zone. Just think about the dichotomy of the Tide's last two wins: a 38-0 drubbing of ground-and-pound Michigan State followed by a shootout with Deshaun Watson and high-octane Clemson.
"I don't know how you do what he's doing," said offensive coordinator Lane Kiffin -- once a controversial Saban hire. "It's too hard now. Nobody does it. I know people did similar stuff years ago. But the scholarship numbers are lower now, players leave early for the draft, and there's so many good coaches."
We talked earlier about the nearly unprecedented dynasty Saban as assembled. We've only seen a team win four titles in seven seasons once before: Notre Dame … on the heels of World War II. Maybe we should add Saban to the expression that the only things in life we can count on are death and taxes.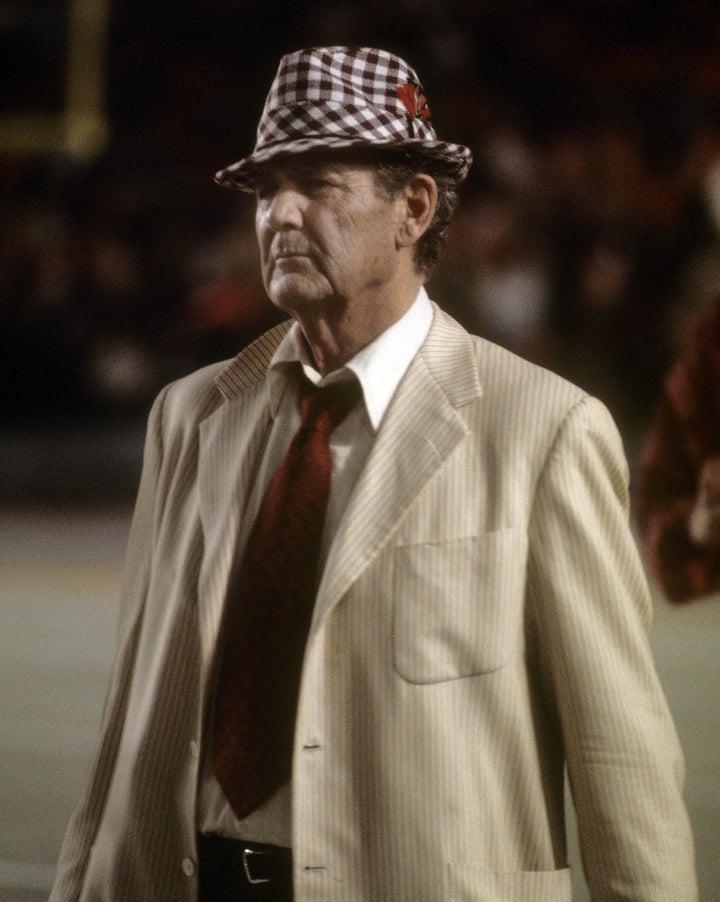 Whether Saban eclipses Bryant's all-time record of six national championships seems more like a formality at this juncture than anything else. Without question, it's never been harder to sustain elite success at this level. Scholarship limitations play a role -- you can't merely stockpile talent which brings selectivity into play -- as does the fact that never before has it been easier to build a program out of thin air: think Baylor, Boise State, Houston.
Should his Heisman-winning junior running back Derrick Henry turn pro as expected, are we not to assume Saban has a tailor-made replacement, the same way he did with dominant collegians and future pros like fellow Heisman winner Mark Ingram, Trent Richardson, Eddie Lacy and T.J. Yeldon? Are we not to assume that he will have the nation's best scoring defense once more, as he did this year? Perhaps the greatest recruiter of all time during his tenure in Tuscaloosa, the 64-year-old coach recently inked the No. 6 recruiting class in America, per the ESPN.com rankings.
And that is precisely the beauty of Saban. The process -- the how -- is perhaps even more important than the result. It's why he and Kiffin used Henry as a decoy early on against Sparty and then rammed him down the throat of Clemson 36 times for 158 yards and three touchdowns. The bottom line is this: When all else fails and it seems 'Bama is finally on the ropes, Saban still wins. He is the greatest to ever do it, and the scariest part is he's not yet close to being done.