 At age 14, bacterial meningococcal meningitis took four limbs from Nick Springer. It didn't take his determination.
Springer plays wheelchair rugby with passion, grit and a little bit of nasty. He is a defensive specialist. Early in the game against Team Great Britain, Ross Morrison seemed unstoppable. Morrison is Team GB's primary ball handler and playmaker. Springer came in at the beginning of the third quarter, following Morrison after Morrison's second quarter rest. Springer shut down Morrison.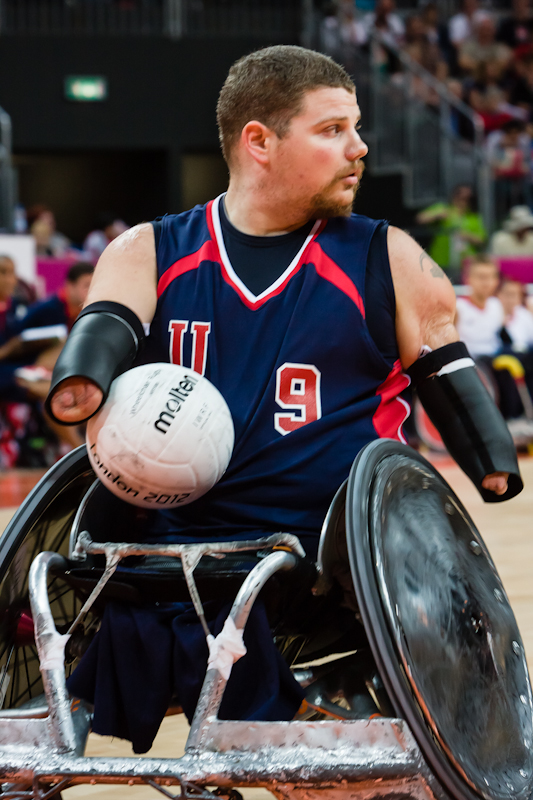 Photo by Anthony Tassarotti
"I'm known for my defense," Springer said. "That's what I do out there. I take pride in that, I'm thrilled that I can bring that to my team and hopefully in the next four games I'll be able to bring that out onto the court.
It worked. Team USA went on to an easy win.
Nick Springer is quick to tell you he is from New York -- the city. According to his bio on the U.S. National Rugby team website he traded a place on the New York Islanders Sled Hockey team for Wheelchair Rugby.
"I'm from New York City -- born in Brooklyn and lived in Westchester just up the Hudson. Most of the players are not from a large city. I think coming from New York helps."
"I live and train out of Phoenix. I play for the Phoenix Fusion rugby team. My day job is I'm a meningitis advocate, I work in different fields promoting education and awareness of the disease as well as promoting a vaccine that can prevent it from happening, and save lives.
Today, Nick Springer is an advocate for awareness of meningitis. He spends his days raising awareness about the disease as well as possible vaccines.
"I almost lost my life to it at age 14 and I see first hand all the hell that it can cause. I am lucky to survive so this is what I can do."
After his playing days are over -- not anytime soon -- he wants to continue to fight for others.
"I want to help any one I can -- a soldier missing his legs coming back from Iraq or the kid in a wheel chair who just doesn't have the confidence to get out there...hopefully help the sport of Rugby and all adaptive sports in general.
"It's a great sport. The problem you can't compare it like any other sport. It's not like Basketball or Hockey, it's a totally original sport. For a lot of people, once they see it, they are hooked."
I am and so is Our Ability. Good luck Nick and Team USA!
Calling all HuffPost superfans!
Sign up for membership to become a founding member and help shape HuffPost's next chapter