Photographer Nick Stern isn't nearly as elusive as his latest inspiration, London street artist Banksy. Within moments of seeing Stern's clever replications of classic Banksy graffiti, we'd made all the normal attempts at contact, and we were soon chatting on the phone with Stern himself, very straightforward and unBanksy-like.
Stern, a photojournalist who splits his time between L.A. and his native England, gave us insight into the series that won us over so quickly, "You Are Not Banksy." His satisfyingly precise real life versions of Banksy's flower chucker, Mona Lisa with rocket-propelled grenade, kissing bobbies, etc., all of which we'd stared at in awe of every careful detail, came about after a parallel amount of attention to: "2 or 3 months of scouring eBay and Army and Navy shops," Stern told the Huffington Post. "I wanted to see how possible it is to recreate [Banksy's work] as three-dimensional photographs. I found out it's quite difficult."
Stern got the idea for the series while directing a photo shoot for an actor friend of his. It was summery out, and Stern wanted to do a portrait inspired by last summer's London riots. After styling his friend to look like Banksy's famous image of a man throwing a flower pot instead of a petrol bomb, Stern realized he was onto something.
"We did it guerilla style in Los Angeles. It's so difficult to get permits to shoot in the city -- it all costs a lot of money. So I decided to do it true guerilla style, Banksy style. We unloaded, shot it and then drove off before anybody could see."
According to Stern, crowds often gathered during the shoots, shouting when they recognized a particular Banksy subject. Banksy himself hasn't acknowledged the series, but the internet loves it enough that Stern is working on a book filled out with ten more Banksy replications, which he hinted would be "a bit more ambitious." How does one surpass finding a Mona Lisa lookalike and photographing her with an honest-to-goodness RPG? Stern says the next series will involve a live leopard (we're assuming a barcode as well).
Check out "You Are Not Banksy" below, and let us know which Banksy copy wore it best.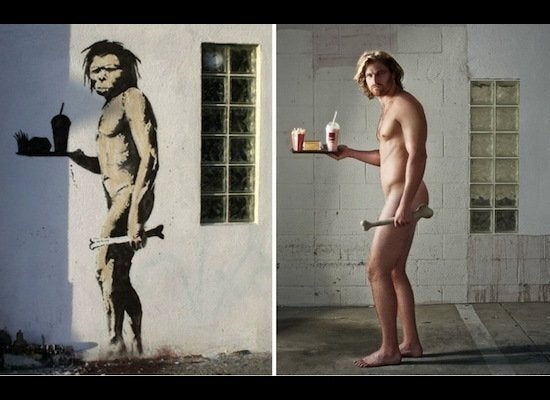 "You Are Not Banksy"
Related
Popular in the Community