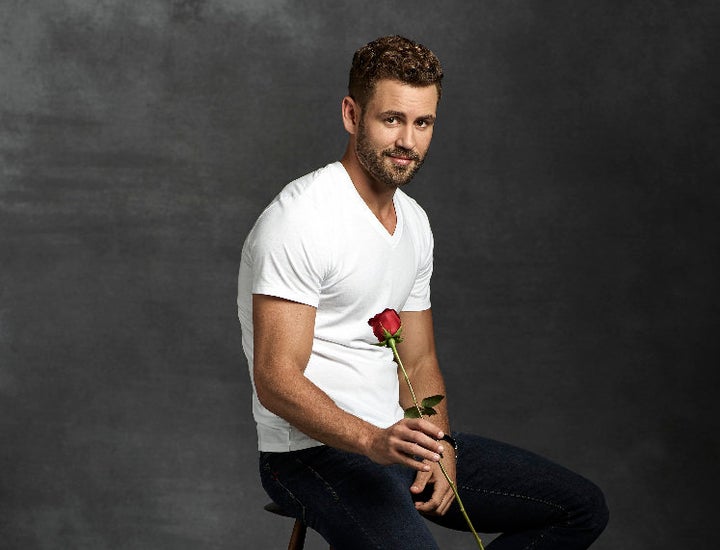 Ever since he first appeared on Andi Dorfman's season of "The Bachelorette," Nick Viall has courted controversy and polarized fans. Two "Bachelorette" seasons and one "Bachelor in Paradise" season later, he's become the Bachelor ― and viewers are still debating whether he's a lovable nice guy or a bit of a cad. 
Some of us, though, have been Nick boosters from the beginning, and we were thrilled to have the opportunity to sit down with one of our favorite denizens of Bachelor Nation for a quick interview this week.
In a conversation with "Here to Make Friends" co-host Claire Fallon, Nick offered a thoughtful defense of the season's villain, Corinne, and reflected on his time as the Bachelor. Check out a few excerpts of the interview below, and listen to the full conversation on a bonus episode of "Here to Make Friends" below.
HP: After all the time that you've been with the Bachelor franchise, what surprised you most about actually being the lead?
NV: I'm good friends with Chris [Soules] and Ben [Higgins], and I've had stressful moments being on the other end of things, but they always said to me, going in, "Man, there's nothing like it. It is so hard, it is so taxing; it's physically and emotionally challenging." I certainly prepared myself for that. Most things in life don't live up to their hype, but that did. You always have to be on. There's a lot of great things about being the Bachelor, but it is challenging to know that every decision you make is going to affect everyone.
How challenging was it for you to switch ― in the past you've been able to focus on one relationship on the show, and as the Bachelor you're juggling so many women ― was it hard for you to compartmentalize that?
Yeah, it's just not a normal thing. It feels very impossible at times. It's hard enough to go from, say, a really compelling one-on-one where you feel like made a connection and then go to bed and press the reset button because you're either going on, maybe, a group date or a different one-on-one or a two-on-one. But to try to do that in the midst of a cocktail party or a group date, where, early on, in that first group date where there was 12 women ― you didn't see them all, but I had 17 conversations that night. It wasn't just Corinne who I talked to multiple times, there were a couple others. You're literally going from one conversation to another, and while it's my 17th, for some of those women, it's their first.
So you always have to be on, you always have to be respectful, you have to try to forget about that last conversation ... not only for them, but you want to make sure you don't miss anything. You don't want your lack of connecting with someone to have to do only with the fact that you were just exhausted.
I wanted to ask you about Corinne ― you've stood up for Corinne over the time that she's been getting flak. 
I think she's a nontraditional [villain], actually, in that, while maybe she can still rub some people the wrong way, she has a lot of friends in the house. You don't see all the women complaining about her. You see it less and less now. 
It's not that I'm defending every action of Corinne, it's just that I think sometimes, in that world, people can lose a little bit of perspective and freak out about the smallest of things.
For more from Nick on his starring role on "The Bachelor," check out HuffPost's "Here To Make Friends" podcast below: 
Do people love "The Bachelor," "The Bachelorette" and "Bachelor in Paradise," or do they love to hate these shows? It's unclear. But here at "Here to Make Friends," we both love and love to hate them — and we love to snarkily dissect each episode in vivid detail. Podcast edited by Nick Offenberg.
Want more "Bachelor" stories in your life? Sign up for HuffPost's Entertainment email for extra hot goss about The Bachelor, his 30 bachelorettes, and the most dramatic rose ceremonies ever. The newsletter will also serve you up some juicy celeb news, hilarious late-night bits, awards coverage and more. Sign up for the newsletter here.
Calling all HuffPost superfans!
Sign up for membership to become a founding member and help shape HuffPost's next chapter
BEFORE YOU GO
PHOTO GALLERY
Tweets About "The Bachelor" Season 21, Episode 6