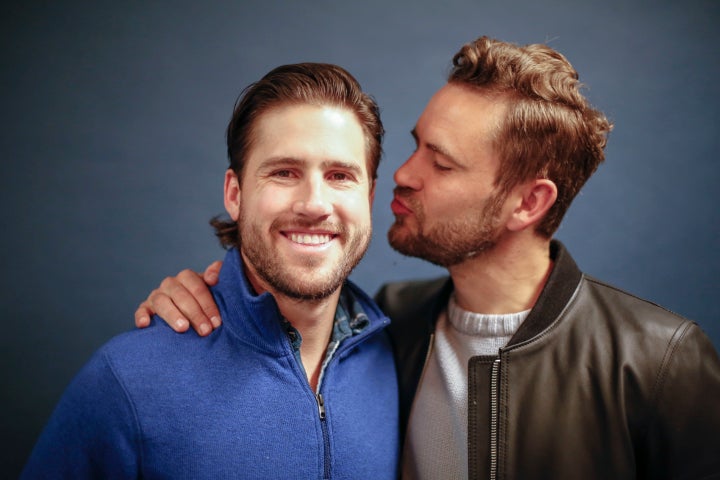 Post-reality TV life can go, as "Bachelor" contestants love to say, one of two ways. Some of the franchise's stars fade quietly back into regular life almost right away, often hooking up with an old college boyfriend again or finding a wife back home where they'd previously claimed dating options had dried up. Some stick around, getting paid for club appearances, appearing on podcasts and talk shows, showing up at anniversary specials, or even finagling themselves back onto new seasons of the franchise or other reality TV shows.
Most of the men and women of "The Bachelor" franchise exist in a tough place, dating-wise -- they're sort of famous, in a way that advertises their romantic availability and desirability. But they're not famous for anything that's likely to sustain a permanent célébrité. A few exceptions aside, they seem to realize this, and they typically seem to date normally rather than among the cloistered celeb class. Ben Flajnik's current girlfriend works in healthcare; Ashley Salter recently became engaged to a college flame who's in real estate; Tenley Molzahn's new love is a product line manager at a footwear company. (You get the picture.)
You know what that means, Bachelor Nation: It's not out of the realm of possibility that you, too, could someday find yourself on a one-on-one date with a gentleman or lady you spotted on "The Bachelor" or "Bachelorette." But how? And once there, how do you ensure that powerful rose to advance to the fantasy suite and beyond?
Well, first of all, you can cut out all the strained "Bachelor" references I just tried to shoehorn in. Nick Viall, two-time "Bachelorette" runner-up, and J.J. Lane, of "The Bachelorette" and "Bachelor in Paradise," joined HuffPost's podcast "Here to Make Friends" this week and ended up sharing a number of insights into how to win over a reality TV star. 
1. No corny "Bachelor"-themed lines:
"Bachelor lines … there's nothing worse than when people are like, 'Will you accept this rose?' Some people say it seriously." --Nick
This is very important: Nix the canned pick-up lines pulled straight from the show; trust they've heard them all, and they are not amused. You might think you're starring in the rom-com of his life, or demonstrating unbearably unique wit, but consider the thousands of girls who've gone that route before.
2. Even if you watched their season of the show, try to get to know them from scratch.
"If [a woman] came up to me and started talking to me, and even saying, 'Is it weird that I know so much about you?', that would be a huge turnoff. If someone recognized that they probably don't know that much about me, and they probably just know a portion that they saw on TV, and took the time … that wouldn't bother me." --Nick
Play it cool, not in order to seem "cool," but so you can get to know them as a person outside of their show appearance. That's only one small part of a former TV star's whole package!
3. Consider playing it really, really cool.
"I really enjoy now, [as] the everyman, that I get to reject girls that have to come up to me." --J.J.
Rejecting cute girls is like shooting fish in a barrel for fan favorites from these shows, who are bombarded with attention whenever they hit the singles scene. Some of them -- ahem, J.J. -- even seem to enjoy it, in a perverse way. Why give them that satisfaction? Hang back and be the aloof prize, not the opportunity for twisted gender payback.
4. Actually, it might already be too late for you.
"Ladies, if you're looking to date me, you shouldn't be listening to this, because I want someone who's never watched the show."--J.J.
Okay, this advice doesn't all jibe -- these guys are individuals, not a Greek chorus -- but frankly, some former "Bachelor" and "Bachelorette" singles don't even want to go there with the show's viewers. If only time machines were real. 
For more candid advice from Nick and J.J., listen to this week's episode of "Here to Make Friends": 
PHOTO GALLERY
Tweets About "The Bachelor" Season 20, Episode 7
Calling all HuffPost superfans!
Sign up for membership to become a founding member and help shape HuffPost's next chapter