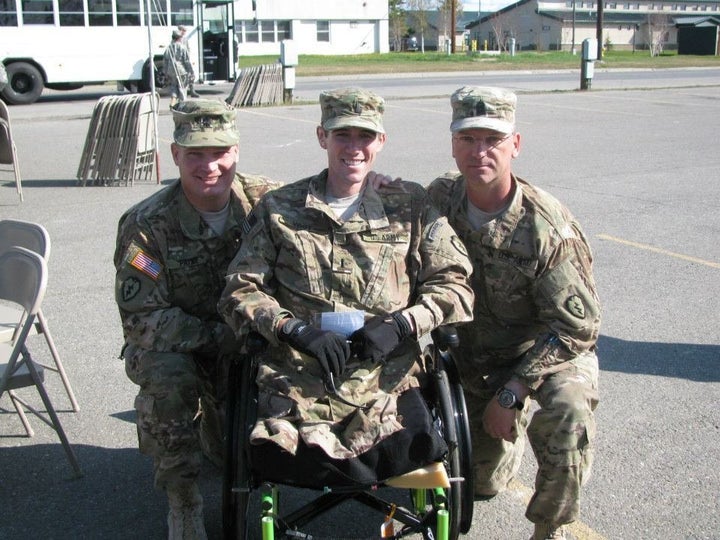 First Lt. Nick Vogt has faced death many times this year, but thanks to the support, prayers and blood of more than 300 troops, the soldier is alive and on the road to recovery.
An aspiring Army trauma surgeon, Vogt, now 24, graduated from West Point in 2010. A year later, the young man found himself in Afghanistan, serving with the 1st Stryker Brigade, 25th Infantry Division. But as the Military Times reports, his experience on the battlefield would be short-lived.
Just two months into his service in Kandahar province, Vogt would be considered "clinically dead," having stepped onto a improvised explosive device (IED) that was buried in the soil beneath his feet, according to the report. The bomb exploded, taking his left leg and mutilating the right.
Another soldier, 21-year-old Calvin Pereda, who had been standing next to Vogt would eventually lose his life from injuries caused by the explosion. Vogt himself almost didn't survive.
Nick should be dead, the doctors told his family later, if not from the explosion then from the precarious surgeries that followed. He suffered such severe wounds that his heart stopped several times as doctors operated to stanch the massive bleeding.
As the Military Times notes, Vogt's physical condition had deteriorated so rapidly that physicians were forced to open Vogt's chest to perform manual heart massage. This maneuver, while keeping the young man alive, also meant that Vogt was losing blood at a hazardous rate. Even worse, the hospital where he was being treated had used up its entire supply of platelets, whole blood and plasma. The young man needed more to even have a chance at survival.
Fortunately, Vogt's fellow troops refused to allow him to die without a fight.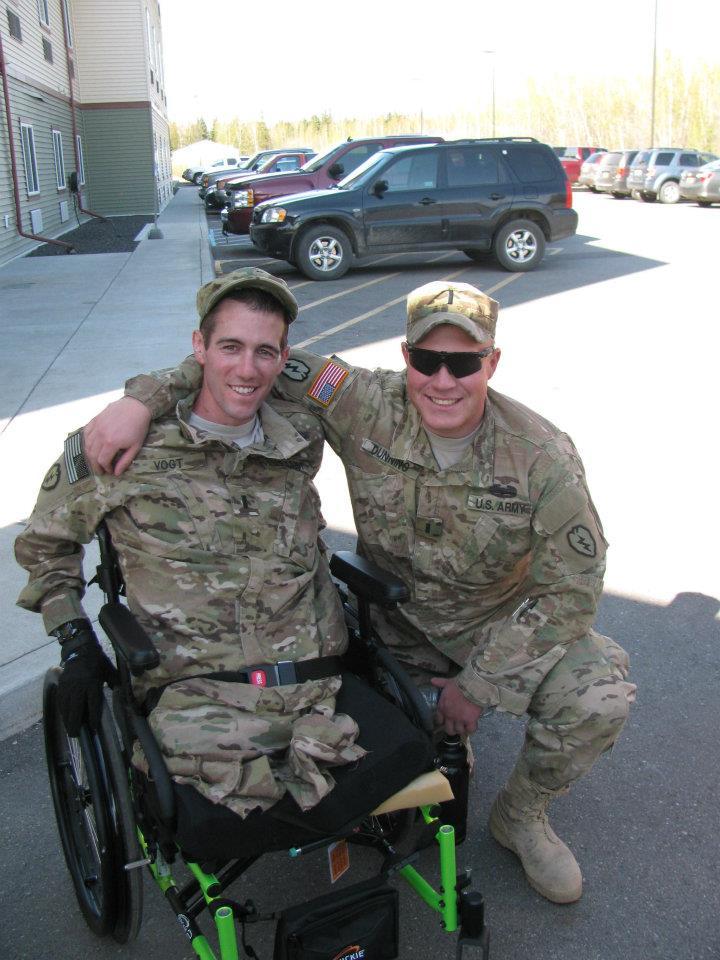 (Photo credit: Facebook/Nick Vogt Family)
A band of soldiers, including team leader Sgt. Adam Lundy, hurriedly rallied blood donors "from across the Kandahar post." More than 300 troops would step up to donate blood.
After being transferred to a hospital in Germany and finally the Walter Reed National Military Medical Center in Maryland, Vogt underwent at least another 30 surgeries. His heart would stop twice more as he battled infections and a brain aneurysm, according to the Military Times.
But today, almost a year after enduring his traumatic injury, Vogt is not only alive, but healthy. He's doing so well, in fact, that he posted a video on YouTube in August showing him doing push-ups.
"Things like 'missing leg' can have some advantages. For example, I've lost 70 pounds haha," he wrote in the video's comments section.
Vogt has inspired many with his story of bravery. But the young man says that he owes his life to the hundreds of soldiers who gave a piece of themselves to save him.
"We could never find the words to express our appreciation and gratitude to the hundreds of people who have helped Nick survive his injuries," Sheila Vogt, Nick's mom, told U.S.A. Army Alaska. "Thank you from the bottom of our hearts. Had it not been for you, we would not have been able to tell the story of Nick's survival. He has a very bright future, and we are so glad that God put you into Nick's life."

Popular in the Community