ESPN anchor Robert Flores fired back once more at Los Angeles Laker Nick "Swaggy P" Young late Monday night, this time taking on the basketball player's skills.
"If you look at his numbers, there is a 70 percent chance that if he takes a shot at me, he's going to miss," Flores quipped on ESPN Radio's Sedano & Stink show, when asked about his feud with Young. "I'm just looking at the numbers. So, I'm good. It's all good." (Young is currently shooting just at 36.6 percent.)
Young and Flores have been firing back and forth at each other the last couple days in what has certainly become the week's most bizarre media feud. Flores first started the rather random battle on Sunday when he said on "SportsCenter" that Young's girlfriend, Iggy Azalea, was "trying to kill hip hop."
"We learned [this week] that, according to the Lakers' Nick Young, a dolphin recently tried to kill him," Flores said. "So, Nick, while dolphins are trying to kill you, your girlfriend is trying to kill hip hop. Let's call it even, okay?"
On Monday, before Flores' "70 percent" jab, Young fired off a series of tweets in which he told Flores that his "job is to talk about sports not what me and my chick got going on."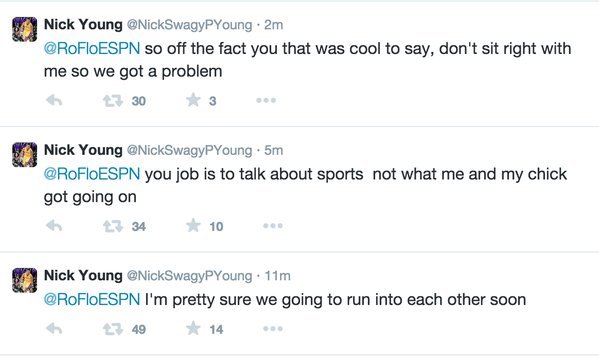 Thanks to For The Win for sharing
Young later deleted the tweets. Flores said Monday night it was "all in good fun," "just a joke" and dismissed that there is any real beef.
But after the ESPN anchor took yet another shot, it's safe to say: Your move, Swaggy.
Calling all HuffPost superfans!
Sign up for membership to become a founding member and help shape HuffPost's next chapter