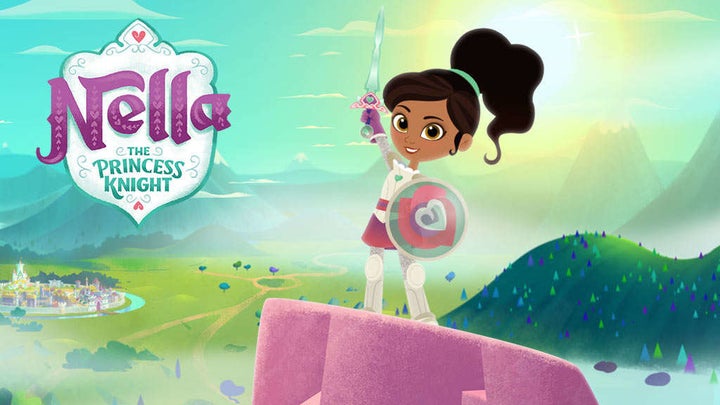 For those parents tired of "princess culture" with its celebration of all things gender-normative, "Nella The Princess Knight" could be a welcome addition to the canon.
In case the title of the new cartoon program premiering on Nickelodeon Monday didn't tip you off, Nella is not just a princess, she's a princess knight. That means she rides a pink-maned unicorn but brandishes a sword and armor.
"There are a lot of princesses out there and we had to think about what would make a Nickelodeon princess unique. What became crystal clear to us in the development process is that Nella didn't have to be a princess or a knight ― she could be both," Nina Hahn, Senior Vice President of International Production and Development at Nickelodeon, told The Huffington Post.
The character is also biracial, with a white mother and a black father, which Hahn says is "representative of what the world looks like to kids today."
The decision was informed by research that indicated that most children under 12 will be nonwhite by 2020 and that already 17 percent are biracial, the network told The New York Times.
The character is a mash-up of traditional "boy" and "girl" elements. Yes, Nella wears a ball gown, but she adds a sword, shield and boots when she transforms into the princess knight. Yes, the show has the sparkly look and feel of a traditionally saccharine show aimed at "girly" girls, but the female hero is a brave adventurer, who backflips and fences her way through the setting. An episode even features her singing "Fight Song," which was last best associated with former presidential nominee Hillary Clinton.
The teaser trailer for the show plays to those differences, showing the hero in a ball gown and tiara while the voice-over begins: "In a far off kingdom, there is a princess named Nella, with a beautiful gown and sparkling tiara. She is a picture perfect princess."
"But that's only part of my story," Nella responds.
The network hopes the show can appeal to all kids ― boys, girls, princess-lovers of both genders, and so on.
"We have a strong girl lead, but the big ideas for the show ― to be courageous, have empathy for others and trust your inner voice ― are universal," says Hahn.