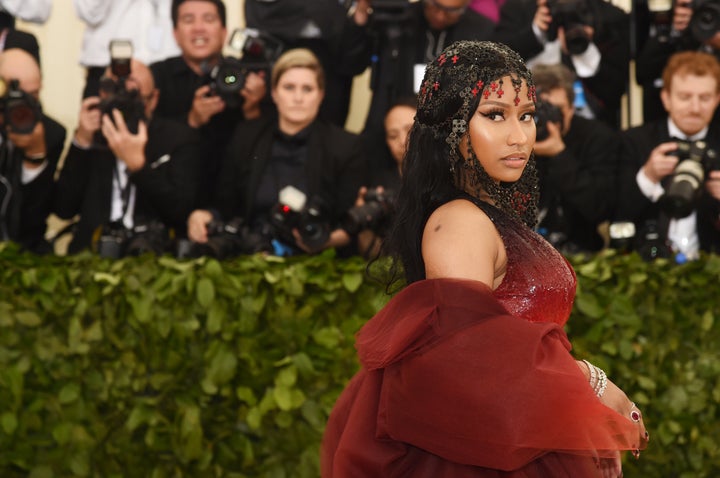 Nicki Minaj knows she doesn't need a man to be successful.
Minaj, 35, has already been widely praised for "Chun-Li" and "Barbie Tingz," her first two singles off the highly anticipated album. She said much of her success and sound can be attributed to being single. 
"I went through a moment where I got to know myself again, and then I went through a moment where I got to know myself as the rapper again. And then I locked [myself] in the studio and I didn't want to leave," she said. "Spiritually, I've experienced more growth in the last six months of my life, of my career, than I have in the last eight years."  
Minaj said that ever since she was 15 years old, she's had a serious boyfriend. It wasn't until the beginning of last year ― when she and rapper Meek Mill broke up after two years of dating ― that she was on her own. 
"It's the first time in my life I've ever been single," she said.
"I remember feeling like I could do anything at one time in my life," she continued. "And somewhere along the line, I just started second-guessing myself, for whatever reason." 
But once she was single, Minaj said, she had an epiphany: "As soon as I realized that I could actually live and breathe, and eat and sleep, and walk and talk without having a boyfriend, something clicked in me." 
"Becoming single was one of the things that made me feel strong and powerful," she added. "The fact that I am a young woman who doesn't need a man for money. I don't need a man for a job. I've never had to fuck for beats. I've never had to fuck for a record deal. I don't have those pressures. I get up when I want, shop when I want."
Head over to Elle to read the full feature. 
Calling all HuffPost superfans!
Sign up for membership to become a founding member and help shape HuffPost's next chapter