 Nicki Minaj's fire-breathing alter ego Roman Zolanski made quite an impression at Sunday night's Grammy Awards, and the rapper says the dungeon dragon is here to stay.
Her performance traded on Catholic lore, sending Minaj stumbling down the path of appropriating religious iconography and exorcisms for the "edgy" purposes of pop music. A Papal figure joined her on the red carpet and took her confession. Then there was fire and half-naked backup dancers. The Catholic League was predictably enraged.
The performance made one wonder if Minaj had seen the work of Ladies Gaga and Madonna and thought, "I can do that too!" Gaga's tropes may be, as Madge herself claimed, "derivative" of the elder performer's career, but at least Gaga can dance and sing with believable swagger.
Madonna and Gaga both made names for themselves by threading controversy from one record to another. Minaj, who covers Vibe next month in an orange win and tiara, is tirelessly and exhaustingly courting controversy. Who else could make a Versace cloak so groan-inducing? (Interestingly, Gaga was happy to skip the red carpet and avoid drawing attention to herself at this year's Grammys).
Her video for "Stupid Hoe" (we'll refrain from commenting on the title itself) was recently banned by BET, apparently on account of a bare buttocks and its talentless refrain ("You a stupid hoe / You a stupid hoe ... "). She showed up to the VMA's wearing an entire toy store.
"Sometimes I have different personalities, so I just started naming them," Minaj told New York. "Like, there's one that's angry, a little more in-your-face. I named that person Roman. He guest stars on my new album. There's also his mother, Martha. She guest stars as well. She's from London. I also have a Barbie character that comes out every now and then. She's soft-spoken, really sweet, and polite. She's got a kid's voice."
Roman already appeared on Minaj's 2010 hit "Roman's Revenge" off her album Pink Friday, and will likely play an even larger role on her upcoming album Pink Friday: Roman Reloaded. Minaj defended the Grammy performance as a "very literal and streamlined" "coming-out party" for Roman that any true fans would have instantly understood.
Lady Gaga also toys with alter egos, but her cross-dressing turn as Jo Calderone was a frighteningly committed and believable performance, a work of performance art, even.
The aggressive side of Minaj's rap-persona has had its bright moments, perhaps most notably on Kanye West's Jay-Z, Bon Iver and Rick Ross-assisted track, "Monster." In a Funkmaster Flex radio interview shortly after the songs release, West praised Minaj for her performance but noted that she didn't come into the studio with that performance, but required her fair share of coaching.
Her new song "Starships" (see below) is produced by RedOne but sounds like typical Dr. Luke: a breathy pop hit from any number of today's interchangeable pop darlings (Perry, Ke$ha and friends). Certainly not the worst thing to hit the radio (see "Moves Like Jagger"), but also completely unambitious.
"In the beginning, if people didn't know me they'd probably assume I wasn't smart or wasn't business savvy," she tells Vibe. "But once you sit and talk to me, it's a different story."
That may very well be true, and Minaj deserves credit for never acting cruelly (though that feud with Lil' Kim was unsavory). Unfortunately, being nice and smart behind closed doors doesn't always make for great art.
Then again, we may be wrong:
Pink Friday: Roman Reloaded hits stores on April 3rd. For more on Minaj's career, click over to nymag.com.
See some of Nicki's wildest moments: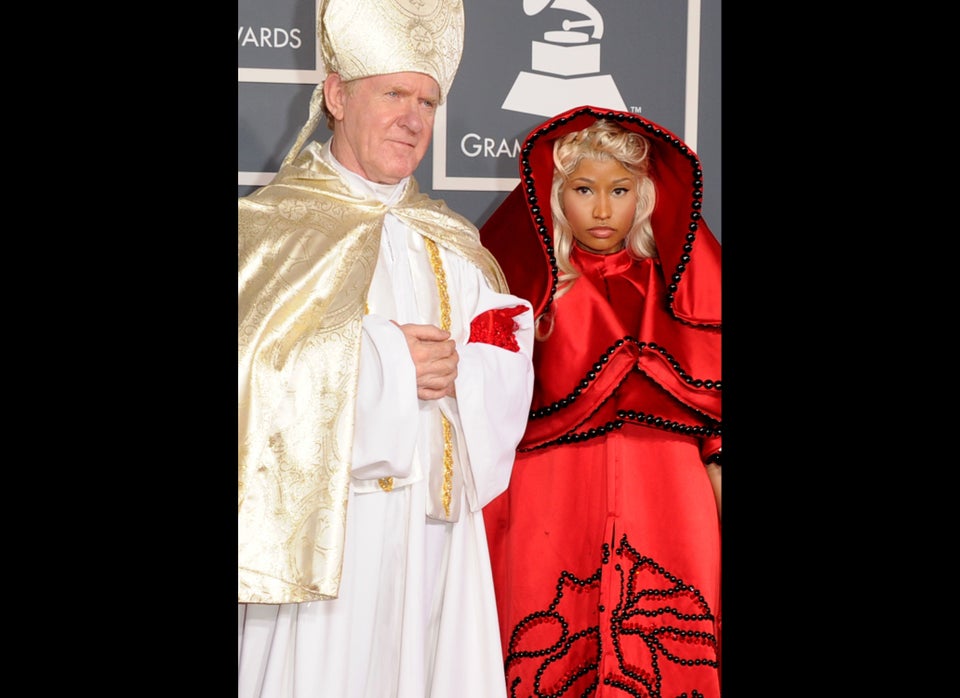 Popular in the Community