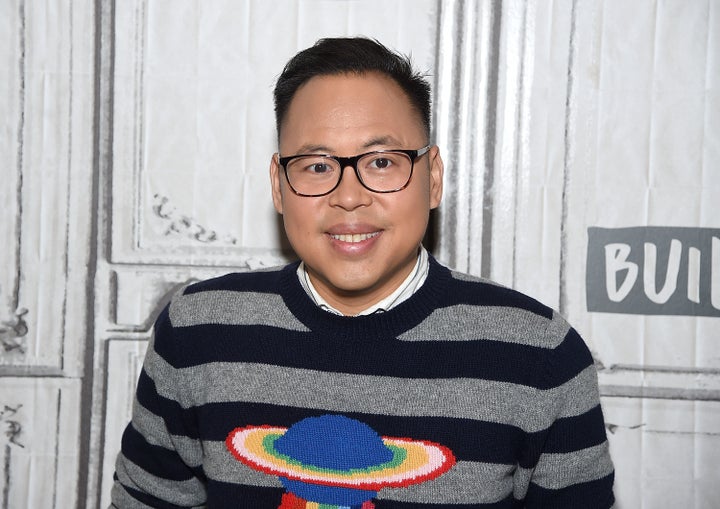 Despite his success on the stand-up and television circuit, Nico Santos still "can't believe" the impact his new movie, "Crazy Rich Asians," seems poised to make on Hollywood.
Based on Kevin Kwan's novel of the same name, "Crazy Rich Asians" is, without question, one of this summer's most hotly anticipated comedies. It's also the first film in 25 years to be released by a major studio featuring an Asian-American director, Jon M. Chu, and an all-Asian cast, including stars Henry Golding, Constance Wu and Michelle Yeoh.
Santos, best known for playing Mateo in the NBC sitcom, "Superstore," said he hopes his turn as the "snarky, fashionable and gay" Oliver T'sien will speak to his audience. He especially hopes it will resonate with those who long to see more intersectional ― in this specific case, Asian and queer ― characters on the big screen when the movie hits theaters in August.
"What I love about this movie is that I get to ... be a part of a project that means something, that has a message. I feel really fortunate," the actor-comedian told HuffPost. "It's really great to see the queer landscape really change to include everybody and make the rest of the world understand that we're not just one or two things. There's so much about the queer community that needs to be represented."
Santos dropped by the HuffPost offices to chat about "Crazy Rich Asians," the representation of LGBTQ Asians in television and film and what he believes is Hollywood's new big queer hurdle.
"Crazy Rich Asians" is one of this summer's most anticipated movies. Do you feel any pressure given how this role has the potential to be a breakout moment for you?
Yes and no. I hope the film is well-received, but I don't necessarily think this is a make-or-break moment for me. I'm fortunate enough that I still have another job. I do hope that "Crazy Rich Asians" leads to more work because I do want to expand what I'm doing out there. I mean, I try not to think, like, "Ugh, if 'Crazy Rich Asians' doesn't do well, then they'll never make another Asian movie ever again." I really hope that's not the case. I hope the industry doesn't see this as the one shot we get. We should be making these kinds of movies and telling these kinds of stories. There should be five more movies coming out this year that are just like "Crazy Rich Asians" and five more movies just like "Black Panther."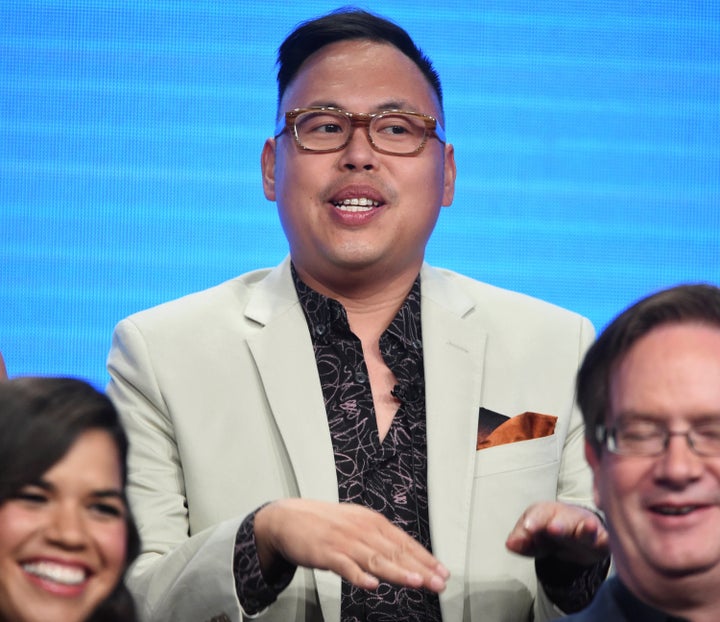 What parts of yourself did you bring to the role of Oliver?
He's one of the crazy rich Asians, but he's an outsider compared to the rest of his family. I certainly know what it's like to feel like an outsider. So I really drew on those experiences of feeling alone, feeling like the odd man out.
Filipino culture is not necessarily seen as particularly progressive with LGBTQ issues. How did you navigate that part of your identity growing up? Well, it's weird. I was in the closet up until I moved to the U.S. But I was always one of those kids who couldn't really hide being gay. Some queer kids are just more straight-passing than others. I was not one of those kids. If you saw "Love, Simon," I was not Simon. I was Ethan … I feel like it's harder for people like me who are obviously gay. I did go through a phase of trying to fit in more. But I just reached a point where I was like, "This is who I am. And I can't hide or deny that part of myself." Because why would I want to?
Once I became more comfortable in my skin, that's when things started opening up for me. The fact that I get to play a queer Filipino on television and another queer character in "Crazy Rich Asians" is huge. I never thought I'd have a career being myself. I always thought that being an actor in Hollywood meant that I would have to put that side of me on the back burner. A lot of times with queer representation, it's always like the masculine or straight-passing characters that they want to put out there. First, it was broad stereotypes of sissy florists and hairdressers, and then it became straight-acting white guys. And now it's really great to see the queer landscape really change to include everybody and make the rest of the world understand that gays are not one or two things.
Watch the "Crazy Rich Asians" trailer below.
Who did you look up to when you were growing up?
Ellen DeGeneres is a huge influence in my life. She's one of the reasons why I wanted to do stand-up comedy. I was a big fan of her stand-up before she even came out of the closet. When she came out [she] really changed the landscape for how people received queer people in America. It was really monumental and really allowed me to be like, "Well, she can do it. She has a huge career. Then maybe that dream is allowed for me, too."
Was there ever a point in your career where you thought that you couldn't work as your authentic self?
No, because I started out in stand-up comedy. In stand-up, I was pretty open and frank. I talked about my queer identity. I talked about my Asian identity. So pretty early on, people knew right away what they were getting. It was actually really hard to go from stand-up ― where I was so used to being myself ― to becoming an actor, where you had to fit the mold of what they were looking for. It was definitely a square peg/round hole situation sometimes. But I just was like, "You know, we're just gonna force it then. We're just gonna take a hammer and force a square peg into the round hole." And I made it fit.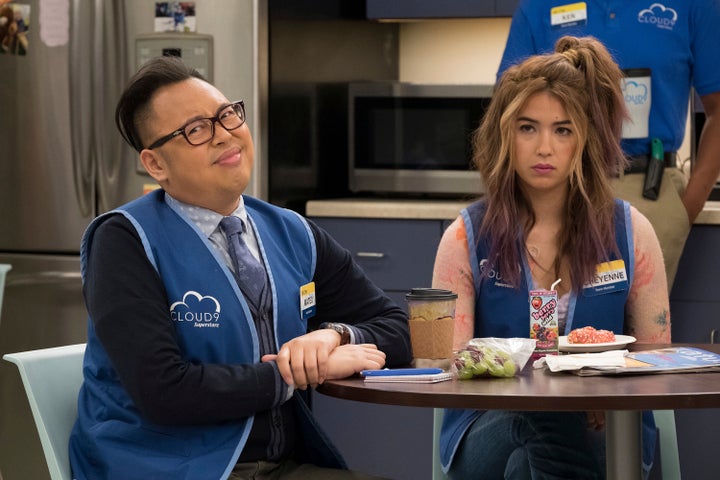 What do you see as the next LGBTQ hurdle in film? I think we should be allowed to show our flaws. It's hard when you're out there, and you're trying to represent your community because you want to put your best foot forward. Like with Mateo in "Superstore" ― I love that he's allowed to be a little bit of a villain. I feel like, before, people were like, "You can't have the Asian gay guy be a villain. That's putting a bad name to the community." And I'm like, "Well, that's just part of his personality. Some people are bad. Some people are good. Not all the time." But you have to show what's real, right? You have to be able to represent what's real about the person. And I really hope that we're getting to that point where people are getting that ... That we get to show more interesting, well-rounded characters that doesn't have to be like, "Well, see this is what gay people are. This is what Asian people are."
"The fact that I get to play a queer Filipino on television and another queer character in 'Crazy Rich Asians' is huge. I never thought I'd have a career being myself."
It's actually been one of my dreams to voice an animated character. I grew up watching cartoons, so I can't wait to get into it. I play Buckley, who is a really cute character. He's kind of a bumbling assistant. I'd love to do the Asian "Coco." I mean, "Coco" was like ... did you not weep? I was a puddle several times. I wanna be in Pixar, Dreamworks, Sony ― all of them! Put me in all the cartoons.
HuffPost's theme for Pride this year is "The Future is Queer." What does a queer-inclusive future look like to you?
I would say once we stop getting stupid questions from straight people about, "What's it like being gay? What's it like being trans? Who's the man? Who's the woman in the relationship?" I don't like the phrase when people are just like, "I wish it was a time when coming out isn't necessary." I think coming out is necessary. People should come out all the time. But I hope that someday that we are just seen as part of the whole rather than the other. And hopefully, that'll happen. We'll see.
For LGBTQ Pride 2018, HuffPost is highlighting 30 different cultural influencers who have shifted the narrative when it comes to queer issues and whose work has contributed to building a more inclusive and equitable future for us all.
#TheFutureIsQueer is HuffPost's monthlong celebration of queerness, not just as an identity but as action in the world. Find all of our Pride Month coverage here.
Popular in the Community