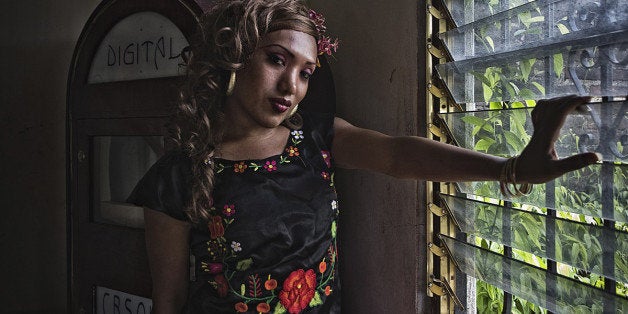 Frioli shared his photo series, titled "We Are Princess In A Land Of Machos," with The Huffington Post and answered a few questions about his experiences with and understanding of the Muxes.
The Huffington Post: What is the role of the Muxes in their society and how does that differ from those with more traditional minority sexual or gender identities? The Muxes in Juchitan and on the surrounding Tehuantepec Isthmus are respected, included in municipal jobs in the area. That respect, unfortunately, is generally not enjoyed by homosexuals or [transgender people] in Mexico, and probably not anywhere else in the world aside from the hijras in India and Pakistan, who have a religious role in society. The Muxes in Juchitan have stayed on to care for their parents in their old age. They are the people who educate teenagers about sex, given that in Zapotec society it is common to ask for proof of virginity when a young woman gets married.
What inspired you to document the Muxes for this photo series? I was inspired the first time I heard about this subject, while travelling in Mexico -- just to know that in a mostly machista country, within the republic of Mexico, there existed an unusual place where [they] could live without threats, without being victims of disrespect or homophobia.
How long did the series itself take you? Where did you travel? The Muxes are found in Juchitan de Zaragoza, in the state of Oaxaca, within the Tehuantepec Isthmus zone. That's the area where you can find them, often just by asking the women at the town market. Since 2002 I have gone there several times, spending days or weeks on the project. The last photos were taken in 2008-2009.
What did you learn during the process of photographing this group of people? It was very amazing to learn that within Mexico there are many and very different cultures, that the matriarchal Zapotecs are a people who respect diversity, the same diversity that the modern Western world has lost because of the hypocrisy of thinking that we're all the same. I also learned that the Zapotec culture in many respects shares characteristics with the traditional Arab world that still survives today in India and Pakistan.
Check out the photo series below, and for more information about Nicola Ókin Frioli's work check out his website or website and Twitter.
Calling all HuffPost superfans!
Sign up for membership to become a founding member and help shape HuffPost's next chapter
BEFORE YOU GO
PHOTO GALLERY
We Are Princesses In A Land Of Machos