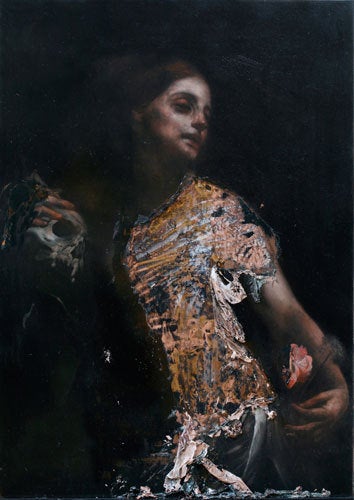 Nicola Samorì is the 35-year old Italian artist who first captured my attention approximately three years ago, when I happened upon a two-sentence mention of his work on the Juxtapoz website. The images accompanying the sparse write-up had been rendered by a master painter, and I was struck with the desire to know everything I could about the man who would prove to be elusive during much of my search for answers.
Known for the smoldering intensity of his figurative work, and a dedication to preserving antiquated styles and themes in his paintings, Samorì deftly wields his artist's brush to create moody and atmospheric pieces that weigh heavily both physically and metaphorically. The creation of each of his compositions is marked by ceremony before a systematic deconstruction. Samorì is most successful, however, in creating timeless pieces of art in spite of -- or perhaps even because of -- the heavy Baroque influence that runs throughout his body of work. They are as relevant today as they would have been in Michelangelo's -- an obvious influence in Samorì's work -- 16th century Italian Renaissance. The classical beauty imbued in each of his pieces is only surpassed by his technical aptitude. Samorì is, at the heart of it, a master storyteller and the work as enigmatic as the man.
I tried for months to get in touch with the Samorì for an interview, though his personal website and his gallery representatives. After weeks with no success, I simply gave up. It was earlier this year, as I was once again contemplating Agnese, one of my favorite pieces, that I was moved to try just one more time. I was in luck, and it was from his studio in Bagnacavallo, near Byzantine Ravenna, a repurposed ancient church where Samorì spends most of his time, that the artist himself finally answered my query. The following interview sheds light on the prolific artist that, much like the figures featured in his work, spends most of his time in the shadows.
Mia Benenate: When did you first start painting?
Nicola Samorì: I don't remember, actually. Maybe when I was just four. That's what I've been doing all my life.
MB: Do you have any formal training in the arts?
NS: I do, art school and Academy of Art. However, I've received the strongest imprinting from the contact with the rituals of the country where I live, the compulsive daily work in my study, my going to museums.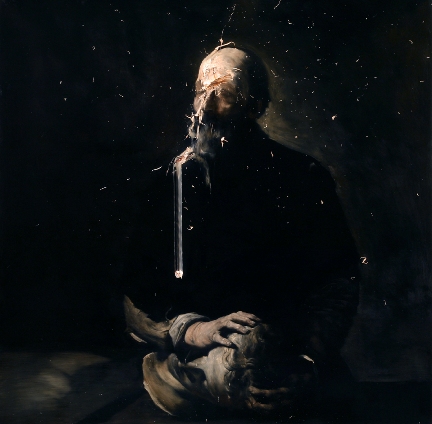 Simonia (Gambassi), 2008, oil on copper, 100 x 100 cm, image courtesy of Nicola Samorì
MB: How were you discovered?
NS: By my parents, by my teacher, by my first art dealer... The people around me have never stopped discovering me. Everyone who has done something remarkable with me claims to have discovered me. Selfishly speaking, I would say I've been the one to discover myself much earlier than others could "see me."
MB: When was your first gallery show?
NS: In Bologna, in a small historic art gallery I've been working with for quite a long time. I was 25 but I had long been exhibiting in public spaces by that time.
MB: What first moved you to create art? Were you a child, or did you come into your own as an artist as an adult?
NS: Instinct. I've never decided to devote myself to art, I've always got the urge to, even if it took me years to start getting more aware of it.
MB: What inspired the mood of your art?
NS: My work stems from fear: fear of the body, of death, of men. I think my nature as an artist is something like feeling hopeless. Works are just temporary shelters and painting is a leisure place where you can conceal yourself.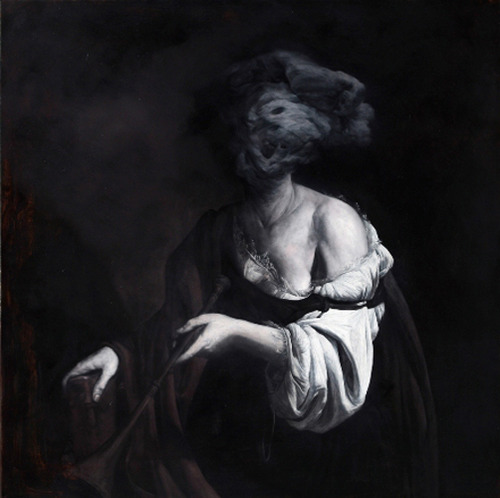 La Storia, 2009, oil on copper, 100 x 100 cm, image courtesy of Nicola Samorì
MB: How would you describe the themes in your art?
NS: My works are planes of temporal accumulation and push the image towards its dissolution. My attention is focused on the last moments of a work when a form of exhausted, at-the-limit beauty is impressed in it. I like taking the image to a breaking point, putting its form into danger.
MB: What motivates your art?
NS: There's no particular reason. You just chase it.
MB: When I look at your work, I am struck by the moody atmosphere and the literal darkness of the imagery. Is this a reflection of you? Can you describe to me how this moodiness/darkness that appears in your work connects to you personally?
NS: It is an unconscious mirror perhaps, sort of an exorcism to take away something from you or give form to whatever you do not want to live. What is shown in my work is what I have escaped.

MB: Do you feel that the public understands your work? Does it matter to you that you are understood?
NS: It's nice to feel you are understood but it's not vital. I like strong reactions: disturbing, entering the people's minds, changing the people who get in contact with a work of mine, even if for a very short time. It's hard to feel you are completely understood since I am the first one who changes his mind about his works all the time.
MB: What do you want people to know about you?
NS: That I am not kidding, that art can be a very serious matter. Private matters must be kept private.
MB: What is your life like?
NS: Not bad. I am married to a wonderful person, I live in a very beautiful house, I earn a lot, I just love what I do, I meet interesting people. However, I do not forget that everything is vanity, that I need art especially to count the days passing by.
MB: Do you have any figures in art history that you look up to?
NS: A great number. It wouldn't make sense to draw up a list of all the artists who have influenced my art, but I cannot restrain from mentioning Michelangelo, even if it may appear quite obvious. I think he is the greatest creative mystery of our species, the very personification of Western aesthetics.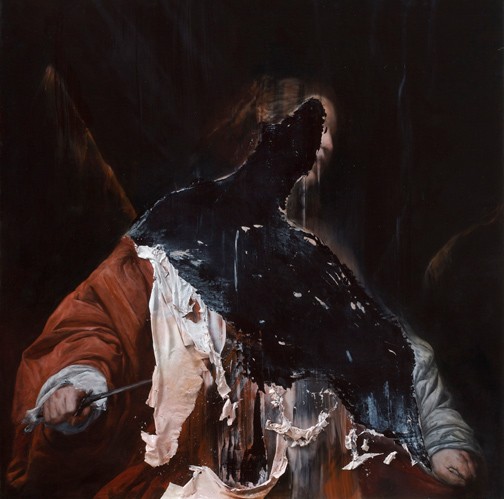 Lucrezia, 2010, oil on wood, 100 x 100 cm, image courtesy of Nicola Samorì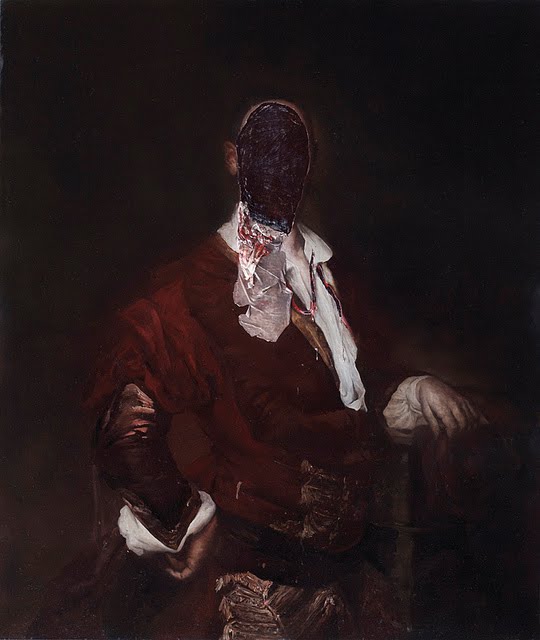 Secco Suardo, 2010, oil on wood, 106 x 92 cm, image courtesy of Nicola Samorì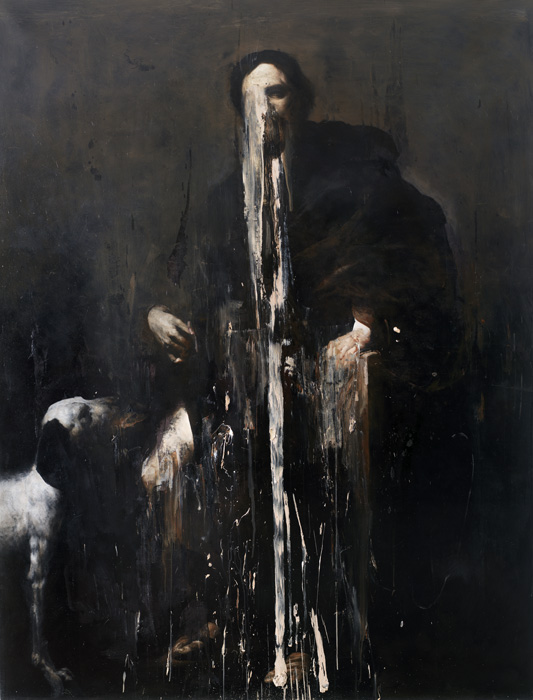 Simonia (J.R.S.R.), 2009, oil on linen, 200 x 150 cm, image courtesy of Nicola Samorì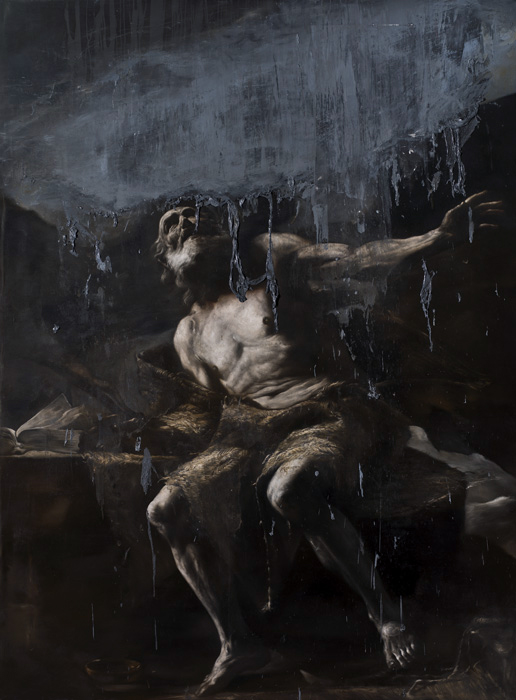 Nubifregio, 2010, oil on linen, 200 x 150 cm, image courtesy of Nicola Samorì
Popular in the Community