Actor Nicolas Cage helped raise awareness this week in the search for Alexis Boroviak, a 15-year-old girl who disappeared in Ohio earlier this month.
"We were out searching and passing out fliers when we heard Cage was in town," said Angel Arroyo Jr., a member of the Guardian Angels and the Cleveland Peacemakers Alliance who is assisting in the case. "[We went to the set] and he said, 'Come on in.' We took a picture of him and her stepfather holding one of her fliers."
"He was a nice guy," Arroyo told The Huffington Post. "He said, 'I'm praying for you guys, I hope you find her and good luck.'"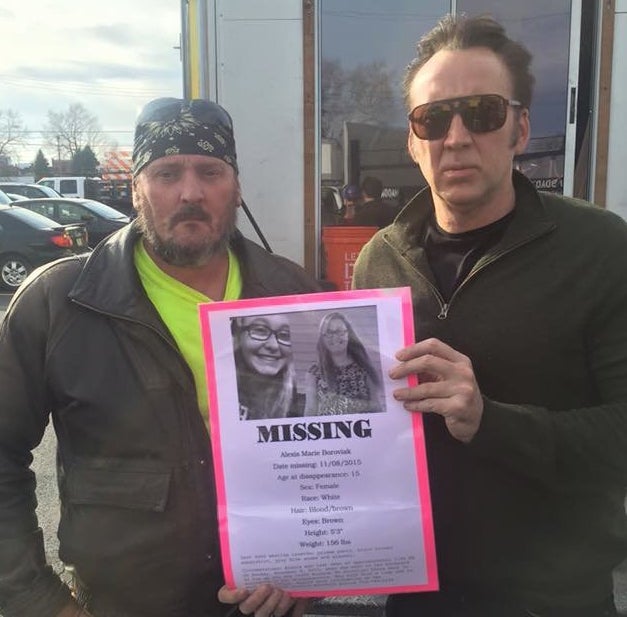 According to Arroyo, Alexis was last seen Nov. 8, when she took the family dog outside her home in Brooklyn, Ohio. Her stepsister later found the dog, but there was no sign of Alexis. Her family filed a report with police and asked Arroyo, who has worked with other cases in the area, to help raise awareness.
"At this time, while her location is yet unknown, several pieces of credible information suggests that Alexis had made plans to run away," Brooklyn police said in a news release. "She had clearly informed friends and extended family members of her intention, but did not offer any solid information as to her intended destination."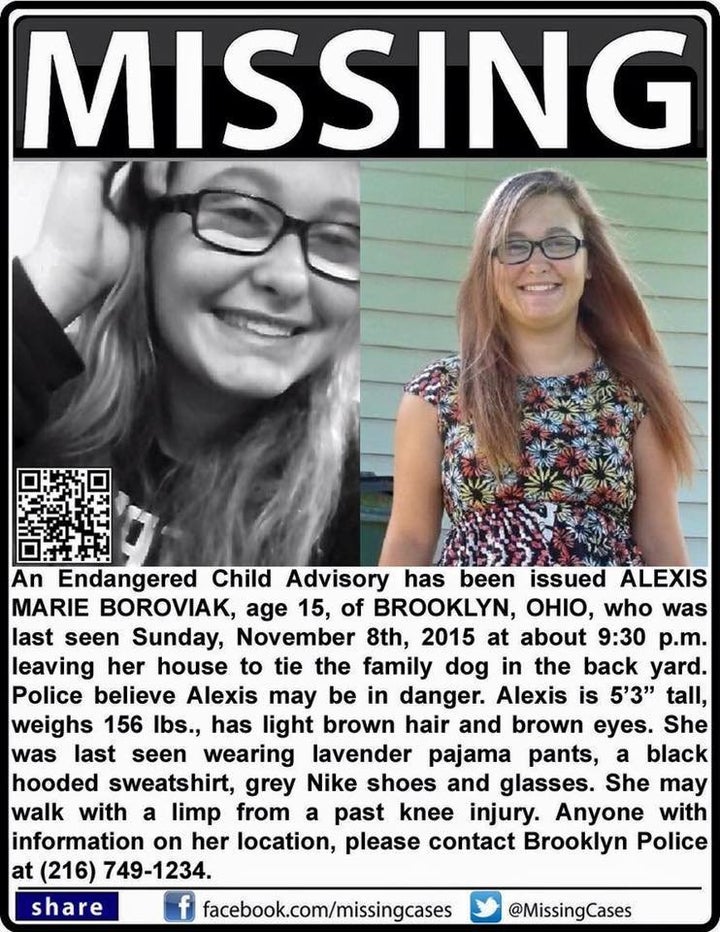 Arroyo said Alexis is not a habitual runaway but had experienced some recent difficulties.
"In the past two years, [a family member] committed suicide and she had a boyfriend who was murdered a couple months ago," he said.
There have been no reported sightings of Alexis since she disappeared. She has not used her cell phone and has not logged on to social media.
Michelle Knight, one of three women held captive by Ariel Castro in Cleveland for about 10 years, participated in a recent vigil for Alexis.
"Wherever you are at, no matter what, we're gonna love you, no matter what," Knight said at the vigil, according to Fox8.com. "We're still going to be here, gonna keep fighting ... and we're gonna bring you home."
Arroyo said Alexis' family has had trouble getting widespread attention for her disappearance, which is what prompted them to seek out Cage.
"A lot of people say, 'She's just a runaway,' but that does not mean she's not in danger," he said. "Toledo is not far from here -- maybe 70 miles -- and it is always nationally ranked for human trafficking. With human trafficking, the average age of a child who goes missing is between 11 and 14. It touches us around here because we're so close, and that's what scares us."
Alexis Boroviak was last seen wearing lavender pajama pants and a black hoodie. She may be wearing glasses. Anyone with information on her whereabouts should call the Brooklyn Police Department at 216-749-1234.
PHOTO GALLERY
Missing Chillicothe Women
Calling all HuffPost superfans!
Sign up for membership to become a founding member and help shape HuffPost's next chapter