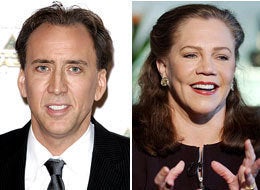 Kathleen Turner has written an autobiography called "Send Yourself Roses," excerpted here, and Nicholas Cage is not happy. In fact, he's SO not happy, he's suing:
A "defamation, libel and slander" case had been issued at London's High Court, a courts spokesman said.

It relates to claims made in her book, Send Yourself Roses, over Mr Cage's behaviour when the pair co-starred in 1986 comedy Peggy Sue Got Married.

Ms Turner has yet to respond to the case, the spokesman added.

A spokesman for Mr Cage in Los Angeles said the action followed "false allegations that appear in a forthcoming autobiography", the Daily Telegraph reported.

"As legal proceedings have been commenced, it would be inappropriate to comment further," the spokesman added.

In the book, Turner writes of Cage:

He caused so many problems. He was arrested twice for drunk-driving and, I think, once for stealing a dog. He'd come across a chihuahua he liked and stuck it in his jacket.

On the last night of filming, he came into my trailer after he'd clearly been drinking heavily. He fell on his knees and asked if I could ever forgive him. I said, "Not right now. I have a scene to shoot. Excuse me," and just walked out.

Nicolas didn't manage to kill the film, but he didn't add a lot to it, either. For years, whenever I saw him, he'd apologise for his behaviour. I'd say: "Look, I'm way over it." But I haven't pursued the idea of working with him again.
Popular in the Community