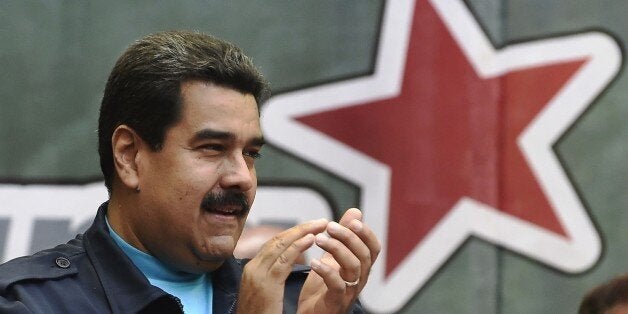 CARACAS, March 10 (Reuters) - President Nicolas Maduro was seeking special decree powers from Venezuela's parliament on Tuesday in response to new U.S. sanctions, drawing opposition protests of a power-grab.
If as expected the government-controlled National Assembly approves his request for an "Enabling Law," it would be the second time the 52-year-old successor to Hugo Chavez has gained these expanded powers since winning election in 2013.
"I'm going to ask for an anti-imperialist Enabling Law ... to preserve the nation's peace, integrity and sovereignty," Maduro said in a speech late on Monday night, without specifying further what decrees he might use it for.
Opposition leaders slammed Maduro, saying he was using the worst flare-up with Washington of his nearly two-year rule to justify autocratic governance, sidetrack parliament and distract attention from Venezuela's grave economic crisis.
"Nicolas, are you requesting the Enabling Law to make soap, nappies and medicines appear, to lower inflation?" satirized opposition leader Henrique Capriles. "It's another smokescreen."
Confirming Venezuela as Washington's No. 1 adversary in Latin America after a rapprochement with Cuba, the United States has taken its gloves off against Maduro, qualifying his government a security threat and sanctioning seven officials.
President Barack Obama's government declared a "national emergency" due to "the unusual and extraordinary threat" to U.S. interests.
A visa ban and financial block was slapped on seven Venezuelan officials, ranging from the head of national intelligence and a state prosecutor to the national police chief and various military officers, for their alleged role in repressing Maduro's domestic opponents or corruption.
The president brought the seven to his Cabinet meeting late on Monday, declaring them "heroes" in a live address on national TV and naming one as new interior minister.
Despite improving ties with the United States, communist-run Cuba was quick to jump to Maduro's support and join Venezuelan officials' mockery of the U.S. language.
"Venezuela a threat to the United States? Thousands of miles away, without strategic arms and without using resources or officials to conspire against the U.S. constitutional order, the declaration is barely credible and reveals the real aims of those behind it," Cuba's government said.
Despite the diplomatic tensions, the United States is Venezuela's top trading partner and the OPEC member's crude sales even rose in February to 796,000 barrels per day.
Venezuela's heavily traded bonds have slipped amid the dispute, with most down on Tuesday. The benchmark 2027 issue was off 0.866 points to a price of 40.578, with a yield of 24.848.
The escalation in U.S.-Venezuelan tensions appears to have been triggered by Maduro's accusations that Washington was behind an alleged coup plot, and the arrest of an opposition Caracas mayor accused of conspiracy too.
Maduro may be calculating that stirring nationalist sentiment will rally strained support among the traditional "Chavista" power-base of Venezuela's poor, and unite ruling Socialist Party factions, ahead of a parliamentary election later this year.
The opposition coalition, too, is seeking to unite its fractious parties and portray recent events as evidence of Maduro's dictatorial face and lack of attention to shortages, crime and other day-to-day problems.
Venezuela's National Assembly, which requires two votes to approve the Enabling Law once a formal request is received, was due to meet later on Tuesday. In the past, both Maduro and Chavez have received speedy approval of the Enabling Law. (Additional reporting by Daniel Trotta in Havana, Marianna Parraga in Houston Editing by W Simon)
Calling all HuffPost superfans!
Sign up for membership to become a founding member and help shape HuffPost's next chapter
BEFORE YOU GO
PHOTO GALLERY
Tensions Rise In Venezuela