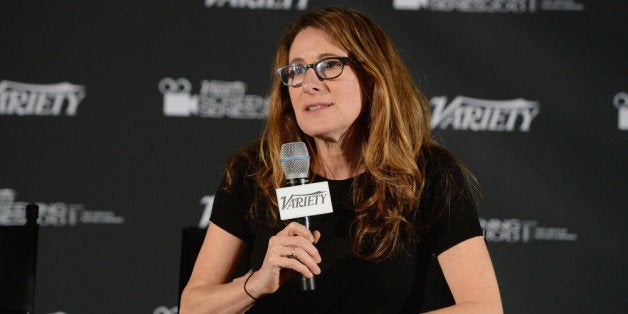 Nicole Holofcener wrote and directed one of the year's most-loved sleeper hits: "Enough Said," the romantic-comedy starring Julia Louis-Dreyfus and James Gandolfini as divorcees who spark an unexpected connection. Holofcener's naturalistic writing style and grounded character dramedies have charmed audiences on the big screen for the better part of two decades, first with "Walking and Talking," and later with movies like "Friends with Money" and "Please Give." She's also directed episodes of some of the decade's best television series: "Sex and the City," "Gilmore Girls," "Six Feet Under," "Parks and Recreation" and "Enlightened," among others.
Last year, however, she was the subject of much acclaim. Reviewing "Enough Said," Slate's Dana Stevens praised Holofcener's "admirable delicacy" and "razor-sharp dialogue." Stephanie Zacharek of the Village Voice applauded her "knack for observing not just the way people respond to extreme situations, but what they do in everyday ones." Along the way, the writer/director collected Best Screenplay nods at the Satellite Awards and the Independent Spirit Awards. If things go our way, she'll earn an Oscar nomination for the movie come Jan. 16. In the meantime, though, we snagged a few minutes with Holofcener on the phone, where she was candid about being snubbed for the Golden Globe, the television show she'd most love to direct and what it was like to work with Louis-Dreyfus and Gandolfini.
Did you have Julia Louis-Dreyfus and James Gandolfini in mind while writing the script? Was anyone else considered for these roles?
I did not have them in mind. I did have a couple of other actors in mind that I won't mention at the moment because it would be kind of uncouth. I had a general idea of who I would like and who would be great, but you never know who'll be interested or available. But it does help, as a writer, to put faces on characters. It helps me to write.
As an actress, Julia Louis-Dreyfus is a master of improv. Was there an improv component to the project?
We stuck to the script. It's funny, I wouldn't say so much improv as ad-libbing. I don't know if there's a big difference, but it's not like they would improvise and take the scene somewhere different. It's more like they added a line or two, or changed a line and made it funnier, or added a line at the end of the scene where they thought maybe I cut. It was more like that, and it was very useful. I kept so much of their ad-libs; they're hilarious and smart and so appropriate for their characters. It was great.
Can you offer an example of a scene that was improved by ad-libbing?
Yeah, Julia gets out of the car, she says, "I like your paddles." He says, "I like your ass." And that was Jim. That's not in the script, and he said that in rehearsal, and I said, "Oh, you've got to say that when we shoot." And he's like, "No, Albert would never say that." And there comes a point where it's like, yeah, Albert might not have said it, but it makes Albert so much sexier and more funny that I want him to say that. I want him to be able to do that. It's wonderful, right? I mean, what a great way to end the scene -- it adds so much.
Right, an added punch.
And it makes him seem sexier because he has the guts to say that.
I know you cast Catherine Keener in basically every movie you direct. Do you think of her as a muse? What's your gravitation toward her?
My gravitation toward her is based on her talent and our comfort level. I think she's an extraordinary actor. She has been my muse. I didn't write [Keener's "Enough Said" character] Marianne with her in my mind, at least not consciously -- but I have written parts just for her, and so in that respect she's a huge inspiration. She's fun, she's smart, she makes my scripts better. Let's go with that, right?
Did you get to talk to Julia after the announcement of her Golden Globe nomination?
No. Well, I texted her because I never know where the hell she is. I texted her, and then she texted me back. I texted her congratulations, and she texted me, "I hope you're all right," because I didn't get a nomination.
And are you all right?
Well, I was very disappointed, actually. Of course, anybody who says they're not is lying. As much as I was disappointed for the film and for myself, but I was also disappointed because I really wanted to go and be with her and have fun doing that together. So I don't think that's going to happen.
So you don't see yourself getting invited as being associated with her nomination?
I don't think so. And I don't think I'd feel comfortable going since I wasn't nominated or the movie wasn't. I'm very happy she was. I'd be heartbroken if she wasn't; she deserves every acknowledgement she gets.
You've directed some of the biggest TV shows of the past decade. What one show would you love to direct right now?
Oh gee, what's on the air now? I've stopped watching anything recently. I read about that show "Getting On," I think it's called.
Yeah, with Laurie Metcalf?
Exactly. I wanted a job on that so badly, and I just found out it's not picked up, I think. Maybe I should figure that out.
It's on the air now. You should watch it, it's great.
Yeah, I'm planning on watching the whole thing. It's so up my alley that when I read about it, I was like, "I want to do one of those!"
It totally seems like your directing style. Would you want to do "Veep"?
Absolutely, I do. I kind of feel like that's a machine that's going so well. I don't know who directs all the different ones, but it's not as much in my style, obviously. I don't know, it would be a blast, it really would. But I don't know, it's in Washington, and they've kind of got their directors set, so it's not something I'm hoping to -- I don't know how to put it.
Do you have a classic episode of TV or a TV show as a whole that you look back and wish you had been a part of?
Well, yeah, I wish I had directed "The Sopranos." Watching that, I was like, "Ugh, wish I could have gotten in there, that would have been a blast." That didn't happen. I grew up watching "I Love Lucy" obsessively, but I'd be dead by now if I had directed one of those.
You have a "special thanks" credit on "Where the Wild Things Are." Did your involvement with that film lead you to meet James Gandolfini?
Oh no, I actually just wrote and directed "Where the Wild Things Are" and so they felt that had to put my name there. [Laughs] No, I did not meet Jim through [director Spike Jonze], but I watched several cuts of that movie and gave feedback and helped him try to fix some dialogue. That was the "thank you." I met Jim in a very traditional way: I actually sent him a script of mine a few years ago and wanted to meet him about being in it, but he wasn't quite right for that particular part, so I kept in the back of my mind because I loved meeting him so much.
Can you tell me what particular part that was?
It was a part that Oliver Platt eventually had in "Please Give." He was Catherine Keener's husband, and Jim would have been great, but he had just come off of "The Sopranos" more recently and his character kept screwing around. He had so many mistresses, and in "Please Give," the character cheats and I didn't want that connotation. Although I thought he would have been great in the part as well, but I'm so glad I got a bigger part for him and a chance to work with him longer than that.
Your next movie, "Every Secret Thing," seems different. What attracted you to a crime story, and how do you decide once you've written a script whether you'll direct it as well?
Well, this one was very easy. I was hired by Frances McDormand, who was producing it, to adapt the book, and I thought the book was really interesting and psychological. And the main two characters were 11-year-old girls, and I love that kind of dark psychological stuff, and I enjoyed writing it. And when it came time to direct it, I realized I couldn't go with something that dark that long in my life.
So that was a decision you made?
Yeah, and it involved the death of a baby, and I just couldn't go there.
So you could write it, but you didn't want to have to put yourself in the scene of having to direct it for maybe months on end?
Yeah, and then edit it for months, exactly. I couldn't face that. I think I made the right choice.
"Enough Said" is in theaters now. It will be released on DVD and Blu-Ray on Jan. 14.
REAL LIFE. REAL NEWS. REAL VOICES.
Help us tell more of the stories that matter from voices that too often remain unheard.
BEFORE YOU GO
PHOTO GALLERY
Nicole Holofcener Movies & TV Shows