Kidman's publicist sent the actress' statement to HuffPost and other media outlets on Tuesday: "As I've stated before publicly, I support and applaud all women and these women who speak out against any abuse and misuse of power ― be it domestic violence or sexual harassment in the workforce. We need to eradicate this behavior."
Kidman worked with Weinstein as recently as last year. She earned an Oscar nomination for "Lion," which The Weinstein Company distributed. From 2001 to 2003, Kidman also starred in several movies for Miramax, the powerful studio that Weinstein managed before launching TWC: "Birthday Girl," "The Others," "The Hours" (which won Kidman an Oscar), "The Human Stain" and "Cold Mountain."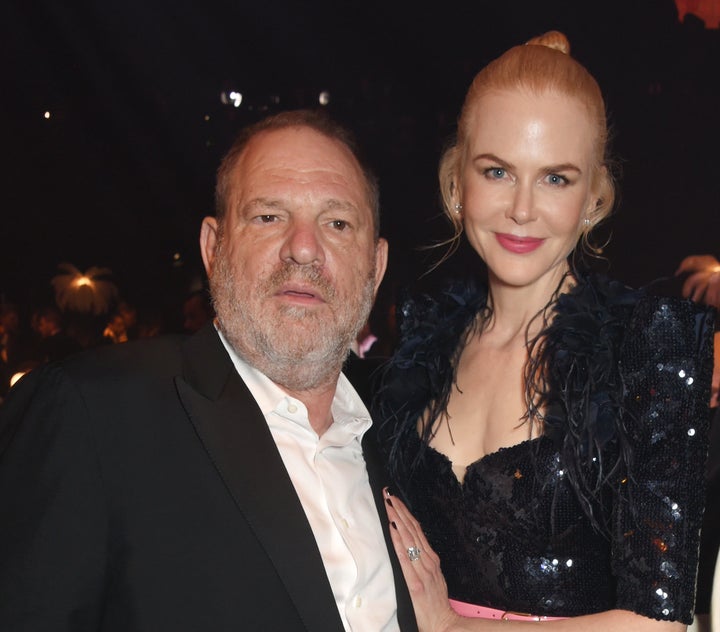 Many actors and actresses have denounced Weinstein following years' worth of disturbing sexual harassment allegations, constituting an open secret in Hollywood that The New York Times formally reported last week. (Ashley Judd and Rose McGowan were among Weinstein's accusers.)
In the days since the Times' bombshell, Meryl Streep, Judi Dench, Kate Winslet, Lena Dunham, Ben Affleck, George Clooney, Jennifer Lawrence and more have expressed support for the victims of Weinstein's revolting advances. On Tuesday, the Times reported that Angelina Jolie, Gwyneth Paltrow, Rosanna Arquette and Judith Godrèche were also subjected to his alleged behavior, as were many women who did not go on to lead the same illustrious careers.
A New Yorker report published Tuesday included audio of Weinstein admitting to groping a Filipina-Italian model and attempting to lure her into his hotel room.
"We've shone a light on domestic abuse," she said. "It is a complicated, insidious disease. It exists far more than we allow ourselves to know. It is filled with shame and secrecy, and by you acknowledging me with this award, it shines a light on it even more. So thank you, thank you, thank you. I bow down to you."
If you have more information about Harvey Weinstein, send us an email: scoops@huffingtonpost.com.
Popular in the Community