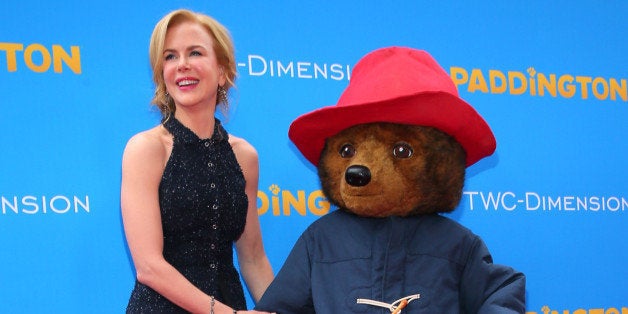 Nicole Kidman's IMDb page lists six movies on the horizon for 2015, but when HuffPost Entertainment talked to her last week, she was just concerned about making it to "Conan" on time. Bob Weinstein, who produced "Cold Mountain" and co-owns The Weinstein Company, had dropped by the "Paddington" press day and sucked up Kidman's attention. That was just a couple of days after Kidman sucked up the Internet's attention with her widely circulated appearance on "The Tonight Show," during which she informed Jimmy Fallon that she had attempted to woo him a decade earlier. Kidman was just as surprised as the rest of us to see the moment take on a second life online the next day.
Naturally, when HuffPost Entertainment hopped on the phone with Kidman after Weinstein left, we had to ask about the buzzy interview clip before moving on to the first feature-film adaptation of "Paddington," Michael Bond's popular children's book series about the marmalade-loving bear from Peru. Kidman plays Millicent Clyde, a vicious taxidermist on the hunt for Paddington. There's been a lot of that eponymous bear in her house as of late. We talked to the Oscar winner about exposing her own children to the books, acting with an invisible bear and whether we'll see the troubled "Grace of Monaco" on the big screen anytime soon.
Did you expect to wake up last Wednesday and learn that you were a viral sensation?
No, I'm shocked. I've never been a viral sensation in my life. There's always a first, right?
Viral moments in late-night TV usually stem from celebrities playing games or acting in sketches nowadays. But you won everyone's attention with your actual interview. Have you noticed that shift in late-night over the years you've been on the circuit?
I hadn't actually thought of that. I know they did the pre-interview and I didn't mention anything I was going to say.
So Jimmy genuinely had no idea?
He was genuinely shocked. It's crazy. We just had a different view on what that night was. But he's so good at just going with it, though. I'm glad that it was funny at least. It could have really gone pear-shaped.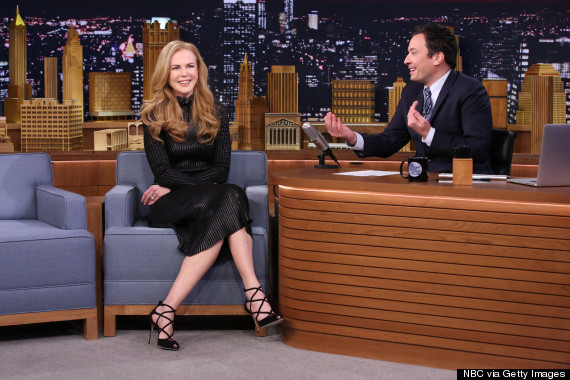 Nicole Kidman appears on "The Tonight Show Starring Jimmy Fallon" on Jan. 6.
What made you decide to tell the story?
I was sitting at home a couple of months ago watching and I went, "Oh my God, if I ever go on the show I've got to talk to him about that because I haven't seen him since." So that was the first time I've seen him in like 10 years. Crazy. I just thought it would be two minutes and we would move on to Paddington Bear, and we didn't.
"Let's talk about 'Paddington'" is now the best interview segue.
Nobody wants to talk about "Paddington"!
Is there anybody else that you've tried to date that we don't know about?
Oh, stop! No! And I'm going to keep my -- no, no, no, I'm done. [laughs]
So let's talk about "Paddington."
Yes, I tried to date Paddington. "Paddington" is fun. It's so nice to be able to promote a movie where you go, "Oh my gosh, this is funny." And it's adorable. I just hope that it translates to America.
Did have a relationship with the "Paddington" books growing up?
My relationship was that I was raised with them. There were lots of other books that I was raised with, too, but Paddington was very much a part of our growing up. I just remember as a kid wanting my own Paddington Bear that was alive and walking and talking and eating marmalade sandwiches. I think that, probably, is the desire of a child to have something smaller that you can take care of that talks and is like a little person, but isn't your little brother and sister.
Have you read "Paddington" to your own children?
Yeah, oh yeah. And even before I accepted to do the movie, we'd read it a few times. But once I was doing the movie, it was like, okay, now we're really going to embrace the bear.
So there's been a lot of "Paddington" in the Urban-Kidman household lately?
There has. And strangely, for it to have taken off the way it did in the U.K. and in Europe and Australia and stuff, I think the great thing is I've seen the movie now play with my own kids and then with my mother, who's 74, and it plays to a huge array of people and ages. That's what I didn't expect.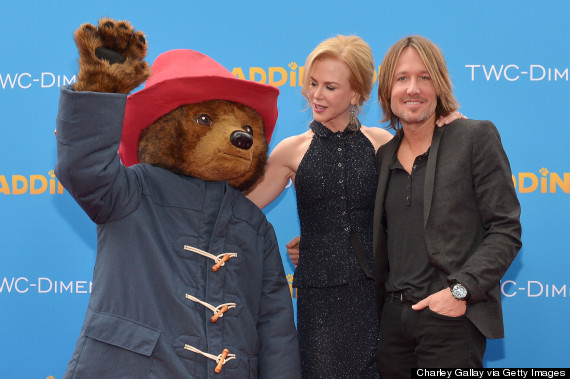 Paddington, Nicole Kidman and Keith Urban walk the red carpet at the Hollywood premiere of "Paddington" on Jan. 10.
It's nice that you get the fun part in a fun movie by getting to play the campy villain.
Yeah, I always seem to get cast as the campy villain. Which is fine by me.
Right, yet I feel like we haven't seen you do a campy villain since "The Golden Compass."
Yeah, and the great thing is this was funny. "Golden Compass" wasn't funny. [Paul King, the director] was so nice because he said he wrote the part for me, but then when I showed up he had a whole vision for it. He said, "I really want this to be funny. I don't want this to be serious. I want it to have a joyful, tongue-in-cheek quality to it." He made the set really fun. This is the first of many films that are going to be huge successes that he does. He's really clever.
I know you had to be convinced to take the "Golden Compass" role because of the campy-villain thing.
Yeah.
Did you feel that at all here, too?
No, I was like, "I'm in." And Paul showed me the bear. He said, "Look, this is what the bear is going to look like," because obviously the bear is the movie. I just saw two minutes of bear footage that they'd put together before the film when they were working on it to see if it could work, and he was adorable. That's when I went, "Oh, this thing is going to so work." But actually the film is better than the script even. It's a very strange mix of things. It's kind of hard to explain why it works because it's really charming, but it's kind of naughty at times, but it just walks this incredible fine line of humor and then empathy. It's an amazing mix of stuff.
You're acting opposite a CGI bear. Is it hard to map that out so you know what your actions should be?
Usually there's nothing there, but then we did have Lauren -- she was 3-feet-6 and she would sometimes step in and do some of the walking so that you would have somewhere to look, and then we had another actor who would sometimes do the voice, and then we had a physical-comedy clown called Javier and he did a lot of the physical comedy that the bear does. So there were many different ways they made it work, but a lot of times it was just a stick with a hat on it. And I say this because Sally Hawkins and I were being asked a question of "How do you act opposite nothing?" -- and so many times as an actor we have to make believe. That's what we do. Sometimes you get to exist in a bubble with another actor, but most of the time we're having to pretend the cameras aren't there and the people aren't there. There's stuff that we think is real and it's not. I did a movie, "Dogville," where there's nothing. I mean nothing. And we had to pretend.
Do you know when we might finally see "Grace of Monaco" on U.S. screens?
I don't. That's a Harvey Weinstein question, but I've got a film coming out at Sundance, so I'm going off to Sundance, and that's a low-budget Australian film that I did. And then I'm actually going to film a movie in L.A. for a couple of weeks, so that will be kind of nice because I live in Nashville.
Good! I hope we'll get to see "Grace" soon, though.
Oh my gosh, yep. Well, I don't know. It's had a very rocky road, so we'll see.
This interview has been edited and condensed. "Paddington" opens Jan. 16.
Before You Go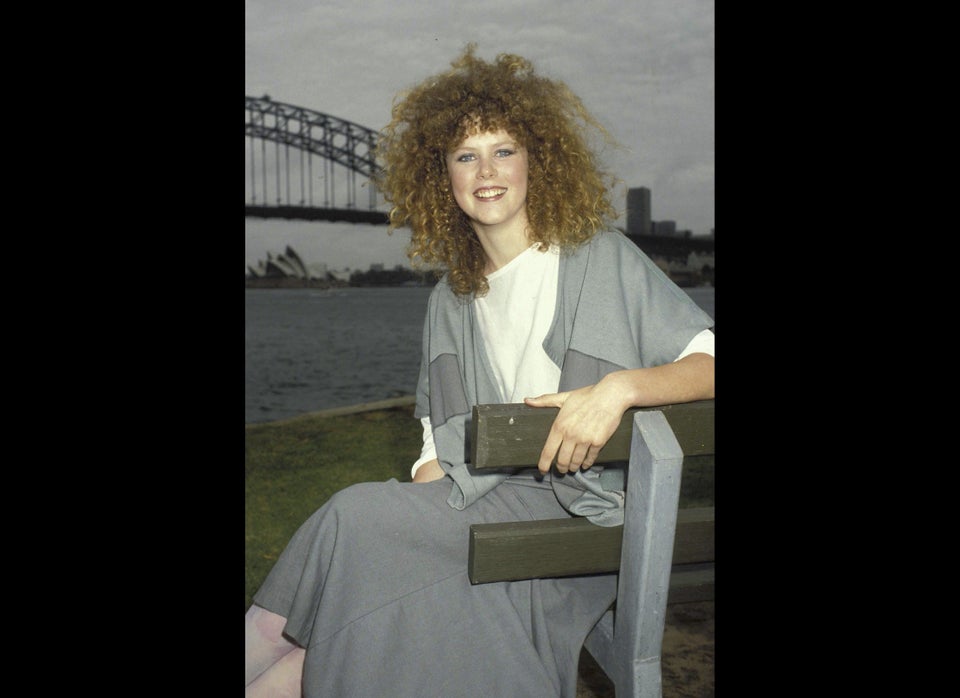 Nicole Kidman's Style Evolution
Popular in the Community