The usually-demure actress went topless for the cover -- not a bad way to get people to stop talking about the fact that she urinates on Zac Efron in her upcoming film. The foldout cover features Nicole styled by Carlyne Cerf De Dudzeele and dressed in character wearing only a pair of black stilettos and a rear-baring skirt (we're using the word "skirt" loosely here, obviously).
Mario Testino snapped Nicole in full kohl-eyed, bleached-blonde glory, and we think it's a fun change for the 45-year-old. Plus, in her interview with the magazine, it sounds like she's looking to shake things up a bit:
I don't really make decisions, I go with the flow. If I were a strategically minded person, I think I would have a far different career. But I would be more outlandish if I could. A lot of times you just don't get the chance.
Well, it looks like she got what she wanted in this shoot. The very few items of clothing that she does wear are certainly pretty "outlandish." Nicole has been keeping it pretty safe on the red carpet lately though, so hopefully we'll start to see the star in more risky looks again. Because, if girl can pull off blue glitter eyeshadow and a red fur coat, she clearly doesn't have any qualms taking style risks.
Click over to V Magazine and make sure to pick up a copy of the Travel Issue on August 30th for more details.

See the rest of the racy photos from Nicole's V Magazine shoot!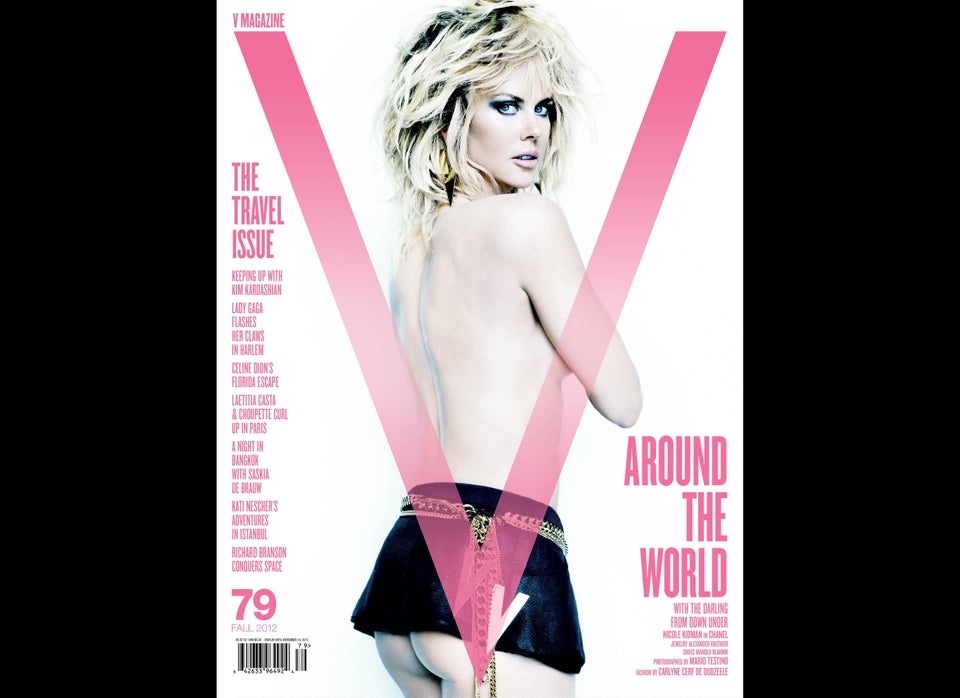 Nicole Kidman For V Magazine