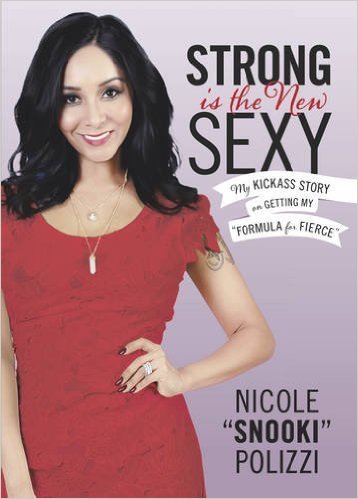 She's come a long way from the Seaside Heights boardwalk. Nicole Polizzi has let "Snookie" take a backseat, and now with the release of her fifth book "Strong Is The New Sexy", she is entering into a new phase of her life, kind of a "Mother Earth With Attitude". Nicole spoke with us about looking back on the "Jersey Shore" days, balancing two children, a husband, and her new show with Jenni Farley, "#MomsWithAttitude", and where the rumors of her joining "The Real Housewives Of New Jersey" came from once and for all.

Your new book "Strong Is The New Sexy" is absolutely amazing, and it's your fifth one! How much has your writing experiences changed since your first book?
Thank you! You know, I really loved writing "Baby Bumps" because it was a story of my pregnancy, and I really enjoyed doing it in a journal style. Once I put it together, it really sounded like me. I wanted to do another book like that but one about how I've really changed as a person, but still myself at the same time. Just bettering myself, trying to lose weight, dealing with bullying and haters, things like that. This book is essentially my story, but it's also a story that can hopefully empower women and also men. It's a very powerful and inspirational book.
Many people will say that "Jersey isn't like that" and the antics from your time on "Jersey Shore" weren't true to the Garden State. How do you respond to those claims?
What are they talking about?; it's totally like that!
You've come into a total renaissance since the days in Seaside Heights. Does it seem like those days were a complete different time?
You know, it really does, it feels like that was my other life. You know how people are reincarnated? It's really like that was my past life. At that time though, and during that craziness, that was me. It was awesome, and I loved every minute of it, and would do it all over again. At the same time though, I love who I am now and I feel like everything that has happened up until now has made me into the person that I am right now. I loved that life, but I definitely love this life more.
How are your gorgeous children?
The kids are great, thanks! Lorenzo is three, Giovanna just turned one. It's definitely a handful.
Think you are done with having kids?
Oh no! I definitely want two more. I've always pictured myself with four kids, four is my lucky number also. I'm going to wait a little longer though, it's so crazy now, I want to wait so Lorenzo and Giovanna are a little bit older and they can help out (LOL)!

(Former "Jersey Shore" cast member Jenny "J-Wow" Farley just got married and the pictures were absolutely gorgeous! She announced at her wedding reception that she's pregnant right?
Jenny did a gorgeous job with her wedding! She found out that she's having a boy and she's really excited!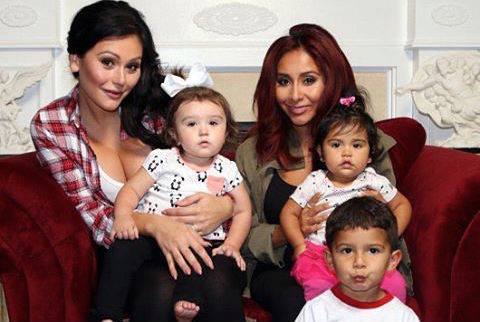 You both have a new digital show titled "#MomsWithAttitude". Definitely a different platform for you both wouldn't you say?
You know, we did seasons of both "Jersey Shore" and "Snooki & J-Wow" and that was ten seasons of television reality. We wanted to do something different, and it really looks like everything is turning digital now, especially for mothers. I mean, when do moms exactly get to sit down and watch a television show? They're catching up on their phones when their kids are napping, quick stuff like that. We thought it would be great to team up, as moms, with Awesomeness and do "Awestruck" which is all about millennial moms. You can find it on YouTube, it's clips that are around ten minutes. It's just perfect for where we are right now in our lives.
You are so busy and have so many different things going on. What do you think it the toughest thing for a mom to do in today's world.
You know, I'm pretty good with my schedule when it comes to things, and I am so busy at work. I try to stay positive, but i really would love to do a stay at home mom with my kids. It's nice once in a while, you know to be home. Then, then I may have to travel for work for say, a week. It's a nice break. At the end of the day though, I am doing all of this for my kids, so I have to suck up and do it. If I had a choice though, I would definitely stay home with my kids.

How do you continue to make your marriage a priority while working and raising two kids? Is the balancing hard that difficult?
It's tough but we do the best we can. I mean, I can't tell you the last time Giovanni and I went on a date. Between working and filming a show together, it's hard to get away from work and be a couple without the kids. We have been struggling to find the time, but we do make it a priority.

There was so much talk about you becoming a cast member of Bravo's "The Real Housewives Of New Jersey". Once and for all, where did that rumor start and can you finally put it to rest? Are you joining the cast?
You know, I think that all started on my podcast. My best friend Joey ("Snookie and J-Wow" cast member Joey Canasta) do a podcast on PodcastOne and I think we were talking about it as a topic. I asked Joey what his "Housewife quote" would be, and all of a sudden it turned into me becoming a cast member on "The Real Housewives Of New Jersey". I mean, I never spoke to Andy (Cohen), he never asked me, it really just came out of nowhere. I think someone just made it up out of my podcast, I was never approached to do the show and I was never asked, Even if I was asked to be a "Housewife", that's not something I want to do right now. I'm only 27, and I'm working on so many other project. Maybe plans can change when I'm around forty or something, but right now, I'm in my prime! You never know what could happen in the future though, we'll see.
You did "Dancing With The Stars" and you looked like you had an absolute blast!
It was the best experience ever! I mean it was tough work, but I am so glad I did it! I made a lifelong friend, (pro-dancer) Sasha (Farber) is one of my best friends. You have to train for six hours a day, and it's super tough. Anyone you speak with that has done it will tell you that, it really is hard.
If you had to take your whole life, you new show, you husband, your children, everything and you had to wrap it up into one word, what would that word be?
Blessed; definitely
Calling all HuffPost superfans!
Sign up for membership to become a founding member and help shape HuffPost's next chapter