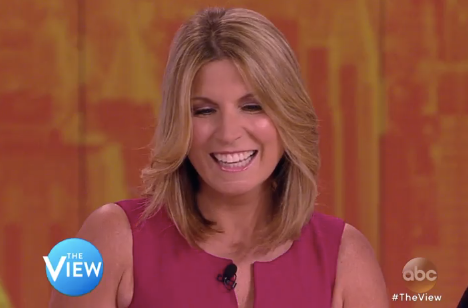 ABC brass were underwhelmed by the show's resident Republican "not offering enough dissent about political issues and continually voicing her lack of knowledge about celebrities," Variety reported Wednesday, citing unnamed sources.
Wallace acknowledged on "The View" that "there's a lot of news about the show ... and about me, lately, and it's hard."
As co-host Whoopi Goldberg took her hand to comfort her, Wallace feigned distress that recent media gossip had "crossed a line."
"They called me Kardashian illiterate," Wallace deadpanned.
After some audience chuckles, Wallace proceeded to rattle off Wikipedia-like knowledge about the family with whom she allegedly does not keep up.
Goldberg came the closest of any of the hosts to actually acknowledging the rumors of Wallace's supposed firing: "I have to tell you, if that was a way to get off this bad boy, I'd been gone ages ago," she said.
Wallace, who joined the show last September, was previously the communications chief for President George W. Bush and later a senior advisor for John McCain's presidential campaign in 2008. She was portrayed in the latter role by Sarah Paulson in the HBO film "Game Change."
According to Variety, Wallace was offered a recurring contributor role. A spokeswoman for the show did not return The Huffington Post's request for comment about Wallace's alleged firing or the offer supposedly made to her.
A source told People that "Full House" actress Candace Cameron Bure and former "What Not To Wear" host Stacy London are also under consideration to be new co-hosts.
Related
Popular in the Community