Horsing around in a T. Rex costume can be fun, but leave the horses out of it.
A North Carolina woman is facing charges after police in Charleston, South Carolina, said she startled a pair of carriage horses Thursday night while dressed as a T. Rex.
Nicole Wells, 26, was allegedly in the dinosaur duds as a carriage passed her on the street, according to Charleston Police Dept. spokesman Charles Francis.
"The individual in the costume stopped and began making growling noises at the horses," Francis told the Charleston Post and Courier. "This spooked the horses and they began backing up. The carriage then struck an unoccupied vehicle and caused minor damage to its bumper."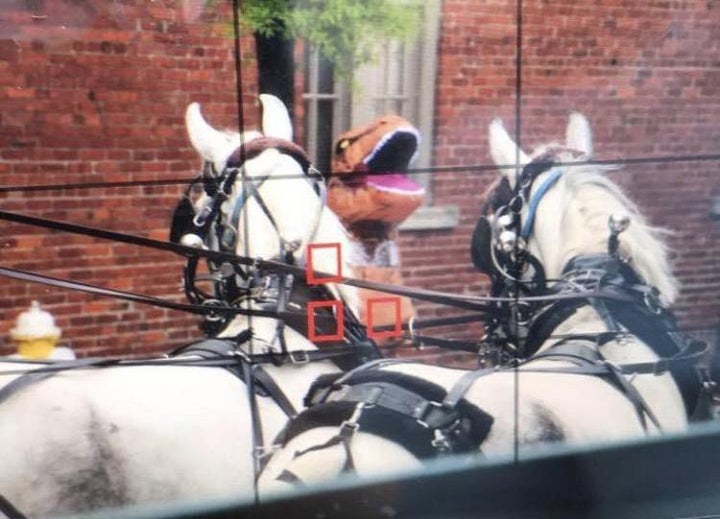 The driver, Van Sturgeon, was thrown from the carriage and a wheel rolled over one his legs. He told WCIV TV he suffered a broken bone in his left foot and severe bruising on his right leg.
The horses weren't injured, nor were any passengers. Still, Sturgeon said the animals weren't prepared for the sight of a Tyrannosaurus costume.
He told WCSC-TV in Charleston that he yelled at the person in the costume to "get out of here" three times. Instead, the dinosaur continued to face the horses, which caused them to back up and jackknife the carriage.
"Perhaps she did not realize what a threat that appeared to be to my animals, but they responded remarkably well," Sturgeon told the station. "Any animal, you included, are entitled to your flight response, the key is how quickly do you come back under control. If I throw a snake on you and you jump, you're entitled to that, but if you can come back and get in control really quickly, that's the key to emotional control and both of the animals demonstrated that." 
Witnesses said the person in the dinosaur outfit went to a parking garage and drove off in a car.
Wells turned herself into police Friday morning. She was charged with disorderly conduct and for violating laws prohibiting the wearing of a mask or disguise in public, according to the Charleston City Paper.
Charleston's WCIV-TV reported that eyewitnesses differed on whether the person in the costume roared and provoked the horses or simply was in the wrong place at the wrong time and didn't intentionally incite the animals.
Tommy Doyle of Palmetto Carriage Works, the company that owns the carriage and the horses involved in the incident, has his own theory.
He claims "radical" animal rights activists are creating a dangerous environment for people in addition to the company's horses.
"The city of Charleston needs to condemn these tactics and warn groups that encourage this behavior that their rhetoric is fueling this danger," Doyle told WCSC.
Calling all HuffPost superfans!
Sign up for membership to become a founding member and help shape HuffPost's next chapter
BEFORE YOU GO