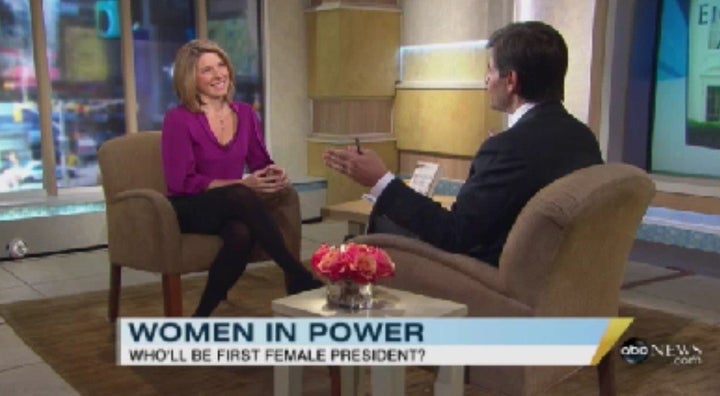 "It was a fantasy," Nicolle Wallace, White House communications director for George W. Bush and senior adviser for the 2008 McCain-Palin campaign, said on "Good Morning America" about her new novel "Eighteen Acres" about the first female president
"After two presidential campaigns, one where we won and one where we lost, and five and half years in the White House, I was ready for a little fantasy myself," the author said.
Wallace's fictional female president is a "moderate republican from Northern California," but Wallace also says she is "just as struck that there has never been a woman chief of staff" for real in the White House.
"Women at a staff level are quite powerful," Wallace explained. Still, the author said "that there has never been a woman in that job is just as surprising to me as the fact that we've never had a woman president."
In 2008, Wallace was struck with the negative attention focused on the money spent on Sarah Palin's wardrobe. "I thought there were special indignities suffered by women on the campaign trail," she said.
"Well, Al Gore had some trouble for his earth tones," George Stephanopoulos replied.
"And for his weight gain!" Wallace said, chuckling. "But it was extreme! A woman only has to appear puffy and it's all over the internet!"
Ultimately, Stephanopoulos noted that people will wonder "Who's who?" in the novel.
In an excerpt from the novel, featured onAbc.com, Wallace writes:
"Melanie stepped out of the SUV, holding her Dior bag protectively under her suit jacket so the fresh snow wouldn't touch the leather. She wished she'd worn a coat, but she'd stopped dressing for the seasons years ago. It could be ninety-seven degrees outside, or minus seven, and the climate was always a cool sixty-six degrees inside the West Wing, where she'd be for the next sixteen hours. Melanie climbed the single flight of stairs to her office and walked inside. Her assistant, Annie McKay, was already there."
So, will these fictional characters ring any bells?
WATCH:
Calling all HuffPost superfans!
Sign up for membership to become a founding member and help shape HuffPost's next chapter