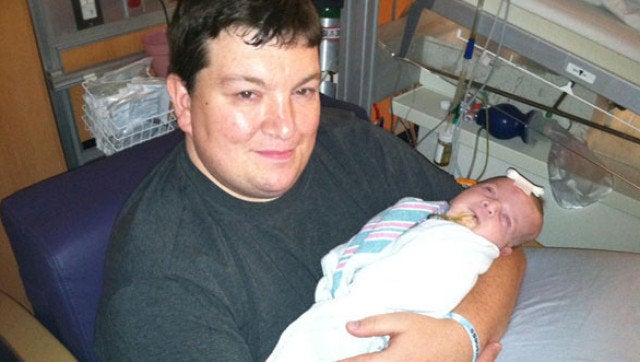 It was around day 16 of my son's 52 day stay in the Morgan Stanley Children's Hospital in New York City. He was recovering from his Congenital Diaphragmatic Hernia (CDH) surgery. CDH is a life threatening birth defect that occurs in 1-2500 live births. It is a condition that occurs during pregnancy when a hole in the diaphragm allows abdominal organs to move into the chest and restrict lung growth. As a result, the developing lungs are compressed, the heart is displaced, blood flow is restricted and pulmonary hypertension can occur. Some research suggests that CDH has a 50% survival rate, and most doctors will tell you that each case is different and the severity cannot be determined until the child is born.
It was a dark time in the NICU for me. Although my son's case was no longer grave, my emotions were starting to get the best of me. I had compartmentalized the first 14 days after delivery, the first sight of him with tubes in and out of every orifice in his body, finding out he had a severe infection and clot in his heart, surgery day, Hurricane Irene and just being a first time Dad. Two days earlier we had the euphoric moment of holding him for the first time abruptly interrupted by his Pod mate and fellow CDH baby D-stating. His monitors went to all 0's and a team of 20-30 doctors and nurses rushed to his bed side. We were kindly asked to leave to allow for the privacy of the other family.
The NICU is an open wound; the curtains don't hide the trauma that goes on in each Pod. Yes, babies go home every day. The celebration lasts for about a minute as the baby is paraded up and down the hallway, with nurses and doctors joyfully remembering that child's journey. The other parents look on -- there's no jealousy or resentment just the hope that they will get to take that walk one day soon. But then the security door clicks closed, the elevator pings faintly in the distance and the family heads down to the main floor and out into their new world. The NICU sighs for a moment then comes back to life, monitors beep because medication needs to be changed out, alarm bells ring and the teams head in again.
Some days you return to the NICU from lunch and the cleaning crew in the Pod next to you is mopping the floor, the isolet is empty. You'd ask the nurse if the child was moved to another area, but their reaction doesn't warrant an answer. Many people try to understand what's it's like to be a NICU parent, but you can't explain to them how your life changes when you hear that mortal cry of a mother who has just lost their child.
So it was that kind of day for me. I had been asked to leave and I removed myself to a quiet, parent's only waiting area. It was late at night; the regular visiting hours were over. Although my wife had recently begun attending the parents' support group, I had refused to go. I didn't need it. I had it all under control. So I thought. Until I hit that waiting area and my legs started to give out from under me. The hallway, although just ten yards from the nearest couch, looked a million miles away. I hit the soft leather and the emotion poured out. Not just the 16 days in the past, but the past year, the uncertainty of the pregnancy, the CDH diagnosis, the thought of having to return to work on Monday.
My wife found me in a puddle, and immediately thought something had happened to Owen. I explained what happened with our Pod mate. We sat in that area holding each other and just quietly sobbing and praying. All of the support staff had gone home, just doctors and nurses remained. They walked by but didn't intervene. They saw this daily and knew to just give a quick smile, they understood.
As we left the NICU that evening, my wife pointed to a sign posted next to the elevator door. On it was a date and time for a Dads-only support group. I looked at her, and before I could protest, she said, "You're going, they might have strategies to make Owen more comfortable."
So that Wednesday night I reluctantly went to the room where Dads group was being held. I stood in the hallway checking on the current Pennant Race; for my team the news was all bad. A woman came out of the room stating she was Lizzie from Child Life and asked if I was there for the Dads Group. I, in my most sarcastic and unwilling voice, told her I wasn't sure. In her bubbly and optimistic tone, she told me that I could sit out there all night, or I could come in and just listen and enjoy some of the snacks that a great deli in New York City had provided. I went in. During that meeting I learned a lot about Child Life and NICU life. I learned about the nursing process, how we could pick our primary nurses and recommend to the charge nurse those that we didn't want to be with our son.
Then a guest speaker arrived. It wasn't so much his large stature that occupied the room but just his presence. He walked in and introduced himself as Ranford to the dads in attendance. And then he asked us to tell our stories. Both of us did, he thanked us for sharing then proceeded to tell his own. He was the father of two preemies, a boy and a girl. They struggled for months to survive, and like many preemies rode the roller coaster of medical conditions. Just a few days before they were to come home, with both of them thriving, they received a call from the hospital stating their son's condition had become grave and they needed to get to the hospital right away because doctors weren't sure how much longer they could keep him alive. When they arrived at the hospital the doctors explained to them that they could try many invasive procedures to save their son, but the odds were stacked against him. So, that night with their daughter set to come home in just a few short days, they held their boy until he passed away. This large man stood before us and cried for his son. But then he said something that I will never forget. He said "After your journey in the NICU ends, once the Post Traumatic Stress Disorder has passed and you're ready, keep the Dads Group alive. Whether it's through coming back to the hospital or sharing your story online, help another Dad cope with their own emotions."
So today I move on. Although I will never forget, the nightmares are fading. The constant ringing and beeping of monitors is passing. Now I get to control what I remember. And as my wife told me, you can choose to focus on the negative or the positive -- it's up to me and no one can tell me what to feel. As I entered the hospital again on Tuesday for another surgery for Owen, there was no panic. Now returning to the scene, I felt safe, almost at home. As we were leaving that day, the NICU was buzzing, new cases, new babies. But what I saw were new Dads with that look in their eyes -- the one only a NICU Dad can really understand. This blog post is for them. You may never feel comfortable asking, you may never think anyone understands, but know that it's okay to feel, it's okay to hurt and it's okay, in your own way and at your own time, to allow the emotions to fly. No one will ever know if you read this but I hope if you do, you find comfort.
I dedicate this post to my son Owen and wife Maria, whose strength and resilience amazes me every day. They inspire me to be a better dad and better man and to now try to help those that walk in my shoes.
To Lizzie and Ranford, two angels that I hoped I would never have to meet, I am a better person because I did. It's time and I am ready to accept the responsibility.
And to Papas of Preemies (where this post first appeared) for giving me the platform to educate people on CDH and being open to accept all NICU Dads no matter their diagnosis. I look forward to sharing more of Owen's story in future posts.