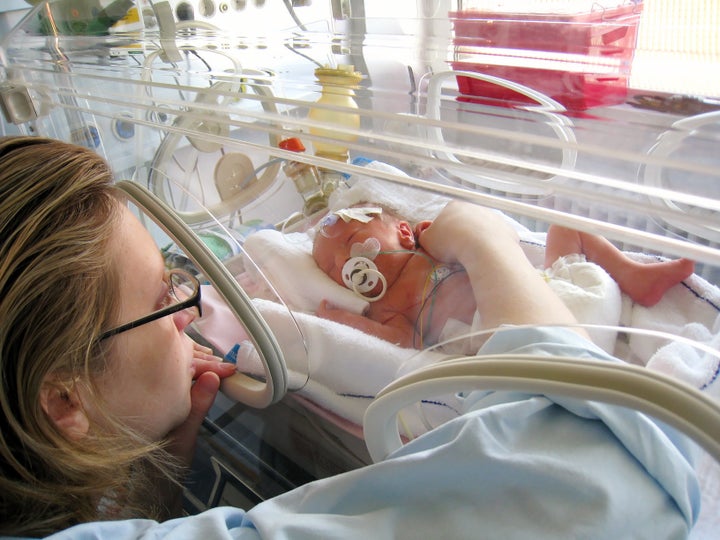 A few weeks into her third trimester, Stephanie May, 32, called her OB-GYN. Her back hurt and she was having cramps, all of which sounded fairly typical to the doctor on call. He suggested she take it easy and hydrate, so May settled in for some sleep.
When she woke up, she was in full-on labor and rushed to the emergency room. By the next morning, her daughter Evie was born — nine weeks early. May saw her for about a second before the newborn was whisked up to the neonatal intensive care unit while May stayed behind on the delivery table, stunned.
"When they finally took me up to see her, she was hooked up to all these monitors. I couldn't see her face. I couldn't feel her skin. I didn't know what to do," May recalled. "My first reaction was to try not to feel anything ... I was so afraid I was going to fall in love with this baby and then she would be gone."
Over the next 54 days, May did her best to adapt to the peculiar rhythms of the NICU. She learned to hold her daughter without tugging at any wires and to stay calm when Evie forgot to breathe — patting her tiny foot or arm as a reminder while monitors blared. She dutifully hooked herself up to the hospital breast pump every few hours, intent on producing exactly the 32 mL of milk her daughter required per feeding.
But as the days wore on, May felt herself being pulled under by anxiety and depression. She worried every time someone coughed or cleared their throat. She worried they would never leave the hospital. Only once did a doctor or nurse ask May how she was holding up emotionally — nearly three weeks into her daughter's hospital stay.
"He knelt by me and asked, 'Is there anything I can do for you?'" May recalled, quickly adding that the doctors and nurses were wonderful, lest she come across as ungrateful. "It was the first time someone made me feel like a mom and reminded me I had to take care of myself, too."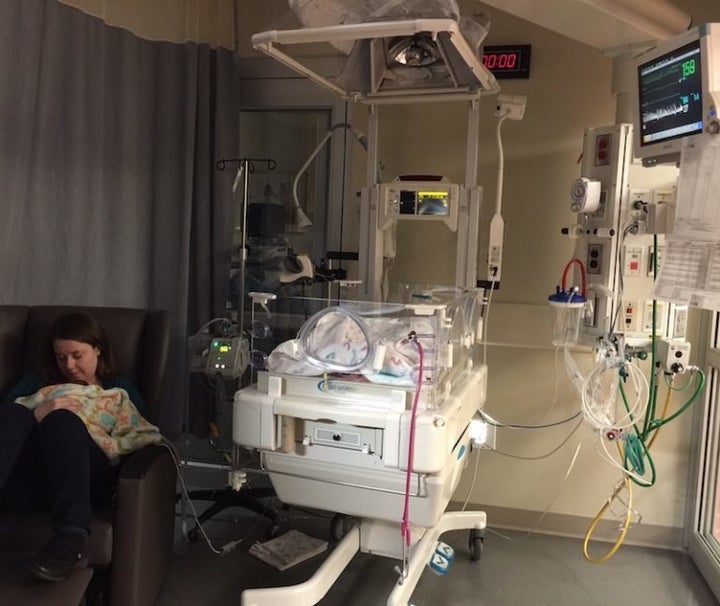 Based on the most conservative of estimates, 11 percent of moms in the United States suffer from symptoms of postpartum depression (PPD), and postpartum anxiety may be even more common. But NICU moms suffer from postpartum mood issues at much higher rates. There are no hard and fast numbers, but studies have suggested that up to 70 percent of women whose babies spend time in the NICU experience some degree of postpartum depression, while up to one-quarter may experience symptoms of post-traumatic stress disorder.
It's easy to see why. These women's babies are sick or premature — or both. They must learn the particular protocols of the NICU, all while hormonal, exhausted and in recovery themselves. NICUs have done a remarkable job of transforming outcomes for the most vulnerable babies, but it has not traditionally been their job to screen and help women. That's why so many women like May feel like they've slipped through the cracks.
"I don't know if the majority of NICUs have a psychologist on board or a social worker who can provide an assessment," said Kathleen Hawes, a psychologist who does happen to work in a NICU at Women & Infants Hospital of Rhode Island. Hawes worked on a 2016 study that found that roughly 20 percent of moms who had preterm babies suffered postpartum depression one month after discharge, regardless of how early their infants were born. "I think we're doing a good job, but we could be doing a better job."
"My first reaction was to try not to feel anything ... I was so afraid I was going to fall in love with this baby and then she would be gone."
Unfortunately, screening women isn't an easy undertaking — even with buy-in from doctors and nurses.
Research has found that NICUs struggle to overcome even simple challenges, like tracking down moms while they're in the hospital, and then finding ways for nurses to incorporate mental health wellness screening into their typical jam-packed days. At pediatric hospitals, it's unclear who is trained to see adults, or what degree of liability the hospital then takes on. Whose chart does screening information go on? Who is billed?
"One of the things that has been hard is that medicine is so siloed," said Dr. Samantha Meltzer-Brody, a perinatal psychiatrist who runs the University of North Carolina's Center for Women's Mood Disorders. That's why neonatal intensive care has not interacted well maternal mental health, she explained.
"That's what needs to happen, and there's been a push to make it happen," Meltzer-Brody added. "You have some places that are doing it well, but to have it systematically rolled out across the U.S. is a big, long, slow process."
Groups like the American College of Obstetricians and Gynecologists and the U.S. Preventive Services Task Force now recommend that all women be screened for mood issues at least once in the perinatal period by using one of several questionnaires that can help catch PPD — typically at the six-week postpartum check-up. But such a screening would be one of many things crammed into what is often a 15- or 20-minute appointment that needs to cover a lot of ground.
That was true for Gabriele Ogoley, 28, whose water broke when she was 28 weeks pregnant. After five weeks of bed rest in the hospital, she delivered her son at 32 weeks and slowly slid into depression, which manifested itself primarily in bouts of anger that were totally out of character for her.
Ogoley's OB-GYN did ask how she was doing at her six-week appointment, but in a casual way, almost like an afterthought.
"It was like, 'How are you? How's the baby? How're things?" Ogoley said. Like May, she does not remember being asked at any other point if she was doing OK, despite a long NICU stay.
In fact, it was a friend who had struggled with PPD herself who finally urged her to get help. When Ogoley did finally call her doctor's office and connect with her nurse, she remembers feeling ashamed.
"I told them, 'This is really embarrassing for me,'" Ogoley recalled. She didn't want anyone to think she was a bad mom or unhappy her son was home.
"When your baby can die from a cold, that makes the world a very scary place."
Laura, 42, who requested that only her first name be used to protect her children's privacy, remembers laughing awkwardly with her OB-GYN about whether she was really experiencing depression or simply having an appropriate response to giving birth to twins 11 weeks early.
"When your baby can die from a cold, that makes the world a very scary place," she said. "It's very hard to tell how much of it is a 'normal' response to what is happening, and how much of it is, 'Oh, man, I think I have a problem. I'm really overwhelmed.'"
Indeed, experts say it can be hard to figure out that line — particularly because clinical diagnosis is a somewhat subjective art.
"Almost always, with NICU moms, comes some grief. We don't treat grief; we support grief, but that emotional process is totally normal," said Kate Kripke, a clinical social worker and founder of the Postpartum Wellness Center of Boulder. "That is not necessarily a clinical depression or anxiety, even if it might, for a little while, look the same."
Kripke thinks it would be beneficial to reframe our broader understanding of perinatal mood issues not as an exception to the norm, but almost as the inevitable outcome for women whose biological, psychological and social needs are not sufficiently met. The way Kripke sees it, if women aren't sleeping; if they're just eating bad hospital food and can't bring themselves to leave their babies' Isolettes to go outside; if their hormones are going haywire and they're finding it hard to connect with friends and family who simply cannot fathom what life in the NICU is like, well, of course they are at risk for developing a more serious mental health disorder.
The failure of the system starts with not adequately screening moms while they are in the NICU, and ends with not allowing them to marshal more resources and support after they have been diagnosed. Laura, for example, didn't start to realize she was suffering from what she believes was a combination of PPD, PPA and PTSD until at least a year after giving birth — and didn't get on medication to manage her symptoms until her twins were school-age.
And when May asked for her short-term disability to be extended by two weeks, she was told there was no coverage for a case of the "baby blues." That was just six week after her daughter was born and still fighting for her life in the NICU.
"A lot of this is about continuing to educate providers on what questions to ask and what to look for and how to set referral systems into place," Kripke says. "Moms who say, 'Everyone asked about my baby and no one asked about me' — that's atrocious. That is not OK. But that is happening because those people don't know what to ask."
Related
Before You Go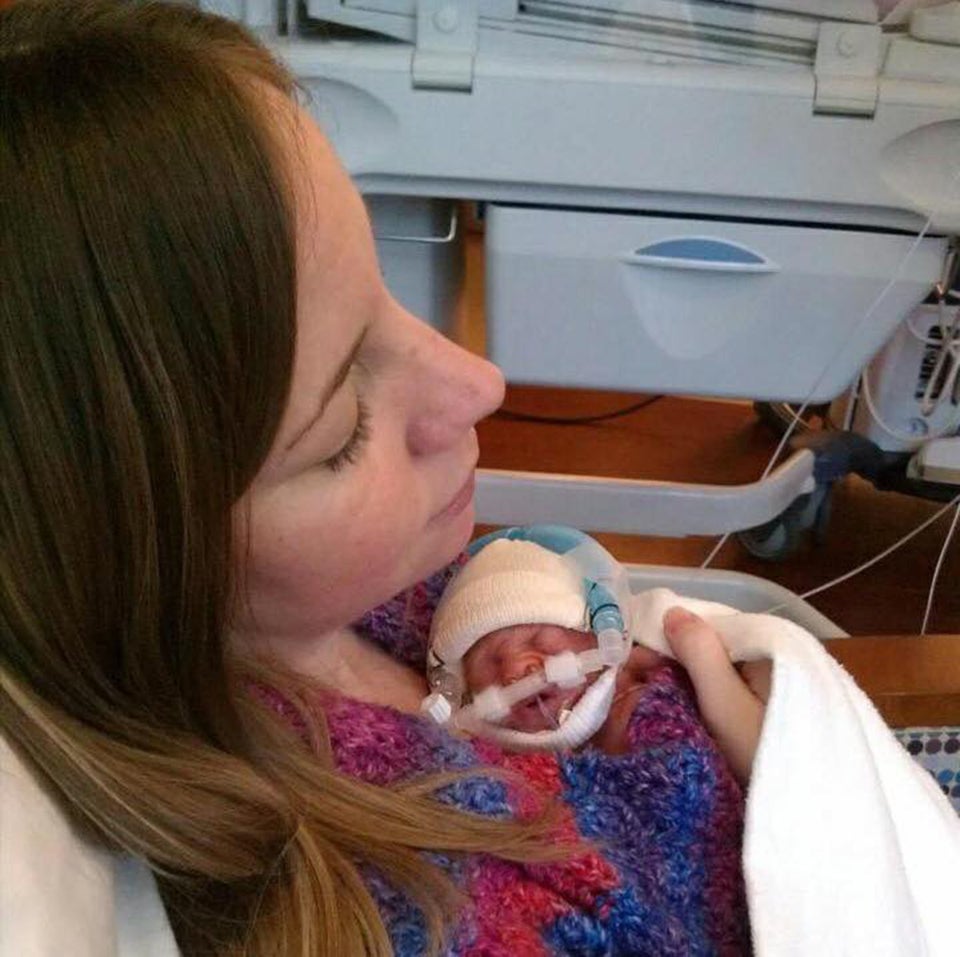 Preemie Parents Reflect On Their Time In The NICU