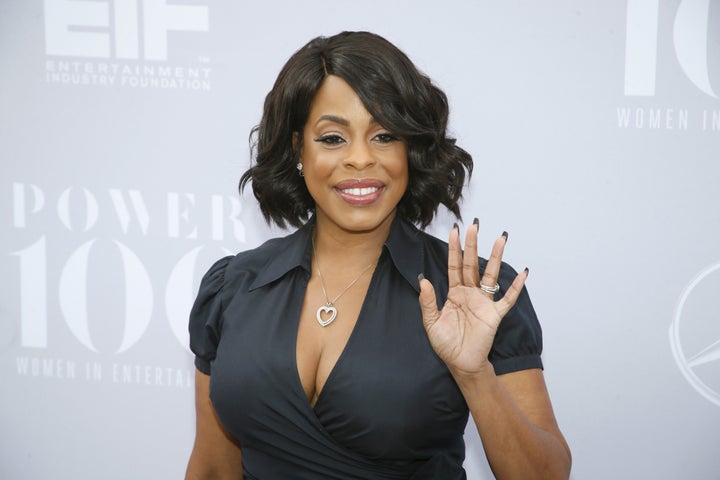 Last December was a big one for Niecy Nash. Within the span of a week, the final season of HBO's "Getting On" and the debut season of Fox's "Scream Queens" came to an end. Nash was a highlight of both. She earned her first Emmy nomination last year for "Getting On," on which she played empathetic hospice nurse DiDi Ortley, opposite Laurie Metcalf and Alex Borstein. On "Scream Queens," she was the loudmouthed security guard Denise Hemphill, known for her snappy zingers and ineffective sleuthing. This year, Nash continued her run on TV Land's "The Soul Man," guest-starred as Andre Braugher's sister on "Brooklyn Nine-Nine" and returned to Comedy Central -- her "Reno 911!" home -- for the animated sketch series "TripTank."
This is a long way of saying that the past few years have been kind to Nash. To wit, she is again in contention for Emmy glory. (Voting closes June 27 and nominations are announced July 14.) Accordingly, she can take you to church via life lessons about navigating Hollywood with honorable intentions. Nash did exactly that when she called up The Huffington Post last week to chat about "Getting On," Oprah, Ginuwine, typecasting and how she learned not to be "selfish" about her work.
I saw on your Instagram that you were kicking it with Oprah recently. Did you become friends while making "Selma"?
Yeah, she rented a house to have a party for us when we were shooting the film down south, and after the party I ended up washing the dishes with her. She's like, "Oh no, you don't have to do that." And I'm like, "Oh no, yes I do." I said, "My mother would have a fit if I didn't help clean up this house. I wasn't raised like that, Ms. Oprah." So she was like, "Well, come on, let's do it." Then my mama said, "Out of everybody in the movie, how'd you end up washing dishes?" And I'm like, "I don't know!" I was like, "What is happening? Someone please record this. Is anybody gonna believe me when I tell this story?" There's a video of us washing dishes together on my Instagram.
Has the "Getting On" nostalgia hit you?
I will be nostalgic for "Getting On" until the day they throw dirt on my face. I loved it that much. And it's so interesting because right before I called you I opened my phone and found that the actress Ann Morgan Guilbert, who played Miss Birdy, passed away. Miss Birdy died in Season 3, and now Ann has passed, and I was just sick about it because one of the major reasons that my heart is so heavy is because "Getting On" was such a gift to actors and actresses who were of a certain age.
I guess you could say that myself, Laurie and Alex are of a certain age, so these were women who were beyond a certain age. She's the second one of our cast members to pass away. These women were held in such high regard, and there was still a place that you could go with all your faculties and all your gifts and still work and still be of service. I just don't know where that show exists now without "Getting On," where you could show up and it served you better if you didn't have your face lifted up. In that world, your bags and your wrinkles were beautiful. You were not just someone considered less than or someone in the background. You were so valued, and those actors would get on set and we applauded them and we were so happy to have them. Where do you go now with that?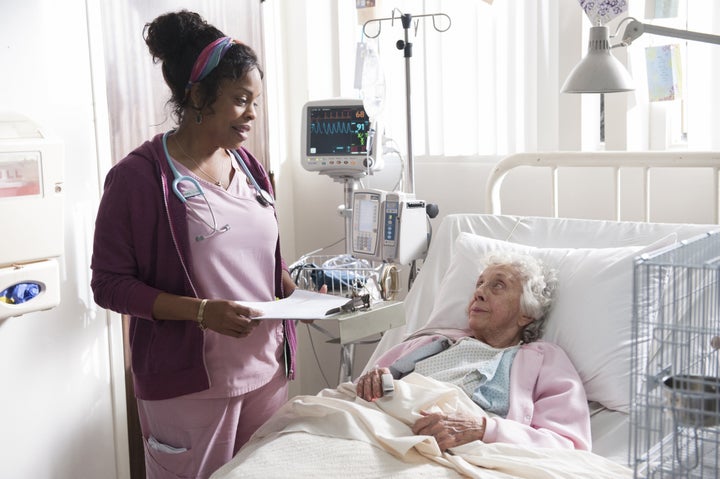 It's interesting that you did the final season of "Getting On" and the first season of "Scream Queens" around the same time. "Scream Queens" is the opposite -- everyone is glamorous and wealthy and conniving. 
The thing of it is that I find myself in a very charming place because the characters and the sets that I'm on are all so different. When you work with a lot of young actresses, sometimes they need wisdom, sometimes they need guidance, sometimes they need counsel, sometimes they just need an ear. You move in a different way in that place.
Did you find that Laurie Metcalf was a mentor for you in the way that you might have been a mentor for the younger "Scream Queens" actresses?
I don't think it necessarily is so much an age thing as much as it's about a genuine connection. You hope that somebody cares about you and cares about what you're going through and is invested in your well-being because there's a lot of downtime on set. There's a lot of time to go to the trailers and a lot of time, whether it's at lunch or whether it's in hair and makeup, to connect with people. Every time I've gone on a set, my prayer is that I could be of service. My job is one thing. That's my due. But being of service is my "who." So showing up to say, "OK, God, how would you use me on that set? What is the environment for my 'who'? It's a duty for me to learn these words and go stand over there and be funny, but what would you have me do?"
While waiting to see whether "Getting On" would be renewed after Season 2, what were the conversations you had about the show's future? Was there ever talk of what might happen beyond Season 3?
Well, we never went past Season 3 in conversations. However, the show ended in a way whereby, if that was the end, it was a great ending, but it also ended in a way that, if there was some sort of changing of the guard and we got to rise from the ashes, we could keep it going. So it could go either way with the way the show ended, and I thought that was beautiful. And then the conversations between the actresses were, "How do we keep it going if this is the last season? Should we get them to write us something that we can do on Broadway? Should we try to see whether or not we can have a rebirth at a Netflix or Hulu or something like that? How do we continue to play these funny women of a certain age whose characters are so rich and so interesting?" There was a lot of that discussion between Laurie, Alex and myself.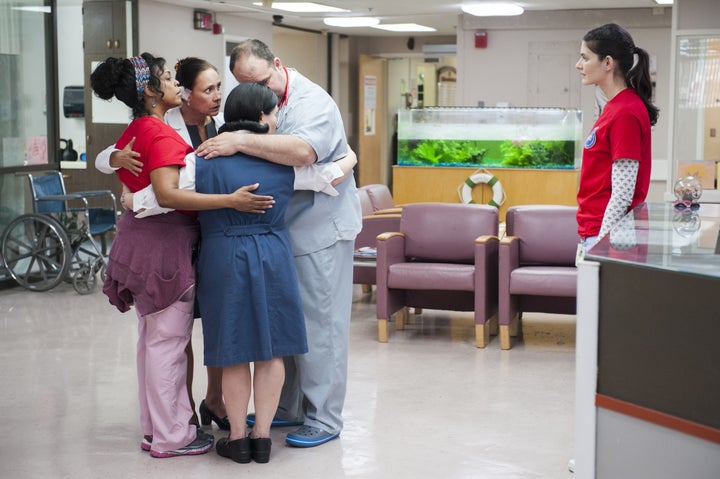 Was there any move to head in that direction with it?
Well, we would have done any version of "Getting On" because we loved it that much, and all still do. It just did not shake out that way with the powers that be.
Was it a pitch you guys made to the network?
We knew that HBO was getting off the ride. It was more so conversations with our creators.
And it just wasn't in the cards?
At least for now. But listen, if Larry David is coming back with a ninth season of "Curb Your Enthusiasm" after not being on television for years, anything is possible.
Did you know your face would be the last shot we see in "Getting On"?
I did not know that. I think I found out right before they aired it. One of our producers said, "We've edited the final scene, and yours is the last face we see."
What does it mean to be told the series finale of an HBO show ends with your face?
You know, it's bittersweet because it's a beautiful nod to the character of DiDi, and I think it's the first time in the entire series where you ever see her with her hair down or you've ever seen her in street clothes. It's almost like it gives you hope for what happens with her character on the other side. Is she gonna get her mother-in-law settled? I hope she finally got her pool put in. Were her and Darnell able to take a vacation? Is she still taking care of all her sister's kids? I walked away feeling very hopeful for that character, but at the same time bittersweet that it was ending. I was like, "Oh, I'm not ready."
And I'll tell you, being someone who has played a lot of the same notes on television, it was very delicious for DiDi to be the first character that I really got to sink my teeth into outside of the broad comedy. She set the bar high.
In one of the last few episodes, DiDi serenades Dawn with a soulful rendition of Ginuwine's "Pony." How did that moment come about?
That decision was a two-parter in that we had gotten the scene and then our director came in and said, "You guys can do whatever you want in this take." So then the burden of it shifted over to Alex Borstein because I had no idea what she was going to say when I said, "Is there anything I can do?" And she said, "You can sing the 'Pony' song." And in my mind, I said, "Wait, what?" But, you know, you don't want to ever ruin a take, especially not when somebody is giving you improv lines. You want to meet them right where they are. So in my head, I was like, "OK, I guess we're doing this."
And you were able to just crank out "Pony" right then and there?
Well, you know what had happened, I had sang it on set for some reason. I don't even remember why. I was playing around, and then Alex kept asking me to sing it, and I was like, "Here, girl, give me your phone. I'm getting ready to download the song right now so you can listen to it whenever you want." So when I gave her the phone, she was like, "No, I don't want that version. I like the way you sing it because you make it sound like an old spiritual." I said, "Girl! I'm not getting ready to stand up in here singing 'Pony' for you all day." It was random on set, but as her character, Dawn, she's like, "Can you sing the 'Pony' song?" I'm like, "Oh my God. I guess we're doing it!"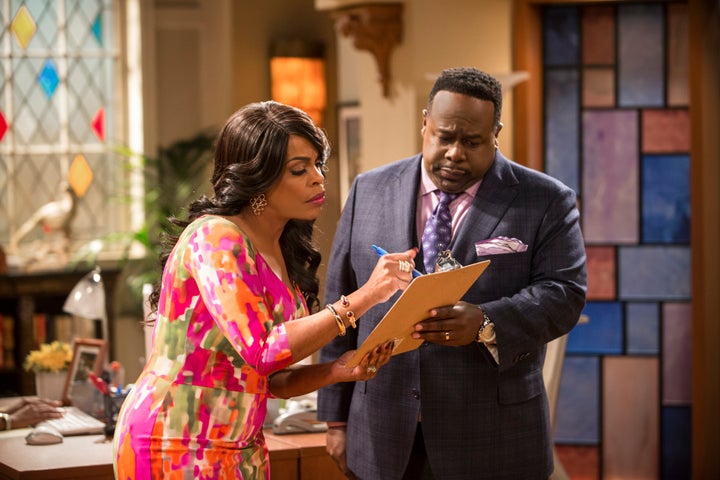 When "Reno 911!" ended in 2009, TV was booming all of a sudden. Did that make it easier because there were more roles or harder because there was more competition?
Hmmm, well, the thing that I'll say about the boom is that you want to, first, go to people who you know have a proven track record to do what you're looking for, which for me meant more of the same in terms of characters that you are called to play. That was how I ended up doing a lot of broad comedy, because people said, "Oh, we know she can do this because she's done it before." And that's how I ended up doing the jobs that I did. I think next week will be the series finale of "The Soul Man." I did that for five seasons, a multi-cam where I played Cedric the Entertainer's wife. And a lot of that was lumped with that "Reno 911!" broad-comedy track record. And then after I did "Getting On," people said, "Oh, we didn't know you could do that," which is how I ended up in the movie "Selma" and how I ended up with this guest arc I'm doing now on "Masters of Sex" and why the writers of "The Mindy Project" were fans of mine. I came and did a guest arc there. So "Getting On" is the gift that has continued to give. 
And now you're headlining a TNT show about devious manicurists. It sounds delicious. 
I would compare the storyline to "The Sopranos" led by chicks, with the tone of "Orange Is the New Black."
Most people probably don't know that actors have to submit themselves for Emmy consideration. You opted for "Getting On" but not "Scream Queens." Was that your decision?
You know what had happened was, I was a guest star on "Scream Queens," and when I tried to submit for guest star, I was told that I had done eight episodes, and I think for a guest you can only do six. [Editor's note: Performers must appear in less than 50 percent of a season's episodes to quality for guest-acting categories. Nash was in eight of 13.] So either you have to submit it as a series-regular category, which meant I was going against myself for "Getting On" because it was in the same category. So after that, it just was like, you go and stay in this lane with Nurse DiDi and we'll figure out on another go-round what happens for "Scream Queens."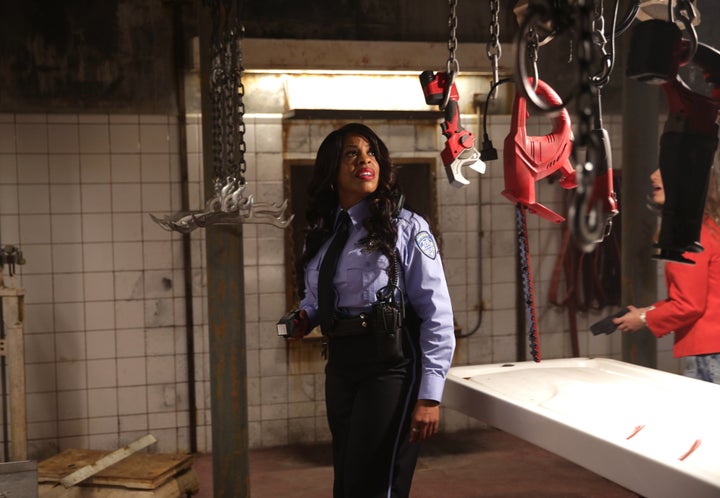 "Scream Queens" is an anthology series. Does that mean you won't be playing Denise Hemphill this year?
I think we all play the same people. It's just a different setting. That's what I think. I think they're all still the Chanels and there's still Dean Munsch and then there's Mama Denise. We don't start that until sometime in July.
Now that you've done shows on HBO, Fox, Comedy Central and the Style Network, do you notice distinctions in working with different types of networks?
Well, the one thing that happened when I filmed the HBO show, that was the first time I had ever been asked to do so much prep work. To play Nurse Didi, they literally were like, "We need you to serve in hospice and go to a senior citizens' home and spend a day with a real nurse." Normally you just come in and put on a pair of eyelashes and push your boobs up and you get out there. It was very intense, and they were very specific in terms of what they wanted for our characters.
When you look back, is there a role that passed you by?
I remember very early in my career auditioning for the TV show "Girlfriends." I auditioned for the role of the secretary. The character's name was Maya, and it came down between myself and Golden Brooks. We're very, very different, our styles and our looks. And I wanted that job so bad -- so bad that when I did not get it, I had this moment of being devastated. I think it might have been the first time I ever tested for a network, and when you test for a network, I didn't realize they make you sign a contract before you walk in the door, so you already know how much money is on the line before you even walk in. So I was sitting out in that waiting room, and in my mind, honey, I was paying my mama's bills and I had bought my grandmama a car. I was like, "Oh, I need that money!"
But I felt like, in hindsight, I was selfish at the time. I felt like I would have just been in a situation to only help my family. The world is so much bigger than just the people inside your house, so I had to grow a little more to receive that sort of a blessing. I had to be responsible enough to be able to pay it forward to anybody in the world, not just my family. My break had to be delayed a little bit so I could mature and understand that. In terms of being of service, you can't just say, "I serve my family and that's it." That was a little too thin for me. Now, I'm not saying that to tell anybody else what to do. That was too thin for me. I had to grow into that.
When did that transition occur?
I really believe in my heart of hearts it's because I go and I serve. That all started to happen around the "Reno 911!" days. I booked "Reno 911!," "Clean House" and a recurring on "The Bernie Mac Show" all within a week of each other. I'm the kind of person, when I learn a lesson, I'm in there. I'm like, "Oh, what, I'm selfish? Let me get it together real quick because I need all my blessings, OK?"
It does seem like things have gone your way over the past several years.
One thing I will say, I used to say it all the time when I hosted my home-makeover show and I believe it with everything that's in me, which is that when your hand is open to give, it's open to receive. People say, "I want to do what you're doing. How is it that you're on multiple networks? How are you starring in three shows at the same time?" And I tell 'em, "You want to do that? Give." And then they go, "Oh." But nothing else makes sense.
You have to work for something beyond yourself, or else what's the point?
"Getting On" is available to stream on HBO Go. This interview has been edited and condensed.
Calling all HuffPost superfans!
Sign up for membership to become a founding member and help shape HuffPost's next chapter
BEFORE YOU GO