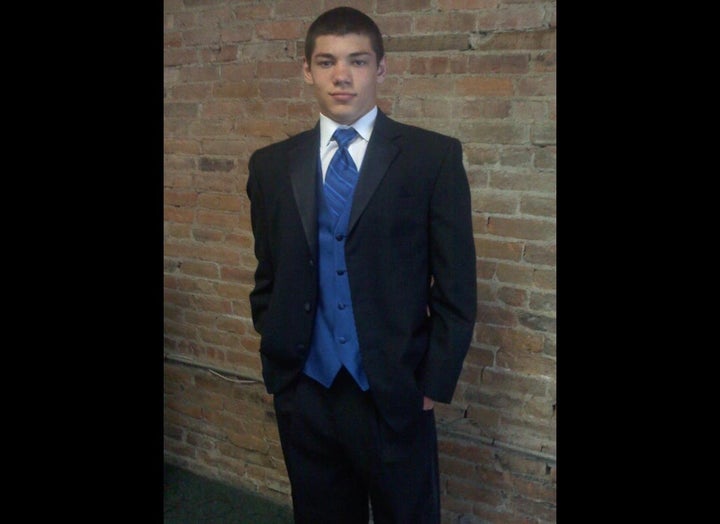 Four months after an 18-year-old New York man disappeared while traveling with a friend -- a friend who later turned up dead -- his family continues to desperately try to raise awareness about the case.
There are no suspects, no motive and few leads to follow in the disappearance of Nieko Lisi.
"It's like he just vanished off the face of the Earth," Lisi's aunt, Rachael Davis, told The Huffington Post.
Not only are Lisi's whereabouts a mystery, Davis said national media has ignored repeated requests by the family to cover her nephew's case.
"We have not had any luck [getting national coverage]," Davis said. "You never hear anything in the news about [missing] males."
Lisi lives in Jasper, N.Y., about 40 miles from Elmira. The college town is where Jessica "Jessie" Ronhock, a 21-year-old nursing student, disappeared in January.
According to Davis, Lisi was en route to Buffalo when he disappeared. He was last seen around 2 p.m. Sept. 30, when he and a friend, Robert Knight, 20, stopped at Lisi's uncle's home in Addison, N.Y.
"Nieko told my brother they were going to Buffalo to see some friends and possibly go camping," Davis said. "They were in a truck that Knight said he borrowed from his grandfather. We later found out his grandfather does not own a truck."
Knight was from Romulus, Mich., but his grandparents lived in Jasper.
The following day, Lisi's grandmother called him on his cellphone. He answered, but said he was unable to talk and would call her back. He never did.
What happened to the teenager next remains a mystery.
Knight arrived at his parents' home in Michigan on the morning of Oct. 1. He allegedly told family members Lisi had dropped him off, but no one physically saw Lisi, police said.
On Oct. 3, Lisi's mother received an envelope in the mail containing her son's driver's license.
"Someone had found it on a street in Hornell, N.Y.," Davis said. "They found it on Oct. 1 and mailed it to my sister's house."
Lisi lived with his mother, Davis' sister. The location where the license was found is about 15 minutes from their home, Davis said.
When Lisi's mother received his license in the mail, she grew even more concerned. She was already worried because she had not heard from her son for a couple of days, something Davis said was "out of character."
"If he even spent the night at a friend's house he called and checked in," she said. "None of his friends had heard from him either."
Davis said her nephew's Facebook page also mysteriously disappeared.
"We went to check it and it had been shut down," she said. "Police are on that, getting a subpoena to find out what happened."
Lisi's family reported him missing and on Oct. 5, Michigan police went to talk to Knight about his friend's whereabouts.
According to WETM-TV, Knight "suffered some sort of ailment" during police questioning and was hospitalized. Knight was released from the hospital on Oct. 9. The next day, the following message was posted to his Facebook profile at 3:47 p.m.:
"Can someone send me some loveee, i just got out the hospital im at a low place but im getting better, i need someone to show me some lovee," the unedited message reads.
Sometime after 8 p.m. Knight was found dead in his parents' home.
"It was not ruled a homicide," Davis said. "We were told it was a drug overdose."
New York State Police Investigator Marci Trimble, the lead detective on Lisi's case, declined to talk about Knight's death.
"I'm not comfortable with this over the phone," Trimble told HuffPost. "That's a whole separate investigation."
Trimble was also unclear when asked if she suspected foul play.
"Foul play? I don't know. I don't know where Nieko is," she said.
Trimble said there has been an unconfirmed sighting of Lisi in Tennessee, a state he lived in for a short time in 2009, but Davis said she is skeptical about the sighting.
Meanwhile, Lisi's friends and family members have created a Facebook campaign to help locate him. They are encouraging members to share information and pass out downloadable fliers. So far, nearly 1,500 people have joined the "Search for Nieko Lisi" group.
"We have distributed thousands of posters," Davis said. "We would like to search but the problem is we don't know where to search. Do we search here, in Buffalo, Michigan or Tennessee? The U.S. is a big place. Where do we start looking?"
Lisi is described as a white male, 5 feet 10 inches tall and 160 pounds, with brown hair and brown eyes. He has a tattoo of Chinese writing on the back of his right arm, a large angel on his right side and a large woman with a devil's tail on his left side. He was last seen wearing jeans, a T-shirt and a silver cross necklace.
Anyone with information about Lisi's whereabouts is asked to call New York State Police at 607-776- 6866. Lisi's family is offering a $2,500 reward for information leading to his whereabouts.
REAL LIFE. REAL NEWS. REAL VOICES.
Help us tell more of the stories that matter from voices that too often remain unheard.
BEFORE YOU GO
PHOTO GALLERY
Missing People