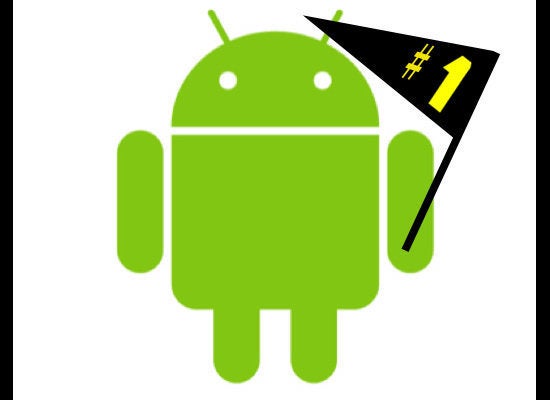 According to new figures from Nielsen, Google's Android operating system is now the most popular OS among U.S. buyers who purchased a smartphone in the last 6 months.
Android sales soared between January and August as consumers snatched up the many and varied devices built around Google's mobile platform. "Android was the top platform in the U.S. with 32 percent of new purchases, followed by the iPhone and Research In Motion's Blackberry platform, tied at about 25 percent," writes Gigaom, reporting Nielsen's research.
As the graph below shows, Android devices outsold both the iPhone and RIM's Blackberry devices between July and August. However, it should be noted that Nielsen's data included only a month when Apple's new iPhone 4 was available.
Gigaom also points out that July figures from NPD and ComScore match Nielsen's data:
During the second quarter NPD reported that Android phones represented 33 percent of new smartphone purchases, compared to 28 percent for BlackBerry and 22 percent for Apple's iPhone. ComScore said that RIM's overall market share remained at 39.3 percent in July, ahead of iPhone (23.8 percent) and Android (18 percent).
In addition, says Read Write Web, "among all smartphone owners, RIM is still number one here in the U.S., but Nielsen notes its lead over the Apple iPhone (#2) is now declining. In this group, RIM has 31% market share, Apple has 28% and Android has just 19%."
The graphs below shows the operating system share among recent acquirers and U.S. smartphone marketshare. (via Nielsen)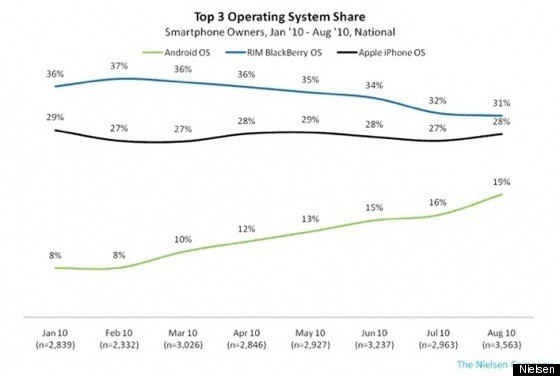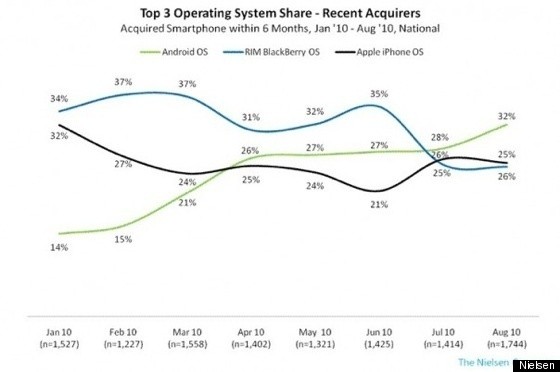 Related
Popular in the Community