'Tis the season for gift guides, but the 2014 Neiman Marcus Christmas Book is a true wonder. First off, if you've never been to a Neiman Marcus department store, that's probably because they exist at the fanciest malls and avenues in only 21 states with the largest concentrations of rich people. They hawk all the usual high-end fare -- red-soled shoes and beauty products from companies eager to load you up with free samples -- in old-fashioned seasonal catalogs that maybe your grandmother still gets in the mail. They're predictably exclusive.
The Neiman Marcus Christmas Book, however, does a thoroughly impressive job in showing us how hard it must be to choose gifts for people who want for literally nothing. We can only imagine that's where someone got the idea for a pint-sized Mercedes coupe or a personalized pool ball set. People eat it up, because otherwise Neiman Marcus wouldn't sell these things on its website. We are 85 percent sure that is how capitalism works.
Anyway, here are our favorite gift "ideas" for your mother, brother-in-law, illegitimate half-sister or neighbor's exotic pet:
Fake Acoustic or Electric Guitar Bag, $5,195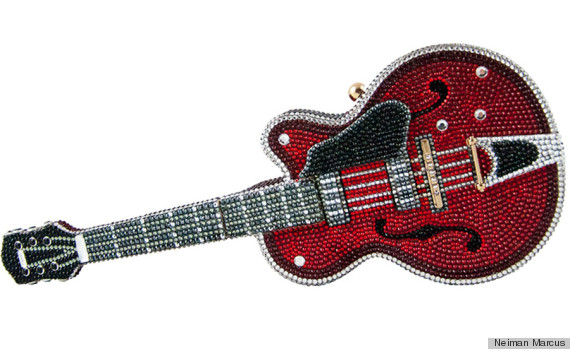 This fake guitar bag that is shaped like a guitar -- but doesn't play Wonderwall because it is not actually a functioning guitar -- will still set you back far more than a counterfeit instrument should. Every inch of its deceitful surface is covered in "Austrian crystals," which are clear rocks from the fabled lands of Austria, where it was also made, probably with magic. We can think of 5,195 things on which you could better spend your money.
Equivalent purchase: One real, custom Gibson Les Paul electric guitar
Rabbit Fur Coat for Girls, $395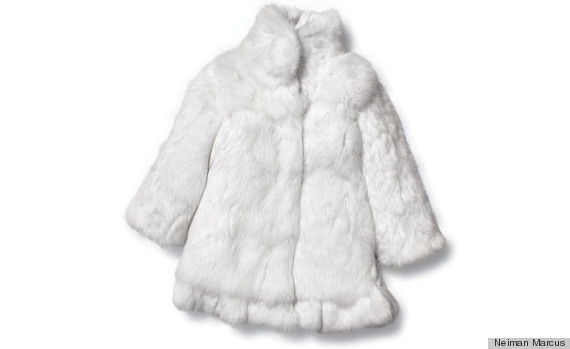 Only one left as of this writing! Each coat is made of real fur and designed by a former painter who realized she could make a much better living capitalizing off rich people's lust for impractical status pieces. Actual rabbits gave their hippity hoppity lives this holiday season so someone's kid could wear a hospital-white coat for the remaining few months of cold. Next season, each and every one of these fluffy things will be relegated to the back of so many closets, because our little minnows grow up so fast.
Equivalent purchase: Day-long inflatable bounce house rental with safety attendant
Gold Top Hat Champagne Cooler, $189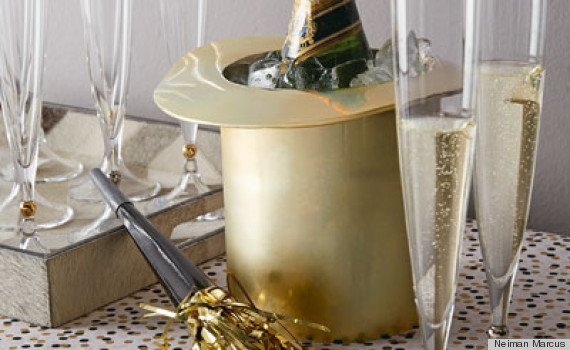 "You'll be putting on the Ritz [pause for knowing laughter] when you add this unique wine cooler to your entertainment serveware," says Neiman Marcus. It will look so fabulous on the table next to your chip-and-dip made from vintage spats and dishware made from retired monocles! While mostly aluminum alloy, the cooler is plated in 24-carat gold as shiny as Rockefeller's bald head. The Future Billionaires' Club approves.
Equivalent purchase: 12 30-racks of PBR from Walmart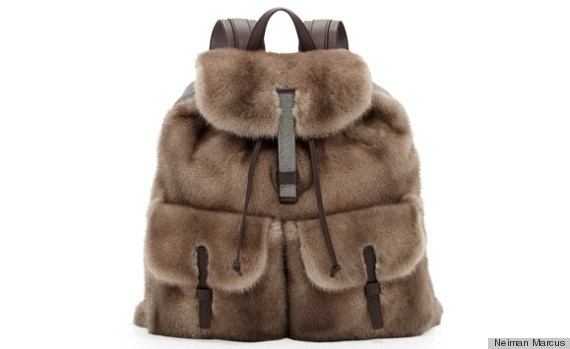 Here it is: the most impractical backpack this vast and varied planet has to offer. Smothered in real mink fur -- which comes from a mink, which is basically an otter, which is to say, an animal that's cute as shit -- this backpack features a satin lining and two sizable front pockets. It might serve someone, somewhere, very well during the laborious journey between the drawing room and the ladies' DAR meeting, and then all the way downtown for the charity auction. The driver always gets the addresses wrong, doesn't he? Pishposh.
Equivalent purchase: 784 hamsters OR 8 AKC-certified Dalmatian puppies
Flammable Golden Matchbox, $175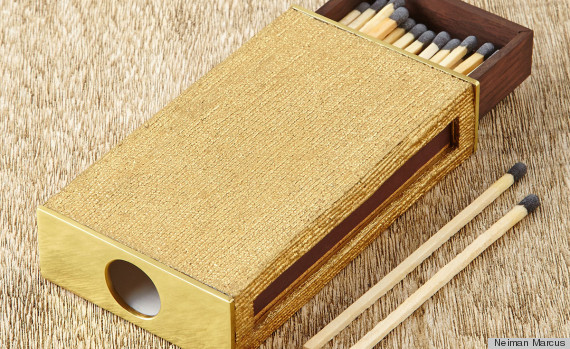 At first we saw this and were like, Okay, it's a forever matchbox. In terms of things we'd rather have last forever, matchboxes aren't really up there with sunglasses or phone screens, but to each their own. Then we noticed that it's covered in linen, which has all the flame-retardant properties of a parched sapling. And it doesn't even come with matches. This is stupid.
Equivalent purchase: 2.7 barrels of crude oil
Whimsical Scented Candles, $85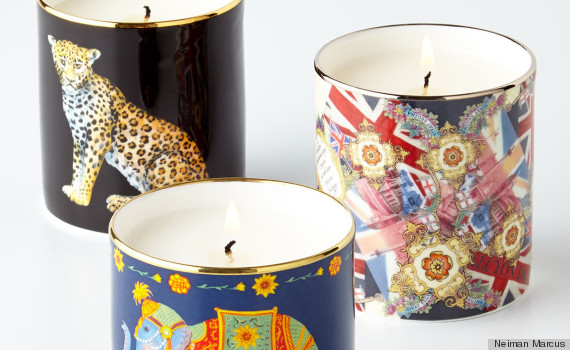 Fools who place this order will receive not several Paschal candles' worth of wax, but ONE three-inch tea light. Made of crushed animal bone china that's been hand-painted AND hand-gilded -- none of that plebeian machine gilding here -- each one is filled with soy wax in one of three floral scents. Those Yankee Candle shops in the mall may have reeked of a thousand rotten potpourri satchels, but at least you got what you paid for.
Equivalent purchase: 6.5 copies of Taylor Swift's album "1989"
Leather Travel Journal, $255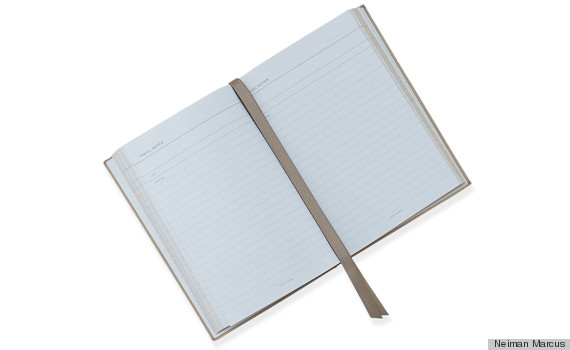 This pebbled leather journal, which is for documenting travels because it says TRAVEL JOURNAL across the front, is available in one inoffensive shade of beige. When you write your TRAVEL NOTES on its pages, the travel journal safely embraces them in its lambskin binding. None of your words get jumbled up or fall out onto the floor as with other, lesser journals. At five-and-a-half inches high, this journal is also light and portable, unlike others that cannot even be lifted by the strongest man.
Equivalent purchase: 75 Double-Double burgers from In-N-Out
Crystal Beatnik Cat Purse, $5,595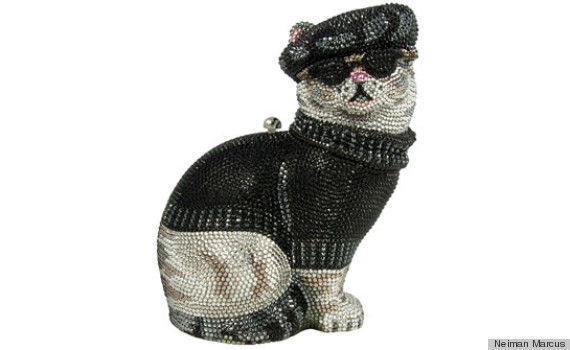 We understand that art is subjective and its often sky-high price tag can be justified by its cultural importance and a need to support the artist. Perhaps this minaudière is a critique of the beat generation's true intellectual contribution -- a visual cacophony as shamelessly gauche to our modern aesthetic as the beatniks' dress and manner was to those planted in the midcentury mainstream. Perhaps the ghost of William S. Burroughs whispers lines of poetry when its clasp is unlocked. Perhaps its thousands of Austrian crystals were applied by the unerring hands of Austrian fairies, whose workers' union secured them proper compensation.
We think it's just an ugly bedazzled cat.
Equivalent purchase: 562 Moleskine notebooks
Rottweiler Statement T-Shirt, $570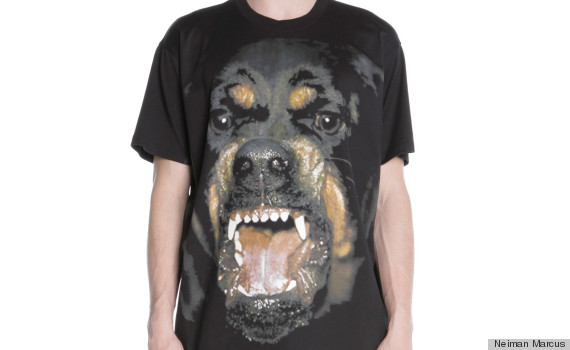 Neiman Marcus suggests a perfect gift for the "animal lover" in your life is a $570 Givenchy t-shirt emblazoned with the snarling face of a demon Rottweiler obviously salivating at the thought of sinking its teeth into human flesh. Dashboard Confessional CD not included.
Equivalent purchase: 63 tubes of black eyeliner
Custom Locket-Making Adventure with a Total Stranger, $100,000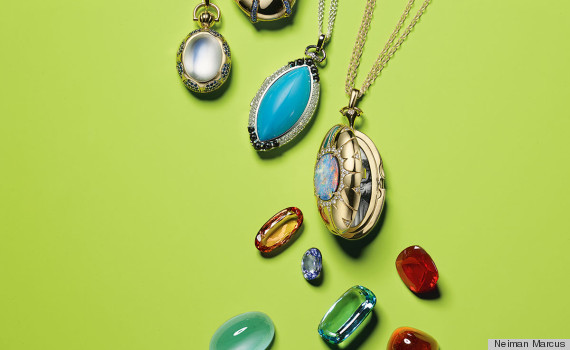 One lucky Neiman Marcus customer will embark on noble three-day quest to discover the most perfect family locket in the whole wide world, as if we can't just set family photos as the background to our iDevices nowadays. Jewelry designer and total rando Monica Rich Kosann will be along for the ride. "Together" they'll select a stone and "collaborate" on the design, Neiman Marcus says, although we suspect that process will be much less buddy-pal and much more civilian-dictator. Upon request, Kosann will take a family portrait that will be printed so small, whether it was taken with a DSLR or 20th-century flip phone doesn't really matter. Airfare is not included, because it is merely the change a rich person gathers from the seat cushions of his or her couch.
Equivalent purchase: 833 goats from Heifer International
Vanity Fair Almost-The-Oscars-But-Not Experience, $425,000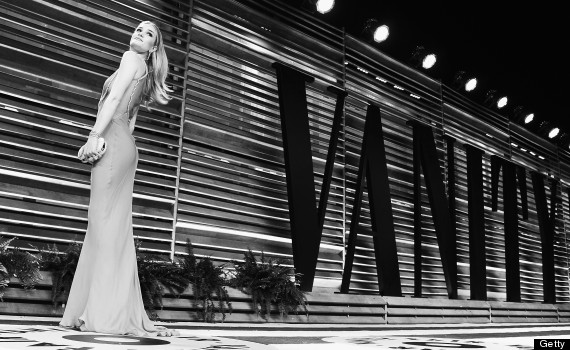 For a price that should encourage serious bidders to take a long, soul-searching sabbatical, Neiman Marcus will send one lucky recipient and a friend to "mix, mingle and revel" with celebrities at the annual Vanity Fair Oscar party, which is somehow advertised as "the night's most coveted event." The experience also includes a spa day, fancy dinner, styling and transportation to and from the event -- which, again, is not the main event. What a whirlwind! But get this -- as part of the deal, $400,000 will be donated to Neiman Marcus' charity to support arts education. So the experience is really just a $25,000 perk to being a big donor, which is, like, sort of fine. Whatever.
Equivalent purchase: 1,118 tickets to Burning Man
The House of Creed Fragrance Journey, $475,000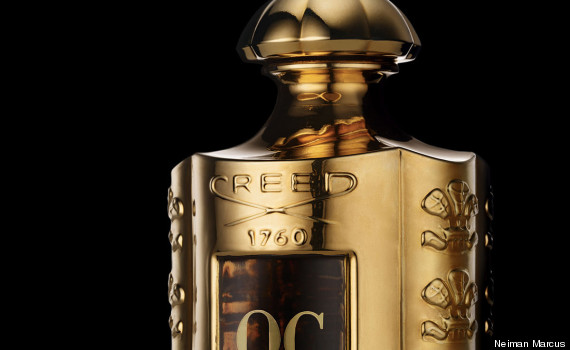 Need a new perfume? Neiman Marcus invites you to skip the malls that reek of processed cinnamon pastries, pack your mink backpack and flit off to Paris! You are a snowflake, and your signature scent shouldn't be anything less. But while the Journey may begin as a trip to discover the perfect combination of olfactory sensations, the chosen recipient may well discover herself, too, during a day trip to the French countryside, private museum tours, fine dining, "and other experiences befitting the royally amazing you." Vom. A few months later, buckets of scent show up at your door.
Equivalent purchase: 79,299 cans of Axe body spray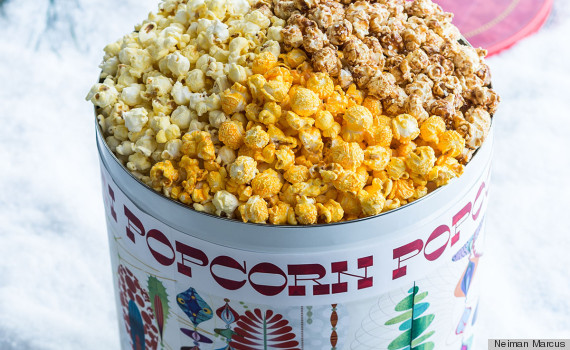 Equivalent purchase: $50 Applebee's gift card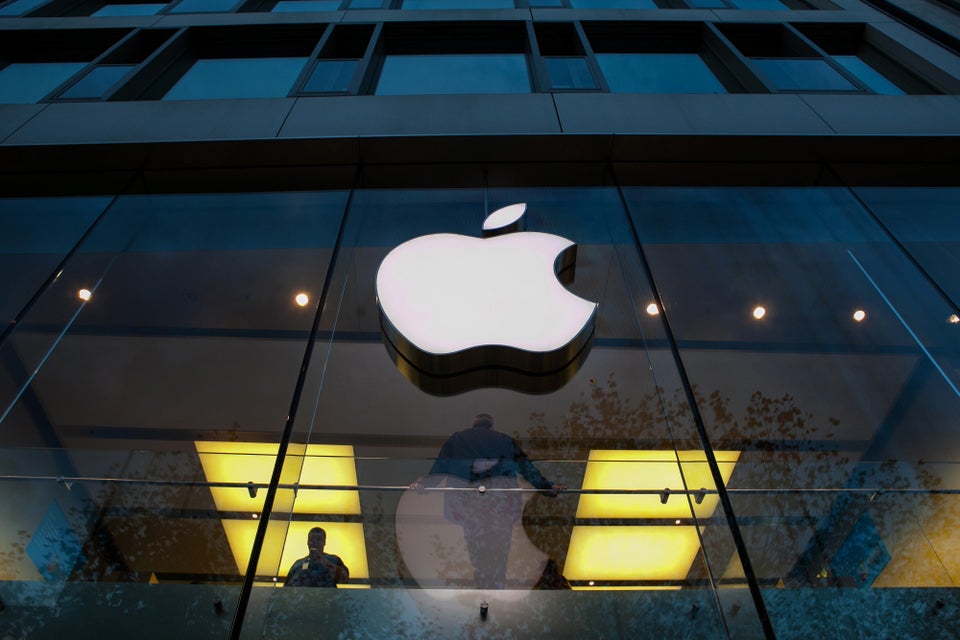 43 LGBT-Friendly Companies To Support