Almost 7 in 10 Mexicans agree that Mexican President Enrique Peña Nieto should have canceled his meeting with U.S. President Donald Trump, according to a new poll provided to The Huffington Post.
The move gives Peña Nieto a boost in support of how he is handling Mexico's relationship with the U.S. His approval rating on this topic hit a record low in November, but very quickly reversed, returning to 63 percent approval and only 30 percent disapproval after canceling the meeting with Trump in January.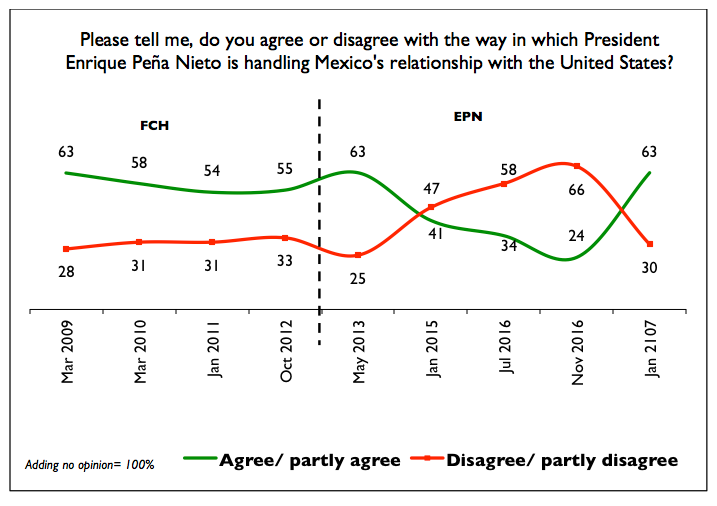 Peña Nieto's numbers bottomed out around the time that he and Trump met in Mexico in August to discuss their relationship. Many protesters expressed displeasure with Peña Nieto's decision to meet with Trump.
Outside of U.S. relations, there is widespread disapproval with Peña Nieto overall. On Jan. 11, he received an 85 percent disapproval rating and 11 percent approval. But within the last two weeks, his approval has grown 5 points ― to 16 percent ― and disapproval dropped 6 points, to 79 percent.
When asked to rate the most important areas the Mexican government should discuss with the American government, most people said immigration issues. The second and third topics were negotiations of NAFTA and the border wall.
The majority of Mexicans said that Peña Nieto should not accept the construction of the wall across the border or the demand that Mexico pay for the wall. More citizens were willing to negotiate on the deportation of undocumented Mexican immigrants, especially those with a criminal record.
While Mexicans generally have a bad impression of Trump ― 88 percent responded that they have a bad or very bad perception of him ― most don't feel the same about U.S. people in general. Forty percent say they feel good or very good about Americans, while 36 percent feel neither good nor bad.
The BGC-Excelsior telephone poll was conducted by BGC, Beltrán, Juárez y Asociados on Jan. 26-30, 2017, of 400 adults in Mexico. The margin of error is +/- 5 percentage points, and the pollsters note that the telephone survey tends to reflect more the opinion of the population with higher income and education.
Popular in the Community