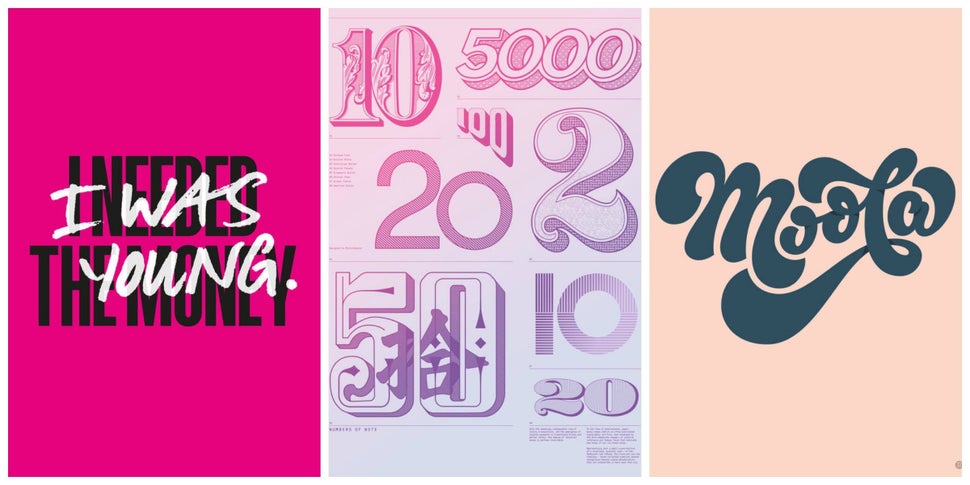 Flimsy sheets of paper decorated with the pale green faces of old men; little plastic squares the size and weight of business cards. We visualize money in a number of ways, but most of them are functional, and don't encompass just how integral the earning of it and the spending of it is to our lives.
In an attempt to fill that void, Mark Bloom, Design Director at Socio Design, asked 50 designers to create a work that addresses how we visualize currency.
"While some designers decided to take a literal approach to the idea of 'money,' others decided to base their idea of time as currency," Bloom told The Huffington Post, quoting one designer in saying money "is our most precious commodity and something those with life-limiting diseases appreciate more than others."
Designer MultiAdaptor took a literal approach, illustrating the often florid imagery used on currency around the world, from the yuan to the dollar. Designer Wolff Olins' result was more symbolic -- puzzle pieces fitting together to create images of cars, jewels and pricey perfumes in a commentary on materialism.
Another recurring choice among the contributors was to pull symbols from Monopoly's frivolous depiction of currency. A bold, up-close sketch of the greedy-eyed Mr. Moneybags is especially poignant, as is an image of the game's terrier playing piece from behind. Designer Serial Cut described his choice: "Money Rules the World, sadly this is ... $hit."
PHOTO GALLERY
World Photography Awards
Calling all HuffPost superfans!
Sign up for membership to become a founding member and help shape HuffPost's next chapter