(AP) LONDON — A light aircraft carrying a candidate for a minor party in Britain's election crashed Thursday, but officials said the pilot and passenger escaped with minor injuries.
The plane was towing a banner for the euroskeptic UK Independence Party when it crashed at a small airfield about 60 miles (100 kilometers) northwest of London. Nigel Farage, a former leader of the party and its candidate in the area, was on board.
The wreckage of the plane was upside down, and the cockpit appeared smashed. Photographs showed a bloody Farage escaping the ruin after the crash.
"Looking at the wreckage behind me, I think you can make your own judgment as to how lucky they were," said Detective Chief Inspector Martin Kinchin of Northamptonshire Police. "The people inside the plane were lucky to come out with not very serious injuries."
An aide, Chris Adams, said Farage was being treated at a local hospital for facial injuries. "It's one of those grace of God things that he is still alive," Adams told the BBC.
He was later transferred to a larger facility in nearby Oxford for further tests after experiencing chest pains, Adams said. The plane's pilot was cut out of the plane and airlifted to a hospital in Coventry, about 35 miles (55 kilometers) away.
The plane was hired for an election-day stunt, towing a party banner which read "Vote for your country – Vote Ukip" over the constituency where Farage is running for a seat in Britain's House of Commons. He is a member of the European Parliament.
The party advocates Britain's withdrawal from the European Union. Farage is standing against John Bercow, a Conservative who is the speaker of the House of Commons. According to tradition, the main parties do not run candidates against the speaker.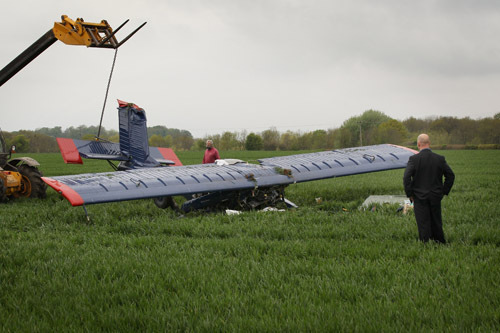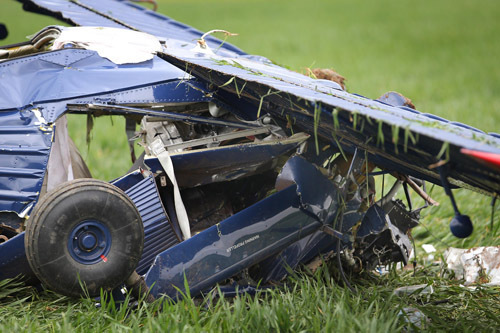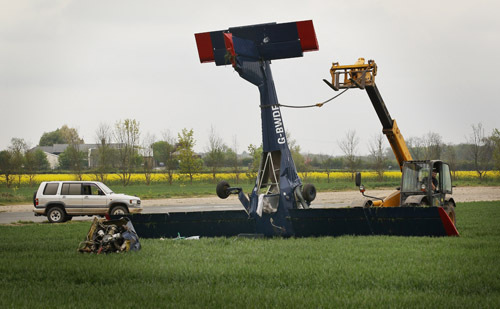 Calling all HuffPost superfans!
Sign up for membership to become a founding member and help shape HuffPost's next chapter