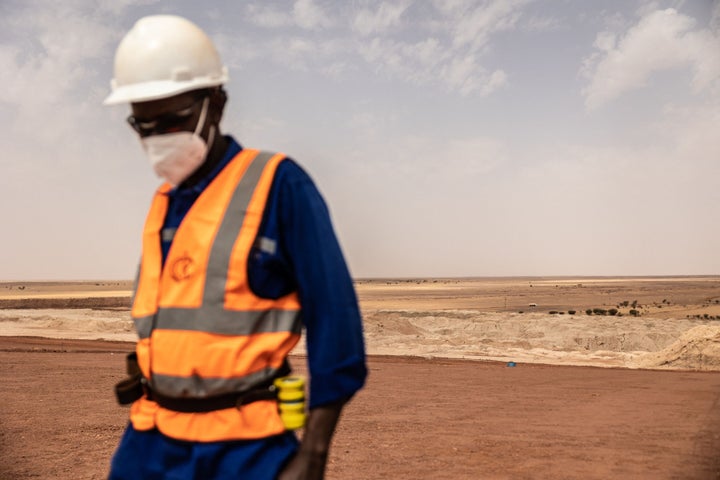 It takes a long time to dig a mine, especially in the middle of the Sahara Desert. Just ask Bob Tait.
The Toronto-based Global Atomic Corp. where he serves as vice president of investor relations started exploring for uranium in the middle of Niger, a landlocked West African nation roughly twice the size of Texas, some 18 years ago. It took until late last year to finally start digging the mine.
The timing couldn't have been better. Countries all over the world were announcing plans for new nuclear reactors, right as nations that already had them started seeking alternatives to Russia for buying uranium fuel after the invasion of Ukraine. By July of this year, the company finished building the access ramp to the edge of the underground ore ― putting the project, called the Dasa mine, ahead of schedule. And a second shipment of mining equipment had just completed its overland journey north from a port in neighboring Benin.
Then, suddenly, Niger's military toppled its elected government.
On July 26, not long after the tools for excavating rock arrived in customs, Gen. Abdourahamane Tchiani, the erstwhile head of Niger's presidential guard, led a revolt, detaining President Mohamed Bazoum and threatening to kill the leader if foreign powers intervene to stop the coup. Casting the ouster as an anti-colonial rebellion, the junta and its supporters accused France of meddling in its former colony and cut off military cooperation deals with Paris.
Once the fourth-largest producer of uranium in the world, Niger has since slid to No. 7, exporting about 5% of the global supply. But Niger's uranium fuels at least 10% of France's nuclear reactors, which generate most of its electricity, and supplies as much as one-fifth of Europe's atomic fleet. Prices in the spot market jolted slightly upward after the coup.
But at Global Atomic's construction site for the Dasa mine roughly 600 miles northeast of the capital of Niamey, "people are going about business as usual," Tait said.
"I don't see our operations getting interrupted," he said. "There was some noise that the military leadership was going to block shipments of uranium to France. Whether that happens or not, I don't know. But it wouldn't affect us."
Analysts say it wouldn't affect France much either. Or, for that matter, global uranium supplies.
In the days after the coup, the price of uranium in global spot markets inched up only by 10 cents, to $56.25 ― more than double what it was three years ago, but still less than half its historic peak of $140 in 2007, when the world last looked poised for a major build-out of new reactors. By late August, the price spiked another $2 to $58.25.
The incident highlights one of nuclear energy's key advantages. Natural gas and oil need to be constantly replenished with fresh supply, giving producers ― particularly countries that control the taps of hydrocarbons buried beneath their land ― tremendous leverage over those nations whose economies would screech to a halt without fuel.
While solar and wind run off of free sunlight and airflow, a dark, still sky means no electricity, making it virtually impossible for any major economy to run exclusively on those renewables without some kind of backup sources. And the supply chains for the processed metals needed to make solar panels, wind turbines and batteries to store that electricity to use later run overwhelmingly through China, which has recently threatened to cut off certain exports to geopolitical rivals.
But reactors generate huge volumes of energy regardless of weather or time of day ― and do so using relatively minimal quantities of uranium. Depending on how they're operated, they require refueling only once every few years. The world's roughly 400 atomic power reactors, spread among 32 countries, need about 149 million pounds of uranium per year. The current measured supply of uranium that could profitably be mined is enough to fuel the world's conventional reactors for roughly the next 90 years, according to World Nuclear Association data.
But with all the new reactors expected to come online in countries such as China, India and Poland, and with existing reactors expected to extend their operating lives in France and the U.S., demand for uranium could climb to 209 million pounds per year by 2035 — yet supply by then may only reach 114 million pounds. In the near term, however, the roughly 4.5 million pounds of uranium Niger exported last year are not enough to sway a global market that other mining countries like Canada, Australia and even the United States could supply.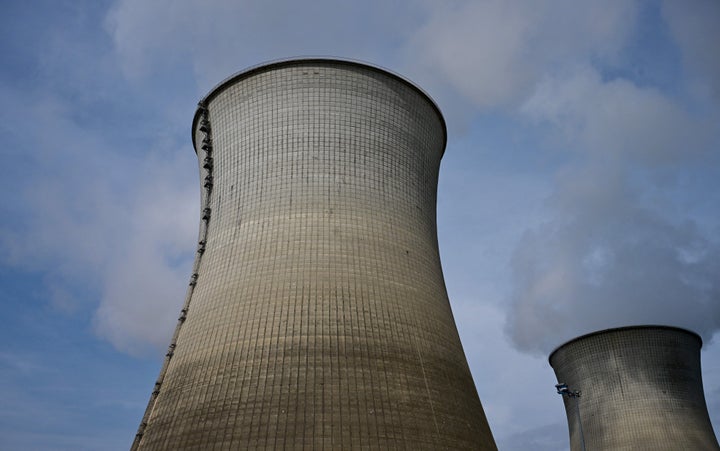 The real bottleneck in the nuclear supply chain, experts say, is not in mining raw uranium, but in enriching that ore into fissile fuel for a reactor. In other words, there is plenty of uranium to mine all over the world. The price of uranium just hasn't been high enough to indicate that investors really believe a "nuclear renaissance" is underway, justifying making long-term, big-dollar investments in fuel enrichment.
"Do I think there's a single reactor in the world that will go unfueled because of any one country being cut off from the supply chain? Absolutely not," said Mark Nelson, a Chicago-based nuclear engineer who runs the industry consultancy Radiant Energy Group.
"If Niger gets cut off, all reactors are going to be fueled, but someone is going to be caught in musical chairs, having to pay a huge penalty for expensive uranium."
But because uranium is so dense with energy and the cost is spread out over a longer period of time, even a tenfold price increase in the raw uranium that goes to an enricher would only raise the cost of serving customers electricity from a nuclear plant by a marginal amount.
The U.S., which built the world's first commercial nuclear power plant in 1958, was once completely self-reliant when it came to atomic energy.
In the 1970s, the U.S. produced nearly all the uranium for its power plants in western states like Arizona, Colorado and New Mexico, which have large deposits of the metal. But domestic production of uranium oxide peaked in the U.S. in 1980 at more than 43 million pounds, and for a number of reasons ― including more imports, particularly of Russian nuclear fuel made with dismantled warheads ― has dropped ever since, coming in at below 1 million pounds since 2019.
Kazakhstan provided 35% of U.S. nuclear fuel in 2021, the most recent year for which there are federal statistics, followed by Canada at 15%. Australia and Russia each provided another 14%. The U.S. produced just 5% of its own uranium.
Niger's uranium exports are much more impactful in France, which depends more on nuclear power but operates fewer reactors than the U.S. does. Over the past 10 years, France has gotten 20% of its uranium from Niger, with another 27% from Kazakhstan and 19% from Uzbekistan.
While the French state-owned uranium giant Orano owns three mines in Niger, it currently operates only one. The company, which has hardened its security in recent years as Islamist terrorist groups in the region stepped up kidnappings of European workers, said summer was already an off-season at its mine, so few foreign workers were in Niger at the time of the coup. The situation at the mining site, the company told the newspaper Le Monde, was "normal." On Thursday, the firm told HuffPost that "mining activities are continuing on sites safely."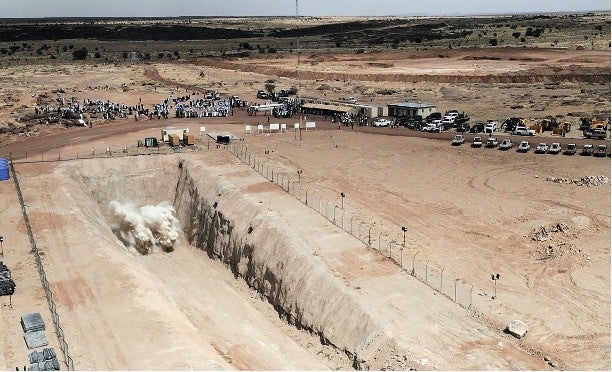 Counting last month, Niger's military has overthrown its civilian government five times since the French government began exporting uranium from its former colony in 1974. But Orano kept up its operations going.
"That's typical," Tait said. "I've worked for other companies that have operated in West Africa. Others have seen coups. Typically whoever's in charge and leading the country wants these mines to continue to succeed because they provide employment and economic benefit to governments through taxes and royalties."
A coup, he said, was not unlike an election that ushers in democratic leaders who might want to change the terms of the government's deal with miners. In Chile, for example, the recently elected left-wing president has moved to nationalize the South American country's reserves of lithium, the conductive metal surging in demand to make batteries for electric cars.
But coup leaders "typically leave mines alone and the business continues regardless of changes at the political level, whether they be democratic or" — he paused momentarily to find the right word — "more so like this event."
In Niger, the mining code requires companies like Global Atomic to automatically give the government a 10% ownership stake in the local subsidiary that operates the mine. The state can then buy a bigger share in exchange for covering capital and operating costs. Since Niger opted to own 20% of Global Atomic's local subsidiary, Société Minière de Dasa, the government will cover 10% of costs.
The elected Bazoum administration had been considering changing Niger's mining code from requiring companies to pay the government a graduated royalty rate based on the mine's profitability that went a high as 12% to a flat fee of 7%. That shift in how royalties are paid to the government would take effect in 2027, meaning a company like Global Atomic could fork over a double-digit percentage of earnings on uranium mined in 2025 and 2026 before dropping to 7% the next year.
"Whether that change goes through or not with the new group, we'll have to see how that plays out," Tait said.
Niger's junta recently named Mahaman Moustapha Barké, the former head of the state uranium company, as the new minister in charge of mining and oil. Though Global Atomic met with Barké, Tait said the brief "meet and greet" did not include talks on changes to the mining code.
Mining uranium has offered lucrative jobs in parched regions of the mostly desert country. But workers in Niger have enjoyed few protections when Orano has cut back.
After the closure of one of its mines in 2021, Orano vowed to retrain its former workers and help establish new sources of income.
But a half-hour documentary that aired in May on the French-German public service broadcaster Arte TV found former miners, whose families once dined regularly on meat and fish, now struggling to get any job at all.
"They mustn't lie to you. There's no retraining," Mahamane Mourtala told the documentary crew as he sat drinking tea with fellow out-of-work miners. "There are projects. Papers have been filled in. But no one's been retrained."
Another man sitting beside him, Moussa Alassan, said that he had gotten a three-day training in IT, but it had been useless for finding a job.
Gilles Récoché, a spokesman for Orano, insists in the documentary that the company has helped place nearly every worker with a new job. But the firm hadn't even managed to rebuild irradiated homes it said it would reconstruct four years earlier.
In an emailed statement to HuffPost, Orano repeated its claim that 86% of former workers at its Cominak mine have been "redeployed" to other jobs and said it "set up a system for its former employees providing social measures going beyond the national legal requirements such as health insurance" for five years and "800+ trainings between 2019 and 2021."
The company said it had cleared radioactive material out of "100% of the houses" in the neighboring town of Akokan as of March 31, 2021, following a process that involved "taking measurements in all the rooms of the houses and establishing scenarios of life and time spent in rooms to calculate the added dose for the inhabitants."
But the film shows Almoustapha Alhacen, who spent 30 years working at the mine and now works as an activist identifying radiation, holding his Geiger counter up to the roof of a house and registering abnormally high levels of radiation.
"I'm outraged," Alhacen says in the documentary. "If we can't profit from our uranium, at least keep your shit there, all that's contaminated. They should keep it properly. That's all we ask!"
Finding new partners to extract the uranium hasn't been easy.
A decade ago, the state-owned National Uranium Company of China operated a processing plant in Niger to turn uranium ore into "yellowcake," the refined material that then goes to enrichment facilities in France. But after the 2011 Fukushima disaster, utilities across the world canceled plans for dozens of new reactors. In 2014, the Chinese plant closed.
However, weeks before the coup, in early July, Chinese officials visited Niger to discuss potentially reopening the plant.
Tait said it could be a potential customer for Global Atomic. The Canadian firm is planning to build its own processing plant on-site to turn the uranium into yellowcake that would then be shipped to enrichers overseas. But the company expects to start mining in 2025, long before it completes any processing facility, and Tait said it was open to supplying other processors in the meantime.
According to Tait, the deposit Global Atomic identified contains the "highest-grade uranium" ever found anywhere in Africa, formed over centuries as water flowed from the nearby Aïr mountains and filled an underground area between two fault lines with rich sediment. The ore the company has so far extracted is at least five times as dense with uranium as the material Orano mined.
As a result, the company expects to be able to extract it at a cost of roughly $22 per pound, a price that includes the expense of maintaining the mine over decades. Already, Tait said, two utilities in North America agreed to buy uranium from Global Atomic's mines in Niger. He declined to name the companies.
That means Global Atomic can turn a profit at current prices. And Tait expects uranium prices to go even higher.
"What you're seeing already is a gap of supply not meeting demand projected, and there are more nuclear reactors being announced all the time," Tait said. "There are new small modular reactors that haven't even factored into the supply-demand equation yet. That's only going to put more pressure on the price."
Given the long-term importance of nuclear energy to phasing out planet-heating fossil fuels, he forecast the price of uranium to sustain a high price for the foreseeable future.
What's motivating the biggest shifts in the nuclear-fuel market today are Western countries seeking alternatives to the Kremlin-owned Rosatom, the only commercial vendor of a key type of fuel used by some advanced reactor technologies that the U.S. is hoping to bring to market. That monopoly has made Rosatom immune to the types of sanctions the U.S. and Europe slapped on Russian exports of oil and gas in the wake of the invasion of Ukraine ― which sent prices skyrocketing.
Even so, a spike in nuclear fuel prices has a far different effect on utility bills.
"If natural gas prices double, the price of natural gas for electricity nearly doubles," Nelson said. "If the price of uranium doubles, the price of nuclear electricity goes up by perhaps a percentage point."
Support HuffPost
The Stakes Have Never Been Higher
Popular in the Community