Every week, we bring you one overlooked aspect of the events that made news in recent days. You noticed the media forgot all about another story's basic facts? Tweet @TheWorldPost or let us know on our Facebook page.
Fighters from the extremist group Boko Haram laid waste to a cluster of towns in northeast Nigeria earlier this month, inflicting a massacre that Amnesty International said may be the bloodiest in the Islamic militants' history.
The assault on the fishing town Baga and 16 surrounding communities in Borno state began on Jan. 3. Two weeks later, crucial details about what took place remain unclear.
Witnesses described the mass slaughter of men, women and children, and many estimated that hundreds of people had been killed. A senior official in the Borno state government told the BBC that some 2,000 people were dead. The Nigerian military has fiercely disputed this figure, saying on Monday that 150 people, including Boko Haram fighters, had been killed.
How Boko Haram was able to take control of the area is also subject to dispute. Civilian militia fighters told the Associated Press that the army ordered them to withdraw, leaving Baga defenseless. Soldiers at a nearby military base that was captured by Boko Haram fought back for almost nine hours, but received no reinforcements and eventually dumped their weapons and ran, eyewitnesses and a local official told The Guardian. Nigeria's national security spokesman said Monday that military reinforcements were battling Boko Haram in the area, but one Baga resident told CNN there was no sign of the forces.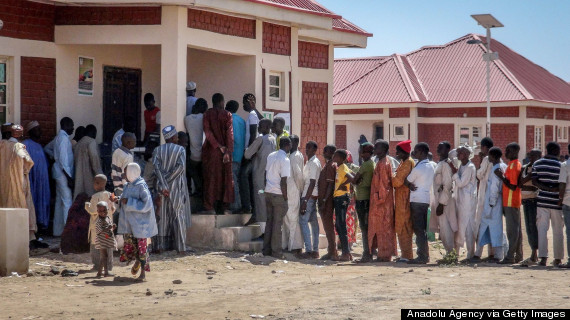 People take refuge on Jan. 14, 2015, from Boko Haram's attack in nearby Baga. (Mohammed Abba/Anadolu Agency/Getty Images)
Why is it so difficult to confirm even basic facts about what happened in Baga? The BBC notes that the Nigerian government did not provide any information until several days after the massacre. When officials did confirm the attack, details were scant. The scale of the destruction has trickled out in horrifying eyewitness accounts as well as satellite images of the razed towns released by Amnesty International and Human Rights Watch.
Part of the confusion arises from the difficulty of getting information from isolated communities in northeast Nigeria. The sparsely populated, largely impoverished region has become even more isolated due to years of Boko Haram violence. The militants have blown up telecommunications infrastructure in the northeast, leaving patchy Internet and cell phone access. Few local or international journalists are able to travel to the areas under relentless assault from Boko Haram. Even the state governor has not been able to get to Baga since the attacks, according to The New Yorker.
"People have to physically travel out of the area in order to provide information," Osita Benjamin Chidoka, a senior official in the Nigerian government, told The WorldPost. He said the national government had released information about the attacks as soon as it could possibly be confirmed. The vast desert terrain also affects how long it takes the military to send reinforcements, said Chidoka, adding the army was conducting the "fastest possible intervention without losing other areas under their control."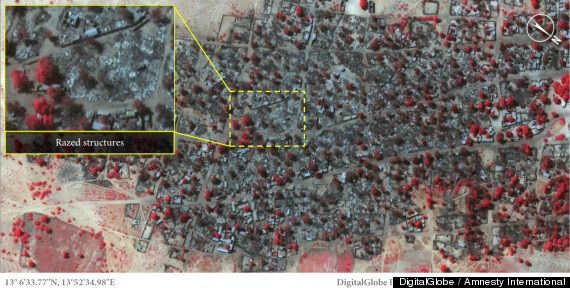 Satellite image of what's left of Doro Baga taken on Jan. 7, 2015, following Boko Haram's attack. (Digital Globe/Amnesty International)
It is also hard to assess the true scale of the killing and destruction while fighting still rages around Baga. Fleeing residents said bodies litter the area, but no one had stayed behind to count them. Local officials told CNN on Monday that it was still not safe for authorities to collect the dead for burial.
Politics may factor into the confusion. Nigerian President Goodluck Jonathan, up for re-election next month, has been sharply criticized for failing to speak out about the devastation in Baga while condemning the terror attacks in Paris. Critics have long accused him of ignoring violence in the northeast, and his administration's failure to rescue more than 200 schoolgirls kidnapped by Boko Haram last year is a particular sore spot.
"The military tries to downplay incidents they find embarrassing," Nnamdi Obasi, senior Nigeria analyst for the International Crisis Group, told The WorldPost. The president has no interest either in discussing an insurgency that has so damaged his reputation while he is on the campaign trail, Obasi said.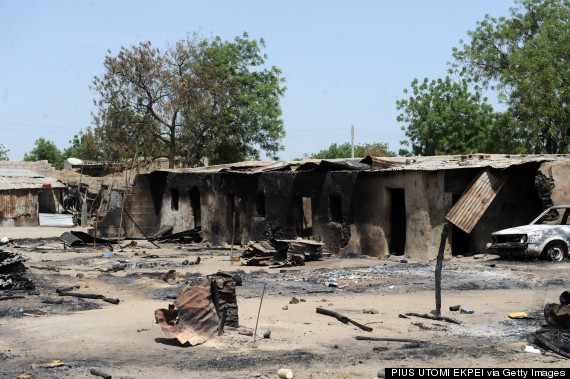 Houses were burnt during a clash between insurgents and soldiers on April 25, 2013, in Baga. (Pius Utomi Ekpei/AFP/Getty Images)
Nigeria's governance problems, including a sluggish bureaucracy and little sense of accountability to the public, may have hampered the government's response to the attacks, Obasi said.
The government, meanwhile, accuses its critics of exaggerating the casualties from the Boko Haram insurgency and the problems with the military in order to make it look bad. "Everywhere in the world there is bipartisan consensus against terrorism, except in Nigeria where this consensus is not strong," Chidoka said. "In an election year, people want to paint the government as incompetent."
"Misinformation and manipulation of information cuts across both sides," Obasi said. "People in the northeast feel shut out of power," he said, explaining that local politicians are angling to regain influence and believe that their region has been neglected by successive leaders hailing from Nigeria's south.
Calling all HuffPost superfans!
Sign up for membership to become a founding member and help shape HuffPost's next chapter