 Nigeria is hosting the World Economic Forum next week, and while the country's chairmanship was intended as a moment to celebrate its growing economic power, a major bomb blast in the capital and the kidnapping of more than 200 girls has shifted attention to the worsening security situation in the African nation.
That same day, gunmen entered a secondary school in the country's northern Borno state. They kidnapped more than 200 female students who were completing their final exams, driving them off to the remote Sambisa forest. While some managed to escape, about 180 are still missing. According to villagers in the forest, some of them have been moved to neighboring Chad and Cameroon and are being forced to marry their Islamic extremist abductors.
Both attacks are the work of militants of Boko Haram, a group of Islamist extremists that has its base in northern Nigeria. Both attacks set the spotlight on the militants' brutal tactics and the ineffective response of the government under President Goodluck Jonathan.
For the past five years, Boko Haram -- whose name is usually translated as "Western Education is forbidden" -- has held Nigeria in its grip with a mix of brutal violence and brazen attacks. As the International Crisis Group explains, the Islamic sect is moved by a determination to establish an Islamic state in northern Nigeria based on Sharia law, and it considers the area's current leadership to be corrupt Muslims.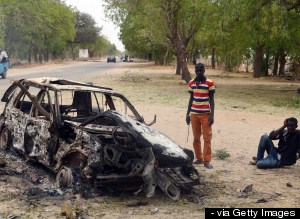 People stand by the wreckage of a car that has been blown up by suspected Boko Haram militants in Nigeria's troubled northeastern city of Maiduguri on March 25, 2014. (AFP/Getty Images)
The militants have translated this determination into a violent struggle against any form of leadership and authority outside of what it considers appropriate -- including the government, security forces, aid workers, schools, churches or mosques preaching a different interpretation of Islam.
ICG explains however, that it's not this radical ideology that brings Boko Haram a strong following in the northern states. Simply put, the militants have been doing so well because some parts of Nigeria have been doing so poorly:
In many parts of the country, the government is unable to provide security, good roads, water, health, reliable power and education. The situation is particularly dire in the far north. Frustration and alienation drive many to join "self-help" ethnic, religious, community or civic groups, some of which are hostile to the state.
While Nigeria has a robust oil industry and a flourishing economy -- remember it being lauded at the World Economic Forum -- the country has one of the world's poorest populations. According to the Council on Foreign Relations, about 70 percent of the nation lives on less than $1.25 a day. In addition, the disparity between the north and the south of the country is particularly stark. While 72 percent of the population in the north lives in poverty, only 27 percent live in poverty in the south and only 35 percent in the Niger Delta.
Boko Haram traces its origins to Mohammed Yusuf, a charismatic preacher in the northern Borno state who led a radical group that wanted to establish an Islamic state in Nigeria's north, though by peaceful means. However, the organization radicalized after 2002. While Boko Haram grew in popularity among the impoverished residents of Borno and its neighboring states, authorities repeatedly went after the preacher. In 2009, the conflict escalated into an armed insurrection, eventually leading to Yusuf's arrest and subsequent death in July 2009. While Yusuf sympathizers initially limited their revenge attacks to symbols of the state, their campaign gradually became one of full-blown terrorism.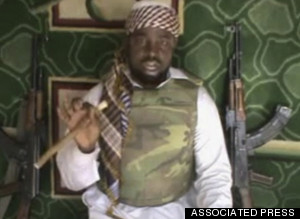 This file image made available from Wednesday, Jan. 10, 2012, taken from video posted by Boko Haram sympathizers shows the leader of the radical Islamist sect Imam Abubakar Shekau. (AP Photo, File )
The organization is currently led by the brutal Abubaker Shekau, a mysterious figure described by the BBC as a "fearless loner, a complex, paradoxical man -- part intellectual, part gangster." It's unclear how tight of a ship Shekau runs. Analysts believe Boko Haram split into several factions after Yusuf's death, and it appears Shekau does not control all of them. While the group is still mainly considered a domestic terror organization, some of its factions are thought to have established ties with other Islamist militant groups in northern Africa. The U.S. moved in 2013 to declare Boko Haram and one of its splinter groups, Ansaru, foreign terrorist organizations and American officials say the group has ties to al Qaeda in the Islamic Maghreb (AQIM), al Qaeda in the Arabian Peninsula and al-Shabab in Somalia. However, direct evidence of Boko Haram's regional ties remains scarce, as the BBC notes.
Since 2009, Boko Haram-instigated violence has claimed up to 4,000 lives, displaced close to half a million people, left hundreds of schools and government buildings destroyed and devastated the northeast's economy.
While the Nigerian government launched a massive military offensive against the militants in June 2011 and even declared a state of emergency in three northeastern states in 2013, the crackdown appears largely ineffective. While the military moves initially pushed the militants out of the cities, security experts say Nigeria lacks the forces and resources to control the entire region. Boko Haram is back with a vengeance, with more and larger attacks on schools, mosques, churches and the government that go beyond the country's north.
Analysts stress that a military approach alone is doomed to fail, as it doesn't solve the root causes of discontent in Nigeria's north. Boko Haram "is an effect and not a cause; it is a symptom of decades of failed government and elite delinquency finally ripening into social chaos," writes Nigerian analyst Chris Ngwodo.
The U.S. State Department recognized as much in its most recent Africa report, calling on the Nigerian government to address Boko Haram with a strategy that encompasses security, political and development efforts. "The Government of Nigeria's efforts to address grievances among Northern populations, which includes high unemployment and a dearth of basic services, made little progress," the report concludes. "Some state governments in the North attempted to increase education and employment opportunities, but with almost no support from the federal government." Unidentified mothers call for the president to help, during a demonstration with others who have daughters among the kidnapped school girls of government secondary school Chibok, Tuesday April 29, 2014, in Abuja, Nigeria. (AP Photo/ Gbemiga Olamikan)
Unfortunately, the events of previous weeks have done little to restore dissatisfied Nigerians' faith in authorities. With confusing communications and a lukewarm military search, the government has botched the response to the mass kidnapping in Borno state, drawing anger from the victims' families and communities.
"For how long are we going to wait for the government to help us? We can't bear it anymore," a woman from the region where the kidnappings occurred told UPI during a "Million-Woman March" calling for the release of the girls on Wednesday. "We just want the government to help us, we want the world to hear this and help us."
UPDATE: This article has been updated with the news that Boko Haram claimed the kidnapping of more than 200 schoolgirls in Nigeria's Borno State.
REAL LIFE. REAL NEWS. REAL VOICES.
Help us tell more of the stories that matter from voices that too often remain unheard.