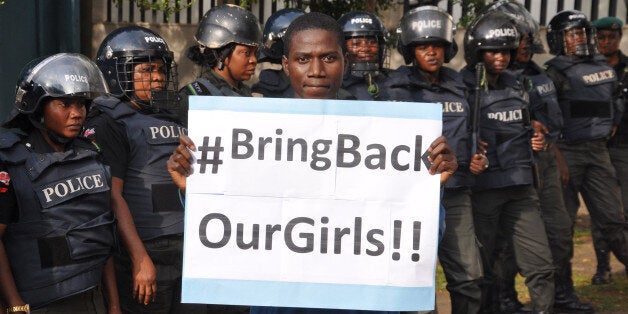 Nigeria says it has struck a cease-fire deal with Boko Haram, raising hopes that over 200 schoolgirls who were kidnapped by the militant group will be released. But mystery continues to surround the identity of the interlocutor on the other side of the negotiations.
The name took many by surprise, including people who have been involved in previous negotiations with Boko Haram. "I have failed to find anyone who has ever heard of him," BBC's Nigeria correspondent wrote. "We've tried verifying the authenticity of the person from sources traditionally close to Boko Haram militants and we are getting negative feedback," the editors of Nigerian news site Sahara Reporters told The WorldPost by email.
Ahmad Salkida, a Nigerian journalist who is considered close to Boko Haram's leaders, said he does not believe Ahmadu is part of the group's leadership or that he speaks for the group. "I challenge Danladi Ahmadu to an open debate if he has d [sic] interest of Nigeria at heart. Who is he?" Salkida wrote on Twitter.
But Mike Omeri, the Nigerian government's spokesperson on the Boko Haram insurgency, told The WorldPost Saturday that the government is confident it has been negotiating with the right guy.
"These talks did not just happen one sunny morning ... They approached the president of Chad, and if he wasn't confident [of Ahmadu's identity] he wouldn't have connected him with the president of Nigeria," Omeri said. "The fact that this contact comes from Nigeria's neighbor gives us confidence."
Chad has confirmed it is acting as a mediator in the talks to free the girls, who were kidnapped in the Nigerian village of Chibok in April. Since Nigerian President Goodluck Jonathan visited Chad last month, rumors have grown that Nigeria's government was quietly negotiating the girls' release via its neighbor. It was not immediately clear how long the talks have been taking place.
Boko Haram's leadership has not commented on the cease-fire. Meanwhile, Ahmadu himself has purportedly made at least two statements in recent days. On Friday, he gave an interview with Voice of America's Hausa-language service in which he didn't mention the kidnapped schoolgirls and was vague on the details of the cease-fire, Agence France-Presse reported. The news agency also noted that Ahmadu referred to the militant group as Boko Haram, a name used by outsiders but not by the insurgents themselves.
On Saturday, Sahara Reporters said its correspondent in the northeastern Nigerian city of Maiduguri had obtained a CD recording of another statement by Ahamdu. This time, he was more precise.
"On the girls that we took from Chibok, all that we want before we free the girls is to get justice from the Nigerian state because there are many of our members that their business premises were destroyed, some killed and others in detention and many other oppression," Ahmadu said, according to a translation from Hausa by Sahara Reporters. The news site's editors said they remain skeptical about his identity.
As part of the deal, Omeri said, the talks taking place in Chad this week will address the release of the schoolgirls.
Omeri added that the militants are motivated by a wish to reintegrate into society. "They are working towards peace in order to have a chance for them to return to normal things -- for example, many have businesses, " he said.
Asked whether Nigeria would consider releasing captured Boko Haram militants in exchange for the girls, Omeri said "every asset" will be directed towards the girls' release. "Everything possible is being done until the day they are freed," he said.
"Boko Haram want peace, they are ready for it and intend to have it implemented," he added.
After the cease-fire was announced, suspected Boko Haram militants continued to attack communities in northeast Nigeria, leaving several dozen dead over the weekend.
But Omeri insisted that the violence would not deter the negotiations. He suggested that militants in remote areas may not have heard about the cease-fire, or that the attacks could have been perpetrated by criminal opportunists, rather than Boko Haram members.
"It is quite possible that Abuja has reached an agreement with a legitimate representative of a specific cell ... that holds the kidnapped schoolgirls captive," the group added.
In the kidnapped girls' hometown, the community hardly dared to hope that the girls might be finally returned. "We don't know how true it is until we prove it," said Bana Lawan, chairman of Chibok Local Government Area, told The Associated Press.
REAL LIFE. REAL NEWS. REAL VOICES.
Help us tell more of the stories that matter from voices that too often remain unheard.