Every week, we bring you one overlooked aspect of the stories that made news in recent days. You noticed the media forgot all about another story's basic facts? Tweet @TheWorldPost or let us know on our Facebook page.
Nigeria is holding presidential elections on Saturday, six weeks after the original voting date was postponed due to security concerns.
Yet thousands of Nigerians will still not be able to vote in the election, a tense and seemingly close race between current President Goodluck Jonathan and former military ruler Muhammadu Buhari.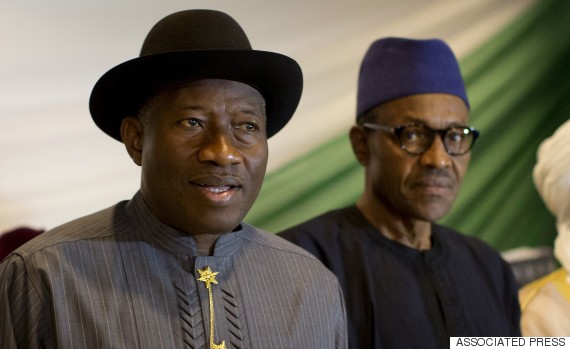 Nigeria's President Goodluck Jonathan, left, and opposition candidate Gen. Muhammadu Buhari, right, prepare to sign a pledge at a hotel in the capital, Abuja, to hold peaceful elections, March 26, 2015. (AP Photo/Ben Curtis)
Many of the displaced won't be able to take part in the election, despite Nigeria's efforts to set up extra polling stations to cope with the refugees. Voters must cast ballots in their home state, a policy that will exclude thousands who have fled to another of Nigeria's 36 states, as well over 200,000 refugees sheltering in other countries. Many of them are too afraid to return home.
Officials said they cannot risk setting up polling booths in areas recently recaptured from Boko Haram. Illustrating the fragility of Nigeria's military gains, the Associated Press reported that two towns have already changed hands twice since the offensive began.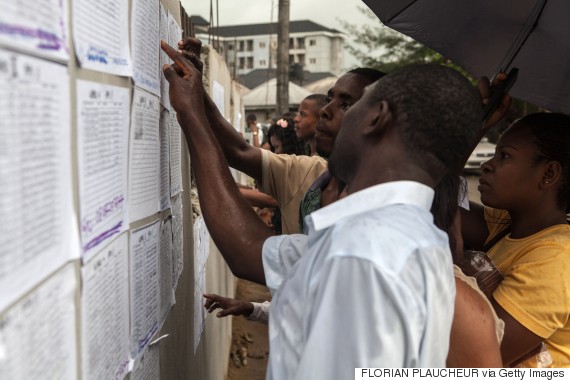 Volunteers check their ballot station positions in the Bayelsa state capital of Yenagoa on March 27, 2015. (FLORIAN PLAUCHEUR/AFP/Getty Images)
Meanwhile, thousands more voters have not collected new voter identity cards, required in this year's election in an effort to combat widespread voter fraud. Before the original voting date, only 44 million out of the 68.8 million cards had been distributed, raising concerns about the integrity of the election. The Nigerian election commission says it has now been able to distribute 80 percent of cards to voters, but opposition politicians have said that in some areas, distribution only reached 65 to 67 percent.
Confidence in the elections is low. A 2014 Gallup poll found that just 13 percent of Nigerians have confidence in the elections, down from 51 percent in 2011.
The threat of terror attacks and sectarian violence looms over Saturday's vote. Boko Haram rejects democracy and has threatened to disrupt the polls. "Its fighters may not be able to seize new territory but they could certainly still send suicide bombers to public places, including polling centres," Nnamdi Obasi, senior researcher at the International Crisis Group, told Agence France Presse.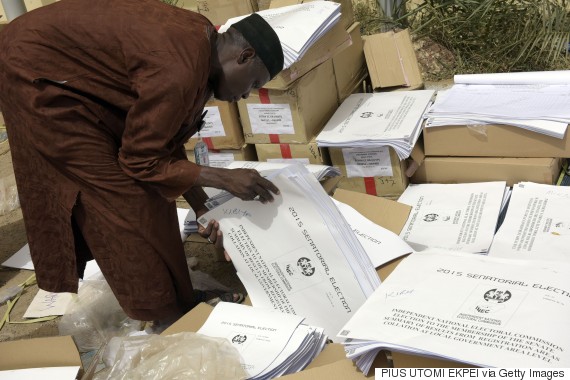 An official sorts documents at the secretariat of Independent National Electoral Commission (INEC) in Kano on March 27, 2015. (PIUS UTOMI EKPEI/AFP/Getty Images)
This year's vote is particularly volatile given that some believe Jonathan's quest for a second term violates an informal arrangement for the presidency to alternate between the Muslim majority north and the largely Christian south. Hundreds were killed in sectarian violence in the aftermath of the 2011 election, in which Jonathan, who is from southern Nigeria, defeated Buhari, a member of the All Progressives Congress who hails from the north. A close vote and allegations of fraud would could provoke violent protests from supporters of both candidates. Urged to prevent bloodshed by the U.S. and United Nations, the two candidates on Thursday signed an agreement pledging to peacefully accept the outcome of the election.
The head of the Nigerian electoral commission, Attahiru Jega, has insisted that the postponement has helped Nigeria better prepare for a successful election. "We believe we have done everything humanly possible to be able to conduct elections that are free, fair, credible and peaceful," he told reporters ahead of the vote.
An earlier version of this explainer appeared on The Huffington Post in February 2015.
Calling all HuffPost superfans!
Sign up for membership to become a founding member and help shape HuffPost's next chapter
BEFORE YOU GO
PHOTO GALLERY
Bombing In Nigeria