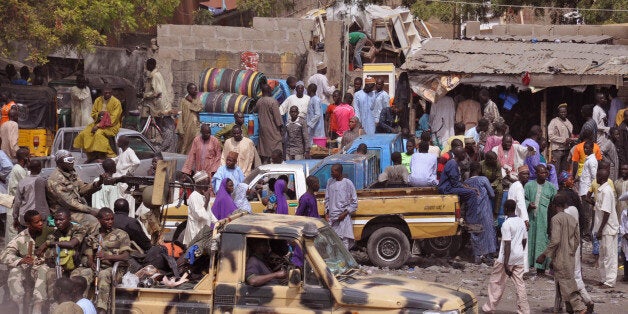 Every week, we bring you one overlooked aspect of the stories that made news in recent days. You noticed the media forgot all about another story's basic facts? Tweet @TheWorldPost or let us know on our Facebook page.
During his rise to the top, Nigerian President Goodluck Jonathan dismantled a historic power-sharing arrangement meant to bridge the country's divisions, and his current bid for re-election could now exacerbate tensions between north and south.
Jonathan is seeking a second term in Nigeria's presidential election, originally scheduled for Saturday but postponed last week until March 28 because of security concerns surrounding Boko Haram's insurgency in the northeast.
His candidacy in the elections reignites a decades-old debate about the distribution of power in Nigeria. Africa's most populous country, Nigeria has a rich diversity of ethnic, linguistic and religious groups. In the decades after Nigerian independence in 1960, some of the major groups competed for power and resources, leading to a string of military coups and a brutal civil war.
After democratic rule was restored in 1999, Nigerian politicians tried to end this instability by instituting an informal agreement to rotate the presidency between candidates from the majority-Muslim north and predominantly Christian south.
This worked until 2010. That year, President Umaru Yar'Adua -- a Muslim from the north -- died during his first term in office, and then-Vice President Goodluck Jonathan -- a Christian from the south -- took over as acting president. Under the informal arrangement to alternate every two terms, a northerner should have been the next president. But to the consternation of many northern politicians, Jonathan decided to run in the 2011 elections and won the presidency.
His decision to run for a second term in the 2015 elections put the nail in the coffin of the arrangement. If Jonathan wins the vote, he could end up spending nine years in office, while Yar'Adua only led the country for three years.
This prospect alarms some in the north, who are concerned that they and their constituents will be shut out of access to power. Corruption and patronage politics bedevil oil-rich Nigeria. Economic divides are growing between impoverished areas of the north and the wealthier south. Islamist militant group Boko Haram controls swathes of northeast Nigeria, where few residents have faith that Jonathan can tackle the growing insurgency, or cares enough to protect them. Meanwhile, some Jonathan supporters accuse northern politicians of aiding the militants in order to undermine the government.
Some analysts fear these tensions will explode into communal violence if Jonathan wins, as it did after his last victory in 2011. Jonathan faces the same main opponent as that year, northern Muslim Muhammadu Buhari -- and polls suggest a close race.
Others have argued that the time had come to end Nigeria's power-sharing arrangement, noting that rotating the presidency between candidates picked by political elites is not very democratic. Jonathan's People's Democratic Party has been in power since democracy returned to the country in 1999, partly due to its policy of "geopolitical balance." This year, a new coalition of opposition parties, the All Progressives Congress, is closer than ever to ousting them.
Calling all HuffPost superfans!
Sign up for membership to become a founding member and help shape HuffPost's next chapter