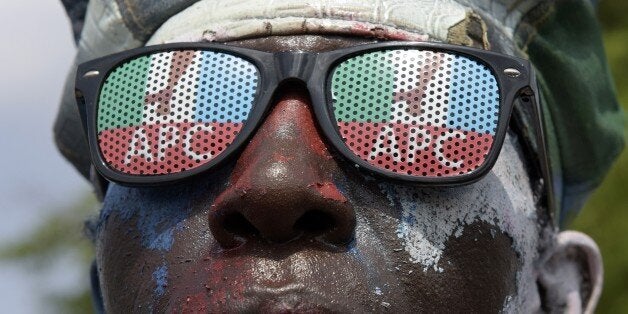 By Tim Cocks and Alexis Akwagyiram
ABUJA, March 30 (Reuters) - Results from Nigeria's elections, potentially the closest since the end of military rule in 1999, were due to start trickling in on Monday after a weekend vote marred by confusion, arguments and occasional violence.
The election pits President Goodluck Jonathan against former military ruler Muhammadu Buhari for the votes of an electorate divided along ethnic, regional and religious lines in Africa's most populous nation.
Even before preliminary tallies were recorded, the opposition All Progressives Congress (APC) rejected the outcome in Rivers state, headquarters of Africa's biggest oil industry, and denounced the vote there as "a sham and a charade."
The INEC election commission said first results from 120,000 polling stations nationwide should be available on Sunday evening but later pushed this back to Monday evening.
Some observers cautiously praised the conduct of the election.
The U.S. government's National Democratic Institute (NDI), which promotes democracy and open government, praised the election, despite the technical problems and sporadic violence.
"Nigerian voters conducted themselves in a peaceful and orderly manner on election day," it said. NDI official Christopher Fomunyoh said in a news conference on Monday that the group saw no evidence of the military interfering in the poll, as many had feared.
Turnout among the 56.7 million registered voters appears to have been high.
All eyes are now on collation, historically an area where figures were fiddled, with results sometimes completely made up.
"We have concerns about the collation process because of the multilayered collation mechanism," Fomunyoh said, referring to the fact that results are collated separately in each polling station and state as well as in the main center in Abuja, a practice he said should be reviewed given the new technology.
Results are expected to start streaming in this afternoon.
World powers and international investors are watching how Africa's biggest economy and top oil producer, conducts this poll and whether it can improve on its patchy record.
Fitch revised Nigeria's credit outlook to negative on Monday, while affirming its BB- rating.
On Sunday, hundreds of sympathizers chanted "APC" outside the electoral commission office in the oil city of Port Harcourt, prompting police to fire warnings shots. One group stoned a car they thought carried ballots.
"There was no election in Rivers," APC polling agent Achinike William-Wobodo said, calling for a re-vote. Protests continued on Monday, and police used tear gas to disperse a protest by at least 100 female APC protesters, a Reuters reporter saw.
"We were protesting ... going to INEC (the electoral commission) and they tear gassed the women," said protester Eva Ibiba.
A policeman at the scene said: "They were disturbing the peace ... their intention was to destroy INEC materials."
In a sign the opposition will challenge results elsewhere, the APC governor of the southern Imo state, Rochas Okorocha, denounced the conduct of the election in his region and accused the military of meddling in the result.
In Bauchi state in the volatile Middle Belt, where Nigeria's largely Christian south and mostly Muslim north meet, hundreds of youths gathered outside the INEC office shouting APC slogans and shouting that they would protect their vote from rigging, a Reuters reporter saw. The military fired warning shots.
The tensions the prospect of a disputed national outcome and a repeat of the violence that erupted after the last election in 2011, when 800 people were killed and 65,000 displaced in the mainly Muslim north.
INEC chairman Attahiru Jega said he was investigating the Port Harcourt complaints, which alleged that opposition agents were kicked out of vote-tallying meetings.
In Kaduna, the northern city worst-hit by the 2011 post-election violence, the streets were virtually devoid of traffic and many shops were shuttered. (Additional reporting by Bate Felix in Kaduna, Ardo Abdallah in Bauchi, Julia Payne and Tife Owolabi and in Port Harcourt; Editing by Janet McBride and Giles Elgood)
Calling all HuffPost superfans!
Sign up for membership to become a founding member and help shape HuffPost's next chapter
BEFORE YOU GO
PHOTO GALLERY
Nigeria Election